Plan with Confidence
Asheville, on the western stretch of North Carolina, is well known for its ability to attract leisure groups and families, with its abundance of outdoor activities and attractions built around creativity and art. What meeting planners may be pleased to discover is Asheville's potential for hosting eventful gatherings. More exciting is Asheville's increasing efforts to make the city even more attractive to groups through plans such as its various community restoration efforts and an expanding airport.
"Asheville is surrounded by the spectacular natural beauty of the Blue Ridge Mountains and has been defined by its creative spirit and rugged independence," said Marshall Hilliard, vice president of sales for Explore Asheville Convention & Visitors Bureau. "The scenic backdrop has long served as a source of inspiration, fueling a drive to innovate and collaborate."
Asheville has been focused on creating an environment that welcomes groups from all corners of the world while also highlighting its own creative spirit by showcasing its local F&B, and visual and performing arts scene, all in the spirit of creating a stronger community both internally and to its visitors.
"It's a place that supports homegrown brands and attracts purpose-driven companies aligned with the area's values; Hilliard continued. "This translates into a creative community prime for group gatherings. Executives and meetings professionals in search of locations to hold meetings, executive retreats, conferences, and incentive trips will be inspired by Asheville's spirit, scenic beauty, and fresh mountain air."
Read More: North Carolina: History Takes Flight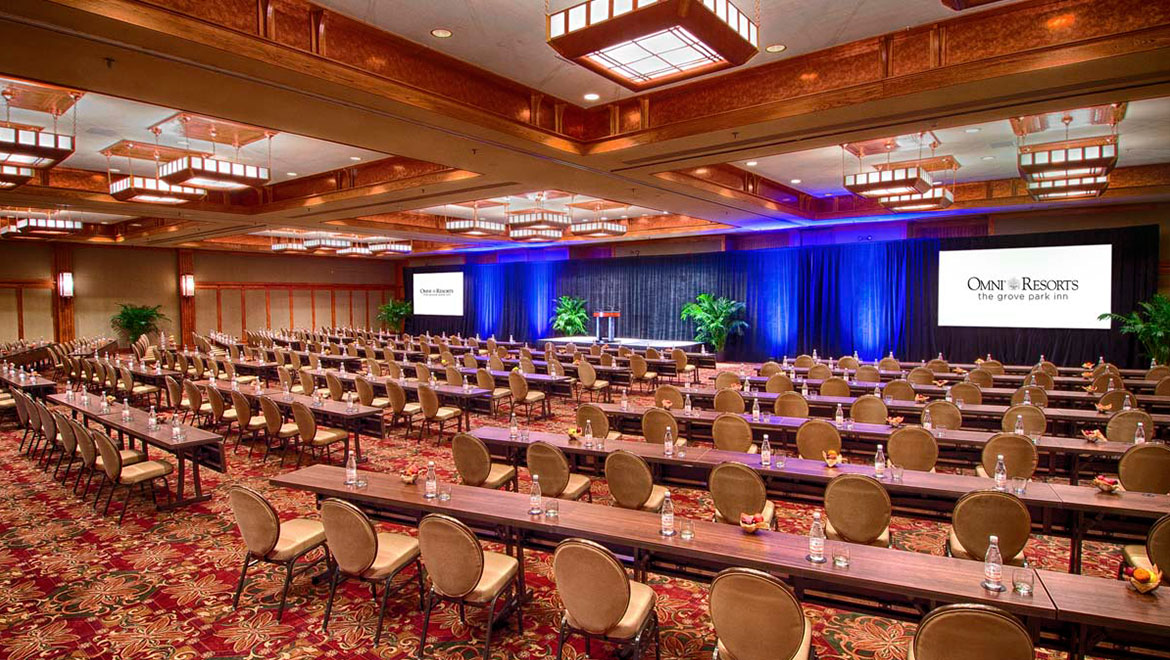 Becoming More Accessible
Asheville Regional Airport (AVL) is one of the fastest growing airports in the United States. In 2019, 1.6 million passengers traveled through AVL, which saw a 43% year-over-year growth from 2013. To accommodate its increasing number of visitors, AVL is scheduled to break ground on a $230 million terminal expansion this summer. 
The 280,000-square-foot terminal expansion, slated for completion in early 2025, is set to be twice the size of the current one, with 12 gates and 12 loading bridges, replacing its current seven gates and five bridges. According to Gresham Smith, the terminal's designer, the terminal is planned to accommodate growth through 2038.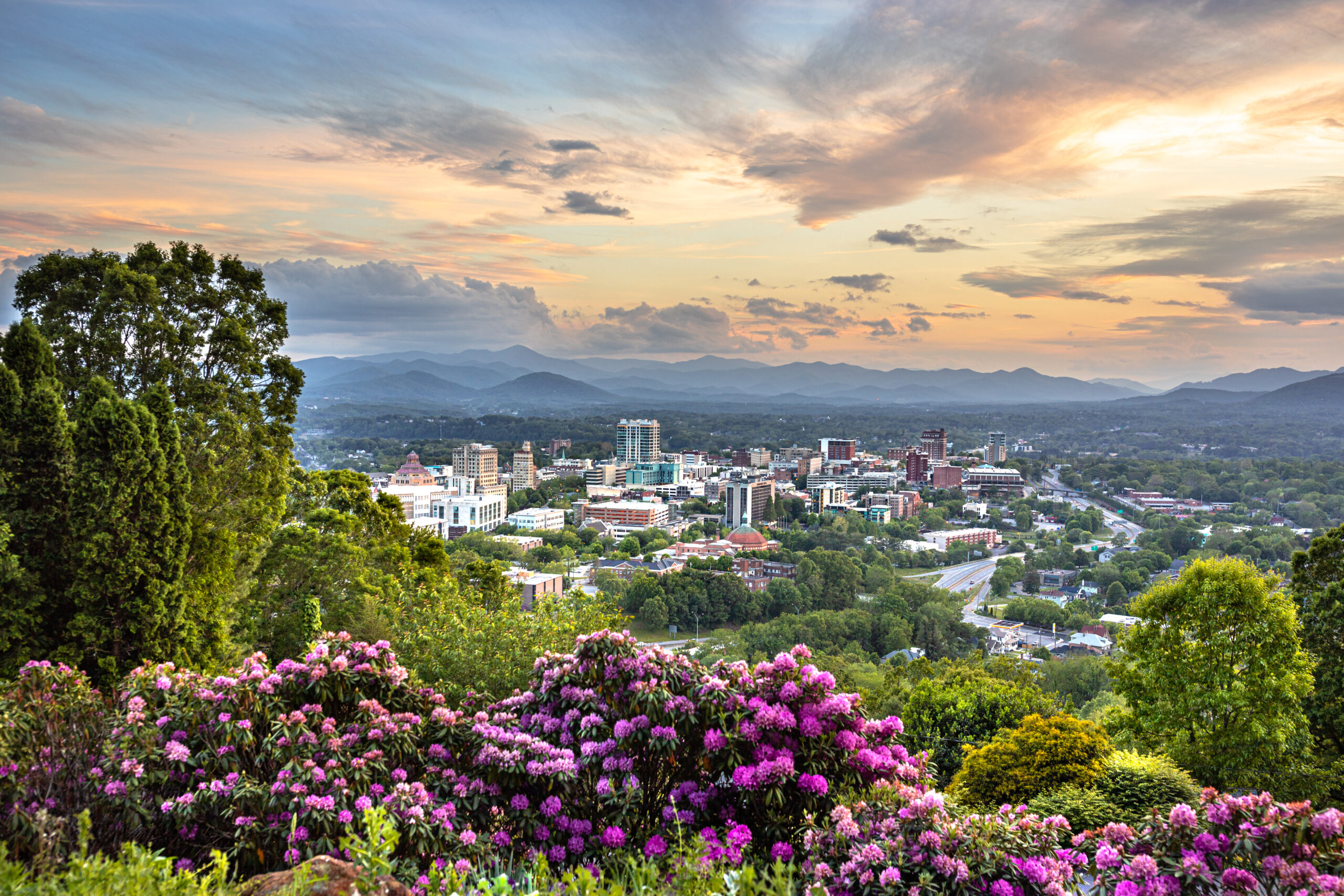 Making Impactful Change
A city focused on its community is a city that thrives. The Asheville area focuses heavily on making a positive impact on its community through its many community service organization collaborations. And Asheville makes it easy for corporate groups to get involved. 
Asheville Greenworks, a volunteer-based organization, had 1,609 volunteers across 196 projects in 2021, who all helped restore Asheville in a variety of ways, including planting trees and removing litter from creeks and roadsides. Asheville Greenworks also lets corporate groups get in on the tree planting and cleaning up of the Asheville area. 
The non-profit organization Riverlink also specializes in the restoration of areas in Asheville. The organization leads the revitalization of the French Broad River via cleanup and its Adopt-a-Storm Drain Program, where volunteers can help maintain, a local storm drain to prevent flooding.
Mountain Area Nutritional Needs Alliance (MANNA) Food Bank was created with the goal of ending hunger in Western North Carolina. In fiscal year 2020-2021, nearly 2,500 volunteers supported MANNA. Support is welcomed from corporate groups, as well, in the form of donating, volunteering, or hosting a food drive. 
Eblen Charities is an association also in Western North Carolina. The association helps children, adults and families via programs and partnerships; tens of thousands of families are helped annually with heating, utilities, medication, housing, clothing, toys, hygiene products and food. Hotels can collaborate with Eblen to coordinate on-site donations, which can include all the items mentioned. Eblen's Saint Nicholas Project provides Christmas gifts, toys, clothes, books, and other children-related items for those ages up to 18.
Read More: North Carolina: Springtime on the Eastern Seaboard
Asheville's Outdoors
For all that the Asheville area offers corporate groups, where it really shines is in its outdoor spaces, where networking and mingling are enhanced by the city's gorgeous landscape. 
A case in point is Taylor Ranch in Cane Creek Valley, just 15 minutes from Asheville, able to accommodate groups of all sizes. The 500-acre property, which recently booked a Mini Cooper rally in June, is home to the 6,000-square-foot Lakehouse, which features a stage and dance floor. The property's smaller and more intimate Waterin' Hole is suitable for up to 130 attendees, also equipped with a stage and dance floor. 
There's also Addison Farms Vineyard in Leicester, just 17 miles northwest of Asheville. The vineyard was created in 2009 and is family-owned, serving to preserve the family farm, which has been around for four generations. The vineyard gives tours and wine tastings, usually headed by owner and winemaker Jeff Frisbee, where groups can learn about the winery and vineyard's history. 
Farm at Green Heron Pond, 20 minutes outside Asheville, is a 50-acre blank canvas nestled inside woods and mountains, ready for your group to enjoy. The property, also in Leicester, is home to two venues, a 7,000-acre lawn and 1,500-square-foot pavilion, fit to accommodate up to 150 people. The space can be rented for half-day, full-day, or even multiday events.
The 4-acre Heaven's Cloud Event Center in the western region of Asheville features more than 7,000 sq. ft. of rustic 1950s-designed outdoor and indoor spaces. The Center's 5,027-square-foot outdoor pavilion is complemented by a gorgeous mountainous backdrop.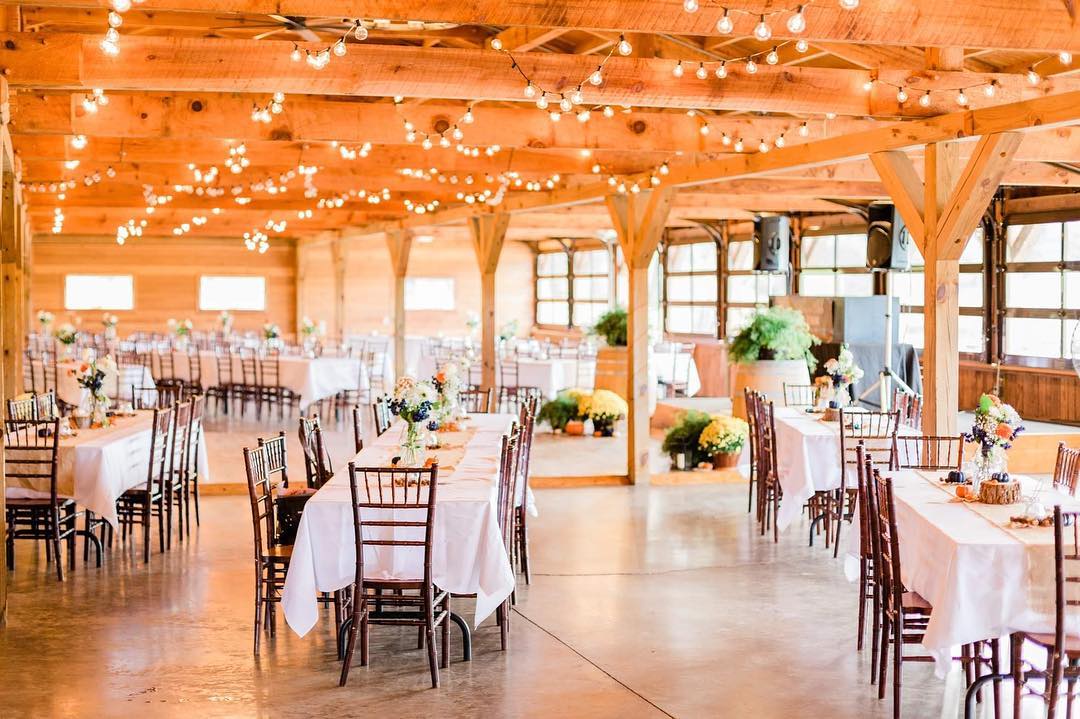 Properties of Asheville
The Asheville area features hotels that are in a league of their own. While more strongly suited in the boutique category, its large-scale offerings are equally appealing. Either way, you'll be sure to find a space that can accommodate your group no matter the size. 
Biltmore can be described as an experience within an experience, offering several distinct options for stays, as well as team-building opportunities that can't be had elsewhere. Groups can make a visit to see the century-old Biltmore House, its garden, grounds, and winery, as well as Antler Hill Village, where there's plenty of shopping and dining to be had and exhibits to see, like Antler Hill Barn, where groups can get a peek into the everyday lives of the typical 1890s family. 
Staying at Biltmore can be experienced in three different forms: Village Hotel, The Inn, and Cottages. The 209-room Village Hotel is Biltmore's cozy and casual option, with nearby hiking, biking, and walking trails. The Inn has 210 rooms, including nine suites. The Cottage is Biltmore's intimate option: a 1,500-square-foot retreat which can accommodate up to five attendees.
Renaissance Asheville Downtown Hotel collaborates with the Bee Institute in an effort to promote sustainability, its roof serving as a resting place for the institute's bee boxes since 2015. Sitting just below the colony of bees is Renaissance Asheville's nearly 23,000 sq. ft. of meeting space across 13 event rooms, including its 8,085-square-foot grand ballroom. The property's 278 guest rooms are accompanied by Writer's Bistro, a literature-inspired casual American restaurant.
Views of the Blue Ridge Mountains can be seen from one of the 513 guest rooms at The Omni Grove Park Inn. These same views are available at one of 10 of The Omni Grove Park Inn's restaurants, whether outside at Sunset Terrace, which features steaks, seafood and more, or inside at the property's large, windowed brasserie – Vue 1913. The Omni Grove Park Inn has 86,852 sq. ft. of meeting space, including a 17,760-square-foot grand ballroom.
The 272-room Crowne Plaza Resort Asheville is home to an equally sizable venue, the 16,600-square-foot Expo Center, part of the property's total 34,000 sq. ft. In addition to the 125-acre property's ample meeting space, there is plenty of on-site adventure to be had, from mountain biking on Crowne Plaza Asheville's 4-mile mountain bike trail to fly fishing for Wild Brook Trout and Smallmouth Bass. The property's newest addition, TreeTops Adventure Park, offers five aerial trails with elevated bridges, cable walks and swings.
The 104 guest rooms at Grand Bohemian Hotel, Autograph Collection, mixes the rustic with modern luxury. The property features more than 5,200 sq. ft. of meeting space, including such venue options as the Black Forest Wine Room and private cocktail receptions in its art gallery, which features pieces by local artists, both established and up-and-coming.
Kimpton Hotels & Restaurants is well known for specializing in the boutique. This specialization is evident at Kimpton Hotel Arras, which features 128 spacious guest rooms and suites, with modern accents such as gray brick wall behind and above the beds, marble counters and brass touches throughout. Hotel Arras' rooms also feature collections from local artists, and the suites feature an even more extensive collection.
Wining and Dining in RAD
RAD's F&B is as varied, expansive, and full of selection as the district itself.
Wedge at Wedge Studios is both brewery (two, in fact) and event space, a convenient combination. Wedge at Foundation, the company's 1,500-square-foot private event space, is 1 mile from the studio. Both Wedge at Foundation and Wedge Studios feature a wide array of different food trucks, and in Wedge Studios' case, the options change by the day.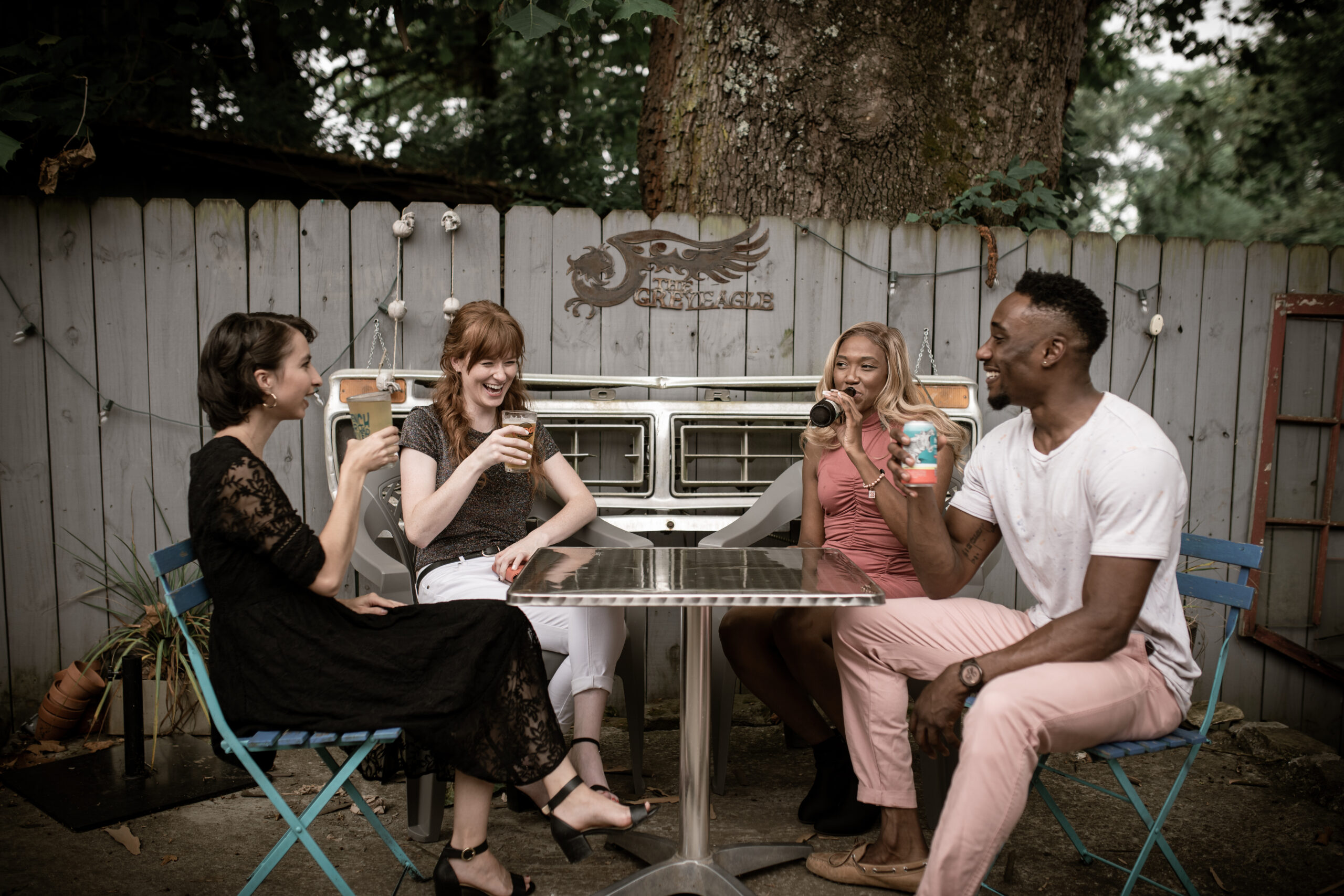 Pleb Urban Winery offers a tasting experience of Western North Carolina wines. In addition to a simple sit down with the group—accompanied by a wine flight—Pleb also gives one-hour production tours, with wine tasting in the company's wine room included. Private event reservations for groups larger than eight are also available.
Sugar & Snow Gelato is all local, selling dairy from North Carolina's farmland, as well as nondairy gelato, sandwiches, espresso drinks and smoothies. Sugar & Snow also offers grab-and-go half pints for hotels.
French Broad Chocolate Factory & Cafe offers a plethora of chocolate in its many different forms, such as sipping chocolate, chocolate bars, and even chocolate candles. On the company's chocolate factory tours—which has a capacity of 14—group members will get the chance to learn about the chocolate-making process, from its origin in Costa Rica to its being unwrapped and enjoyed in Asheville.
Hands-on Group Experiences
Artistry takes many forms. While it can be appreciated on its most common medium, a canvas or wall, Asheville's RAD also houses artists who specialize in the field of glass making. At North Carolina Glass Center, a non-profit facility designed for education and collaboration, there are more than 40 glass artists that work and sell out of the space, for groups' viewing pleasure.
For those who want to go further than mere observation, the glass center offers several glassmaking classes, each with their own focus, such as furnace work or torch work, which can be experienced in 30 minutes or a day or two.
Not as fiery, but equally capable of bringing out one's creative spirit, is Ignite Jewelry Studios, which teaches jewelry making workshops that are open to all skill levels and can last up to three hours. Ignites workshops include instruction on skills such as metalsmithing and placing enamels on charms. You can even watch the studio's jewelers get down to business through the studio's large viewing windows.
The creativity continues at Odyssey Clayworks. For up to 16 participants, Odyssey offers one- to three-hour private classes on either the potter's wheel or handbuilding. The clay shop also sales various mugs and decor created by the studio's artists.
Here's one you haven't heard of: chair caning. It's the art of chair weaving. And at Silver River Center for Chair Caning, visitors will be able to check out the United States' only caning school and museum. In-person classes include chair weaving of different varieties; classes are typically longer—two weeks—but they also offer one-hour tutorials in person and online.