The Pennsylvania Convention Center sits in the heart of downtown Philadelphia. Photo courtesy of the PHLCVB.
Plan with Confidence
Whether you're planning an intimate meeting or hosting a large conference, these are the top reasons to bring your next meeting to Philadelphia.
A One-Million-Square-Foot Venue in the Middle of Downtown
The Pennsylvania Convention Center spans more than six blocks in Philadelphia's downtown, positioning your event and its guests in the center of the action with endless experiences within walking distance. The Pennsylvania Convention Center's historic Grand Hall – the former train shed for the Reading Railroad – welcomes your attendees in a stunning fashion and the Center's progressive work rules and streamlined services provide planners and exhibitors with flexibility and independence.
Location
Philadelphia is perfectly situated on the East Coast, just a two-hour drive from both New York City and Baltimore, and a three-hour drive from Washington, D.C. The Philadelphia International Airport is a short drive, cab ride, or train ride from Philadelphia's downtown and the Pennsylvania Convention Center. Visitors traveling by train will arrive at Amtrak's 30th Street, located in the heart of Philadelphia's downtown and a short walk from hotels and meeting venues. Situated along Amtrak's Northeast Corridor, Philadelphia is only a 1.5-hour train ride from New York City, and just 2 hours from Washington, D.C.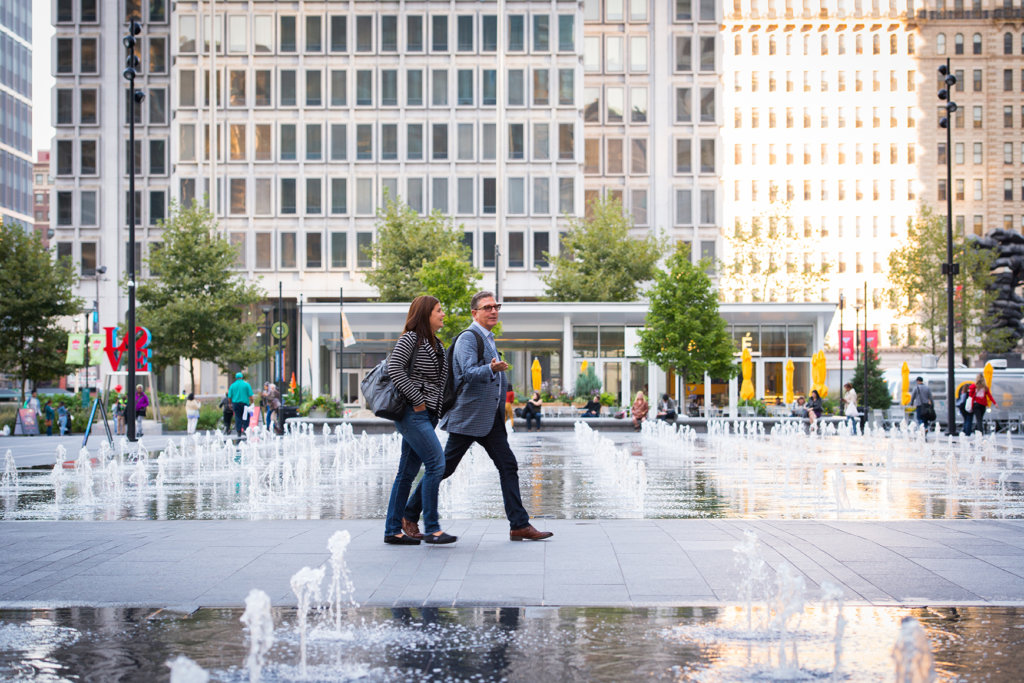 Philadelphia is one of the most walkable cities in the U.S. Photo by S. Spitzer for PHLCVB.
Walking Is the Best Way to Explore
As the 4th most walkable large city in the nation according to Redfin, navigating Philadelphia by foot is a breeze. The Pennsylvania Convention Center is located in the heart of downtown, just steps away from neighborhoods such as Philadelphia's Chinatown, Old City, Rittenhouse, and Washington Square West. Meeting attendees will find it easy to access and explore the city's top attractions and restaurants during their downtime, with popular sites such as LOVE Park, Kimmel Center for the Performing Arts, and the Philadelphia Museum of Art.
A Wide Range of Hotels & Venues
Philadelphia is home to leading hotel brands and properties, ranging from luxurious to economical and offering more than 14,000 rooms located within walking distance from the Pennsylvania Convention Center. Whether your meeting is large or small, the PHLCVB's Services team can walk you through an array of unique indoor and outdoor venues in historic settings, with Instagram-worthy views, and only-in-Philadelphia spaces.
History Awaits Around Every Corner
With many of the top historic sites and attractions located just a short walk from the Pennsylvania Convention Center and downtown hotels, it's easy to find time to explore America's Most Historic Square Mile. In Philadelphia's historic district, you can learn about the founding of the United States at sites like Independence Hall, The Betsy Ross House, the National Constitution Center, and more.
The Liberty View ballroom and terrace offers incredible views of Philadelphia's Independence Hall and President's House. Photo by Siousca Photography.
Parks & Outdoor Spaces
Philadelphia is home to one of the world's largest city-owned urban park systems with more than 10,000 acres of open space. Hiking and biking trails abound in Fairmount Park, along with plenty of public art, historical structures, and gardens to discover. Picnic or relax in one of Philadelphia's original squares or visit one of the city's newest greenspaces, The Rail Park, a community park built on a repurposed elevated railway and just a ten-minute walk from the Pennsylvania Convention Center.
Arts & Inspiration
In addition to the city's renowned museums and galleries, you will find visual inspiration and public art in every direction. Head to South Street to tour Philadelphia's Magic Gardens, a shimmering outdoor mosaic installation built by local artist Isaiah Zagar. Mural Arts Philadelphia offers both guided and self-guided tours of the thousands of inspiring public artworks on display in neighborhoods throughout the city that make it the Mural Capital of the World.
When you're ready to start planning your meeting or event, the PHLCVB is here to help.