Plan with Confidence
Are you in search of a meeting destination that breaks free of the usual options? The kind of destination that checks all the boxes without feeling like it's simply checking boxes?  One that will make people want to see more, do more and be more? Then Reno Tahoe is exactly what you're looking for.
Even though we're about as far from expected as it gets, when it comes to planning and hosting events of any size, we have everything you could ask for. Starting with our team of experienced planning professionals. Whether it's helping to find unique venues or connecting you with trusted local resources, our staff will work closely with you from the get-go to help you create the event you're imagining.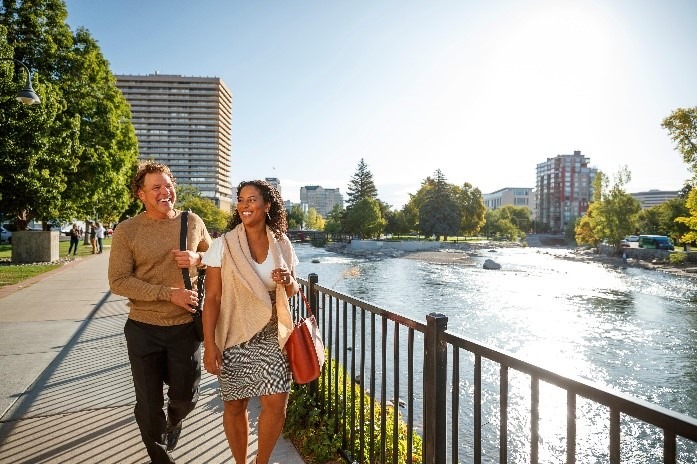 Speaking of imagination, picture a productive day inside a convention center with 600,000 sq. ft. of modern meeting space, then heading to a reception on the rooftop bar of a local brewery. After a few samples of craft beer, you walk to one of our funky local favorites for dinner before venturing out on neon-lit streets that lead to an array of gaming, live music and nightlife options. Did we mention that your recently renovated hotel is also just a short stroll away?
While a thriving, walkable downtown is certainly a huge draw—and one that makes things oh-so-easy on attendees, Reno Tahoe offers a number of benefits that make life much simpler for planners too. Because we operate and manage the area's four largest meeting venues, we're able to give you more flexibility without the restrictions and red tape you'd find elsewhere. Better still, these venues are all within close proximity to Reno-Tahoe International Airport (RNO), which welcomes non-stop and one-stop flights from more than fifty airports worldwide.
Beyond the urban oasis created by our Midtown, Downtown and Riverwalk districts, lies a landscape carved by nature and built for adventure. Reno Tahoe offers the highest concentration of ski resorts in North America, 50 golf courses, plus scores of hiking and biking trails and crystal-clear lakes. Not to mention, 300 days of sunshine a year that make our great outdoors even greater.
If, after learning about all that Reno Tahoe has to offer, you're wondering when we're going to get to the really persuasive part, we like how you think. You see, we've worked hard to put together customizable incentives and rewards that meet the needs of your group. These include a $5,000 Signing Bonus to be applied towards group's master account or expenditures when you book new business between now and Dec. 31, 2022 with 1,000 or more room nights and, because most of our convention hotels remain independent, full 10% group room commissions.
Then there's our Come See, Fly Free program. It's an opportunity for you to come and experience Reno Tahoe for yourself. We'll create an itinerary that matches your interests and give you an all-inclusive insider's tour you're sure to find unforgettable.
Learn how Reno Tahoe can help make your event a success at visitrenotahoe.com/meeting-planners