Plan with Confidence
Innovation is a way of life in Greater Phoenix. Since ancient times, the Sonoran Desert has evoked inspiration, adaptation, collaboration and innovation. This spirit is an indelible part of the city's identity as it influences forward-thinking approaches to hospitality, technology, and sustainability.
As the fifth-largest city in the country, Phoenix is leading the way in finding sustainable solutions for all industries. Greater Phoenix is at the center of a statewide boom that's seen a 20% increase in tech-related jobs focused on sustainability, encompassing renewable energy, electric vehicles, global semiconductors, and material science.
In just a single year, Greater Phoenix prevented 248 million pounds of greenhouse gases and 9.8 million pounds of air pollution from entering the earth's atmosphere thanks to its environmentally friendly transportation options. These include Valley Metro Rail, an accessible and efficient rail transport from Phoenix Sky Harbor International Airport (PHX) to the Phoenix Convention Center, as well as bus and vanpool services.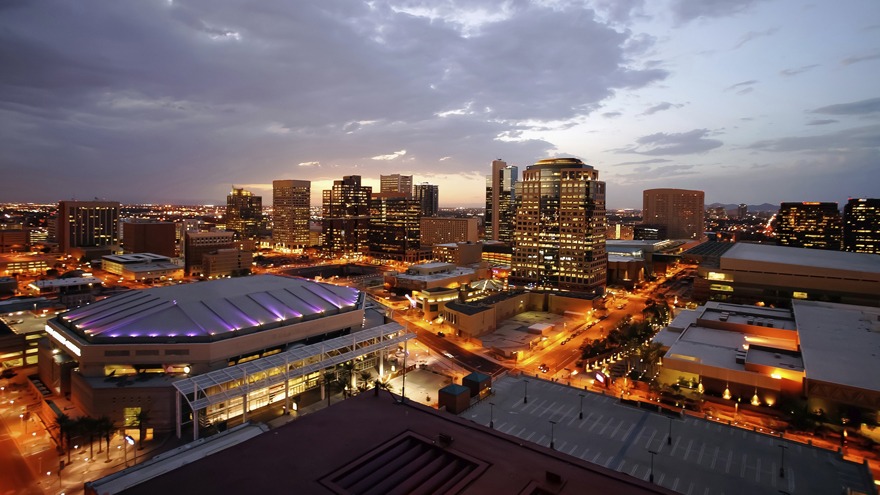 Beyond logistics and transportation, efforts to preserve the future of our planet are at the core of Greater Phoenix's meeting and convention offerings, with trendy venues and innovative community partners that bring sustainability to the forefront for planners and attendees.
Footprint Center
The footprint is a local, plant-based fiber technology and material science company that's creating a healthier planet by reducing dependency on single- and short-term-use plastics. The company's namesake arena, the Footprint Center, is seen as a living innovation lab for food and beverage suppliers to learn more about consumer sentiment and how they can transition away from plastic.
Read More: Sunny Meeting Forecast in Phoenix
With abundant meeting space, the Footprint Center is perfect for environmentally conscious events of all sizes. Additionally, the arena gives attendees after-hours options for entertainment like taking in an NBA or WNBA home game of the Phoenix Suns and Phoenix Mercury, respectively or enjoying one of the many concerts hosted by the venue.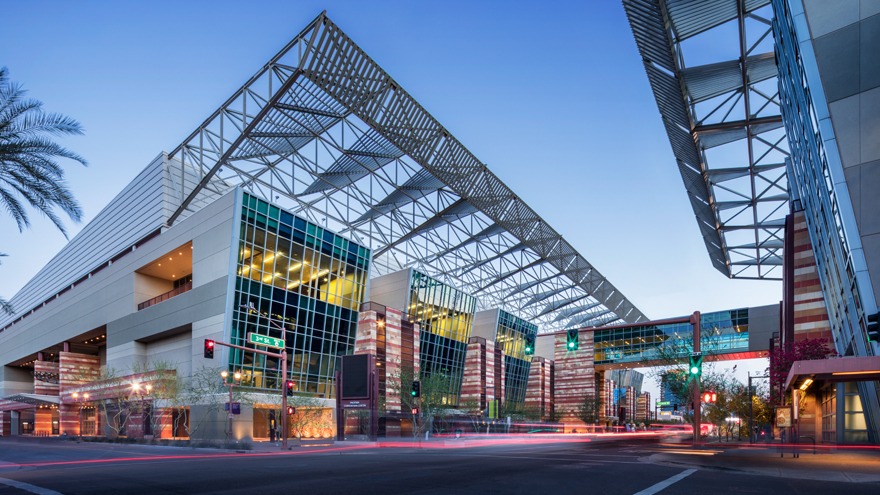 Cloth & Flame
Known for its immersive and collaborative farm-to-table dinners in unexpected places, Cloth & Flame intentionally designs experiences to foster connections with the land, with others, and with oneself. This Sonoran Desert-based operation invites attendees to enjoy a chef-prepared meal among wild landscapes and under the stars.
In terms of sustainability, Cloth & Flame pays to lease land for its community dinners, so areas that might otherwise be developed can act instead as a source of income for the landowner. In addition, 10% of dinner proceeds are donated to coalitions that work to preserve migratory routes and wild places.
Phoenix Convention Center
Phoenix Convention Center has implemented thoughtful green thinking and design to withstand the environmental tests of the future.
Initiatives include contributing more than 41 tons of compost in city parks, watering its living wall and garden using condensation from the HVAC system, purchasing 31,000 chairs made from recycled car batteries and seatbelts, recycling more than 460 tons of material each year, and generating energy from 732 solar panels—enough output to power 14 homes for an entire year. Greater Phoenix is at the forefront of sustainability, and meeting planners can discover more about tapping into the city's innovative venues and community partners for their next event at visitphoenix.com/meetings/why-you-should-choose-phx/innovation.