Let's face it, there's more to hosting a successful event than inviting people to an appealing destination. A lot more. When it comes down to taking care of business, Reno Tahoe has everything you could ask for. Starting with our team of experienced planning professionals. Whether it's helping to find unique venues or connecting you with trusted local resources, our staff will work closely with you every step of the way to create the event you've imagined

Reno Tahoe offers several benefits that make life simpler for planners. Because we operate and manage the area's four largest meeting facilities, including the modern 600,000-square-foot Reno-Sparks Convention Center, we're able to give you more flexibility without the restrictions and red tape you'd find elsewhere. Better still, these facilities are just minutes from Reno-Tahoe International Airport [RNO], which welcomes non-stop and one-stop flights from more than fifty airports worldwide.
Your guests will also appreciate how simple our airport is to navigate. Getting through baggage claim and picking up rental cars here is much faster and more efficient than at larger airports. They'll also be relieved to know that they're only 15 minutes from over 15,000 hotel rooms and a wide range of dining and entertainment options. So everyone can get checked in and start checking things out almost as soon as they land.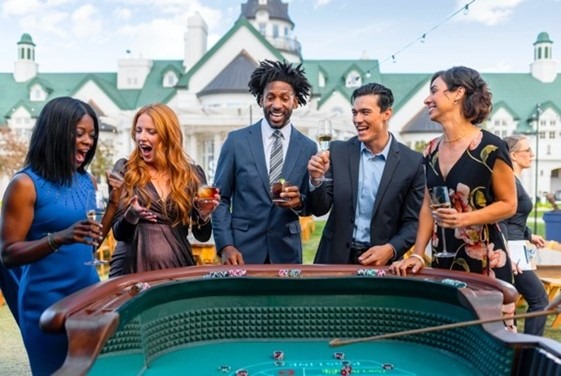 Just imagine following a productive day in the convention center followed by a reception on the rooftop of a local brewery before heading to dinner at a Yelp Top 100 restaurant. But the evening is still young, so you check out nearby murals and larger-than-life sculptures as you choose between gaming, live music, and legendary nightlife. Or maybe all of the above.
The diverse settings (and landscapes!) offered by Reno Tahoe give planners a wealth of possibilities for off-site meetings and after-hours activities. Our Midtown and Riverwalk districts are filled with unique restaurants, clubs, and gallery spaces. And a short drive puts you within reach of the highest concentration of ski resorts in North America, 50 golf courses, and crystal-clear alpine lakes dotted with waterfront resorts and conference centers.
Ready to experience all Reno Tahoe has to offer and learn just how easy it can be to host your next event here?  Take advantage of our Come See, Fly Free program. We'll create an itinerary that matches your interests and give you an all-inclusive insider's tour that lets you put yourself in your attendees' shoes. You can also sit back and relax as we walk through the customizable incentives and rewards that meet the needs of your group. These include a $5,000 Signing Bonus when you book new business between now and December 31, 2023, with 1,000 or more room nights and, because most of our convention hotels remain independent full 10% group room commissions.
Learn how Reno Tahoe can help make your job easier at VisitRenoTahoe.com/meeting-planners