Most companies expect innovative thinking from the people in their organization. And if you are looking for equally innovative ideas for planning your next meeting or retreat, the last thing you need is a venue that's same old, same old. At Hyatt Regency Hill Country Resort and Spa, there's no chance of that.
The reason: we simply offer too many distinctive, even unexpected options – both inside and out.
To start with, the setting is 300 acres of a genuine 19th century Texas ranch, which preserves the character of the land and pays tribute to its history throughout the resort. As a result, the feeling here is pastoral, "gently rugged," the kind of natural environment where it's not surprising at all to see black squirrels, red hawks and other creatures fully at home. In fact, we've been designated as a Certified Audubon Cooperative Sanctuary!
Yet for all this rustic beauty, we haven't ignored 21st century conveniences, either in the luxury of our guest rooms or the sophistication of our conference facilities.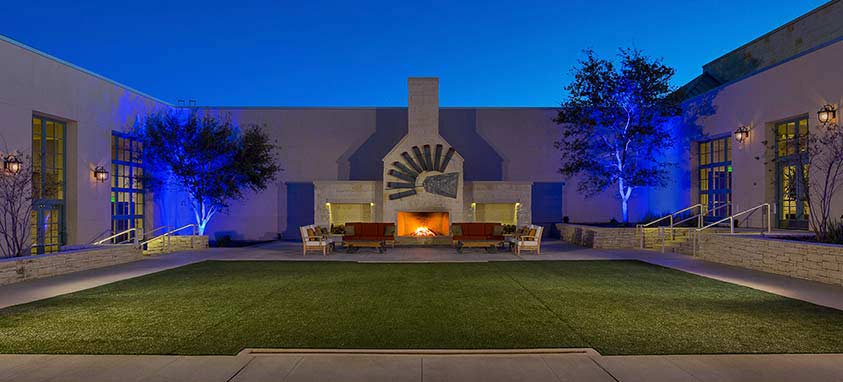 After all, we know that you expect to get down to business. So in keeping with our promise of the unexpected, we offer 100,000+ square feet of indoor and outdoor meeting space. All indoor facilities are fully modern, beautifully equipped, and can be configured to suit any type of meeting, from large assemblies to intimate gatherings. Plus, enjoy enhanced cell phone reception (and free meeting space Internet – an offer exclusive to qualified groups at Hyatt Regency Hill Country this year) as well as personal support from a tenured staff with a strong desire to serve your every need.
At the end of each day's session, when it's time to unwind, you can explore a wide range of truly extraordinary options. Like an 1800s-style saloon, with the longest copper-top bar in Texas and one of the largest selections of regional craft beer around, and an upscale restaurant famous for bison, elk and other exotic game on its extraordinarily refined menu. In the barn outside (yes, the barn!), there's a resort spa so sophisticated, it was selected as one of the nation's 100 best by Condé Nast Traveler readers.
In addition, there are 27 challenging holes of golf, surfing in the hill country, hiking trails that invite guests to wander the habitats of local wildlife, and even a lazy river running throughout the property, just waiting for exploration via inner tube.
Yet as remote and relaxing as all this feels, this resort is actually just 20 minutes from the River Walk and all the other attractions of downtown San Antonio. Some of the area's most popular theme parks and tourist destinations are even closer. And access from San Antonio International Airport, offering 110 daily non-stop flights to 35 destinations, is faster and easier than most of our guests ever imagined.
So if you're looking to impress your attendees with a venue that's as beautifully remote as a 19th century landscape – yet modern in every convenience and comfort – opt for a resort that offers both extremes and everything in between. There really is nothing ordinary about it!
Call 210 520 4030 or email SANHC-RFP@hyatt.com to book your next event at Hyatt Regency Hill Country Resort & Spa.