As the trusted authoritative voice on the Disney approach to customer experience, Disney Institute offers unparalleled professional development content to meeting and convention groups holding onsite events at Disney Conference Center.
Offering meeting planners an immersive learning experience for their groups, grounded in solid business results, Disney Institute uses business insights and time-tested examples from Disney Parks and Resorts worldwide to inspire individuals and organizations to enhance their own customer experience using Disney principles as their guide. Facilitated by experienced Disney leaders, these sessions offer attendees a look at our best practices in the areas of Leadership, Service and Employee Engagement.
According to the American Express 2016 Global Meetings and Events Forecast, training meetings are currently experiencing the largest growth in the industry, outpacing all other types of meetings, marking a significant new shift in creating face-to-face meetings that enhance learning, team building and professional development.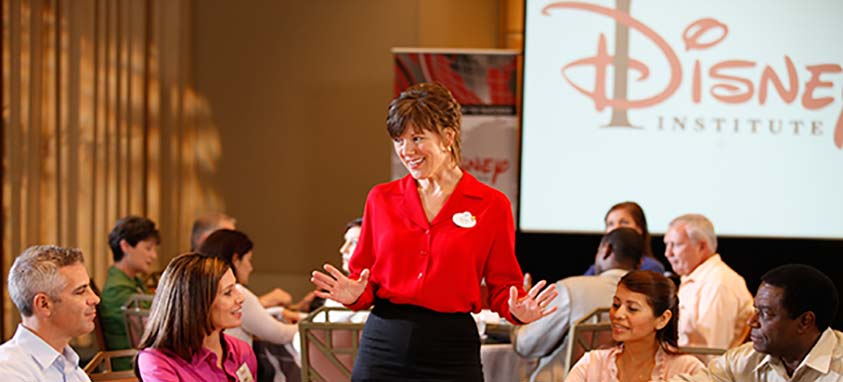 Now more than ever, it's critical for meeting planners and event organizers to think strategically about the content of their meeting or conference, and whether or not it will demonstrate value and deliver long-term, sustained results. Both business leaders and attendees alike are looking for defined outcomes in the form of knowledge that equips themselves and their employees with new skills or ways of thinking to positively impact the bottom line.
To meet the needs of the growing trend, Disney Institute sessions take professional development one-step further by providing attendees the opportunity for immersive learning through first-hand observation. These facilitator-led field experiences into the "living laboratory" of Disney Parks and Resorts allow attendees the opportunity to explore the business firsthand. These powerful professional development opportunities are not about becoming Disney, but rather by learning to think how we think, and how to adapt these principles into participants' own business environments and personal careers.
From inspiring your attendees with a high-level introduction to immersing a group in a more in-depth program to spark idea generation, a variety of formats are available to meet specific needs for every group, including Keynote Presentations, Team Building Experiences, One-Day Programs and Multi-Day Programs. Learning outcomes will vary based upon the format(s) selected, ranging from a high-level introduction to the Disney approach, to a highly experiential learning opportunity including group activities, field experiences and special access to Disney leaders.
To learn more about engaging Disney Institute for professional development content for meetings or events at Walt Disney World Resort in Florida, Disneyland Resort in California and Aulani, a Disney Resort & Spa in Hawaii, visit www.disneymeetings.com or call 321-939-7275.