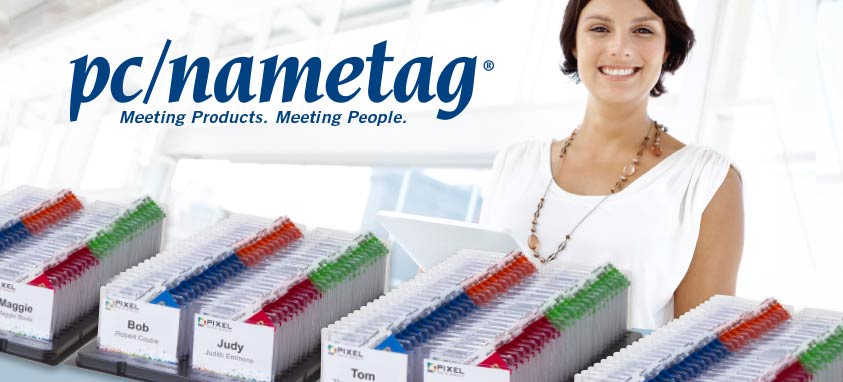 As a leading source of registration and meeting supplies, pc/nametag makes it our business to cater to the needs of meeting planners, and we do that by providing their smallest big detail: name tags.
We're so passionate about name tags, we created Namebadges to Go®, a service that prints personalizes, stuffs and organizes your badges  – even sends them directly to your event. Imagine all the time you'll have left to concentrate on other parts of your meeting.
Founded in 1985 by a certified meeting planner, pc/nametag promotes the name badge as the single most significant item for an event. As savvy planners and attendees know, it breaks the ice and starts conversations, which often lead to lasting connections and ultimately successful meetings.
And, we don't just do name tags. We provide everything the busy planner needs for the registration table and beyond: lanyards, stack-a-ribbon® awards, on-site printers, badge organizers and promotional products such as padfolios, pens, totes – plus so much more.
While you can count on pc/nametag for innovative, time-saving products (many of which our competitors emulate), here's what else you can expect from this one-stop shop:
Same-day shipping: in-stock orders received by 5pm CT ship the same day
Shorter productions times for customized products – 3-day turnaround is typical with rush available for all products
Free samples of everything we offer, so you can try before you buy!
Mobile apps, plus Meeting Power® event technology
At the heart of pc/nametag is an expertise built on over 30 years of event planning. Creative, insightful Meeting Specialists are here to help planners in any way possible – answer questions, place your order, even help problem solve your meeting. Customers who've worked with pc/nametag for a while aren't surprised when a Specialist calls to remind them of an upcoming event!  Our staff is available at 1-800-332-9767 or via email or live chat at www.pcnametag.com, 7am-6pm CT, Monday-Friday.
Whether you experience Namebadges to Go, our customer-inspired products, customized services or the expert advice of a Specialist, pc/nametag is here to help meeting planners and attendees experience a seamless check-in and the most successful events ever.