Kingston Resorts' location along the famed Grand Strand in Myrtle Beach and its nationally recognized meeting staff is what we call a win-win destination. Kingston Plantation and the adjacent Kingston Shores comprise Kingston Resorts, one of the largest and most comprehensive resort complexes on the East Coast. Myrtle Beach was named the number-one beach in the U.S. by Tripadvisor.com in 2010 and 2011 and the # 2 in the top 10 beaches in the U.S. by Travel Channel in 2016. Escape the ordinary and experience Myrtle Beach, only better.
Lush, Luxurious, Breathtaking
Kingston Plantation has more than 500 luxurious guest accommodations on 145 lush acres including the 255-suite oceanfront Embassy Suites that blends breathtaking views with the comforts of home. Other options include oceanfront condominiums, lakeside townhouses and villas.
Kingston Shores sits on an adjacent 12-acre site that includes Hilton Myrtle Beach Resort and Royale Palms condominiums. Hilton Myrtle Beach Resort is a 385-room oceanfront resort with lavishly appointed rooms and a luxurious resort pool complex. Royale Palms offers a variety of oceanview and oceanfront accommodations ranging from one to three-bedroom oceanview condominiums.
We'll Meet Your Every Need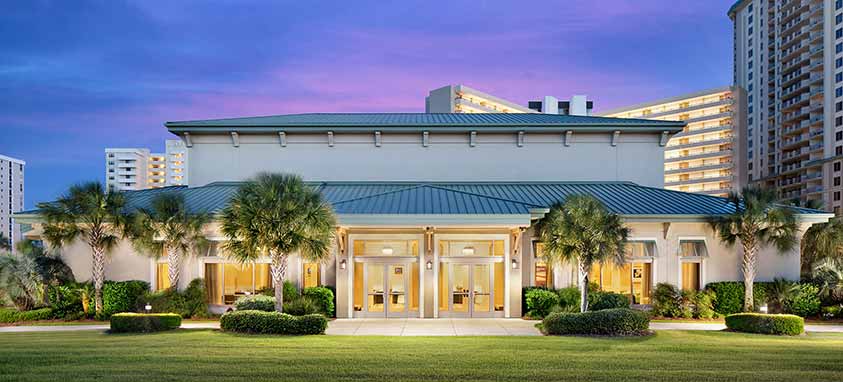 Kingston Resorts offers 103,000 square feet of meeting space and an event staff to deliver the exceptional. The Kingston Plantation Conference Center at Embassy Suites features 70,000 square feet of meeting space in 17 rooms on a single floor including a flexible ballroom that can accommodate groups from 50 to 2,000. The Palmetto Pavilion features 9,200 square feet of special-event space and climate control, allowing for free movement around the pool complex and beach.
Kingston Shores offers 33,000 square feet, which includes the 14,400-square foot Hilton Conference Center, a state-of-the-art facility with special acoustics, lighting and rigging. Additionally there is a 6,500-square-foot oceanfront ballroom on the top floor of the Hilton.
Sparkling Blue and Green
Embassy Suites Myrtle Beach and Hilton Myrtle Beach Resort were the first hotels in Myrtle Beach to receive green certifications by the South Carolina Green Hospitality Alliance.
We'll Pamper You and Your Group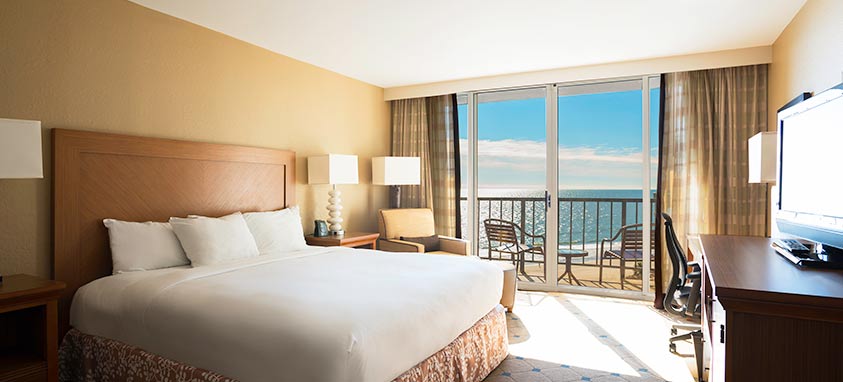 All guests enjoy complimentary access to a state-of-the-art 50,000-square-foot sports club featuring an indoor pool, fitness equipment and recreational activities. Other amenities include the Royale Day Spa and Splash! water park. The Landing, our new Spa and Fitness Club will open in early summer 2017 to provide even more opportunities to stay happy and healthy.
Delectable dining options include Vintage Twelve, an upscale contemporary open kitchen restaurant, that capitalizes on the abundance of fresh local produce and seafood enhanced by ocean views and Coastal Grill that serves Embassy Suites guests a complimentary, cooked-to-order breakfast, as well as lunch and dinner. Café Amalfi at the Hilton Myrtle Beach Resort is a casually elegant restaurant with exquisite seafood, pasta and steaks in a spectacular oceanfront setting. Oceanfront and poolside cocktail bars along with coffee shops and room service provide every level of dining service you could want.
Visit kingstonresorts.com today to experience our winning combination or call (877) 360-0799.