With 400,000 sq. ft. of meeting space and 16+ million gallons of water fun in indoor and outdoor waterparks, there's no reason business and pleasure can't mix in "The Waterpark Capital of the World!®". Attract a crowd with an unforgettable meeting in Wisconsin Dells.
Meeting Space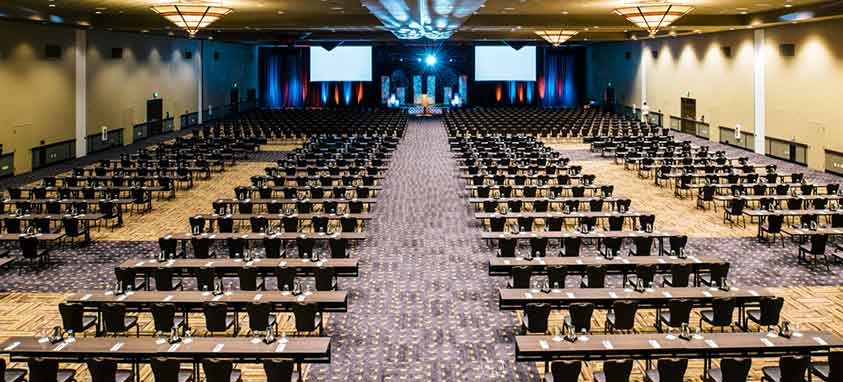 In addition to being a top destination for tourism, Wisconsin Dells is a top destination for meetings. The Dells hosts more than 5,600 meetings and conventions each year. The unique meeting and convention venues range in size from 250 sq. ft. to 90,000 sq. ft., with state-of-the-art-facilities and personalized planning services. Newer conference facilities at many of the area's waterpark resorts and convention centers inspire business groups, making it easy to meet there.
Accommodations
With more than 8,000 rooms, from hotel suites, to a rustic retreat, to lakeside condominiums, Wisconsin Dells offers a wide variety of lodging options for groups of all sizes. However, it's the waterpark resorts that are the biggest draw. They're great fun for grown-ups and a plus for attendees who want to bring along the kids and spouse.
Attractions
There's nothing like a waterpark to rev up attendance and Wisconsin Dells knows waterparks. It's home to more than 200 waterslides in just 19-square miles. In addition to being home to America's largest outdoor waterpark and the largest combination indoor/outdoor waterpark resort, the area boasts a variety of other distinctive activities as well.
Attendees may enjoy a relaxing trip down the Wisconsin River on one of the scenic boat or "Duck tours," roll the dice at the casino, unwind at a spa, or play a round of golf on one of the world-class courses. Add hiking and horseback riding, four-season amusement parks, great restaurants, unique shopping, live shows and more; and they've got you covered no matter your group's range of interests, budgets, or needs.
Take advantage of free personalized planning materials and assistance when organizing your next meeting or convention. Call (888) 339-3822, ext. 345, or visit MeetInTheDells.com to start planning today!