What do live entertainers do when there are no live people to entertain? They adapt. Much like meeting professionals, live entertainers have been hit hard by the pandemic. These vivacious performers who previously delighted stadiums filled with thousands of excited attendees have had to make due just like the rest of us—within the confines of their homes.
More: How to "Unlame" Your Virtual Meeting by Adding Visual Artists
Steve Max is one of those entertainers. Prepandemic, Max, who stirs crowds with his interactive "Simon Sez" shows, put on one of the most requested basketball halftime shows in the United States—as well as plenty of performances for corporate gatherings. But when the crowds stopped coming, Max had to map out a new plan of action.
Transition Hiccups
Making the transition from live to virtual has not been without its hurdles. Max says he was a latecomer to the Zoom boom, but his wife, Linda Harelick, who has been in daily Zoom meetings since the start of the pandemic, quickly brought him up to speed.
"'Simon Sez' is very interactive and physical in nature, so sitting at my desk confined to a chair looking into a webcam that's only two feet away just didn't cut it. I required more space and freedom to move about, so I turned my den into a Zoom studio," he says.
Max says he's managed to find a way to generate that same energy even through a computer screen by being "extra animated and providing a more intimate experience."
His experience is echoed by other entertainers. "We were used to the energy of a live audience. We feed off their energy, laughter and applause, and the energy created in a room between a live audience and a performer is a huge part of the experience," says Jonathan Wee, one-half of the comedy act duo, The Passing Zone. Wee, along with Owen Morse, are regulars on NBC's Today, and they have made appearances on many other well-known shows, including Hell's Kitchen and MADtv.
"We have to rely on our memory of where and when audiences laugh. We have to trust what we know, from before, to know that people are laughing, whether we can hear them or not. We definitely miss that energy, and the give-and-take of a live performance," Wee continues.
The Benefits of Entertaining Through a Screen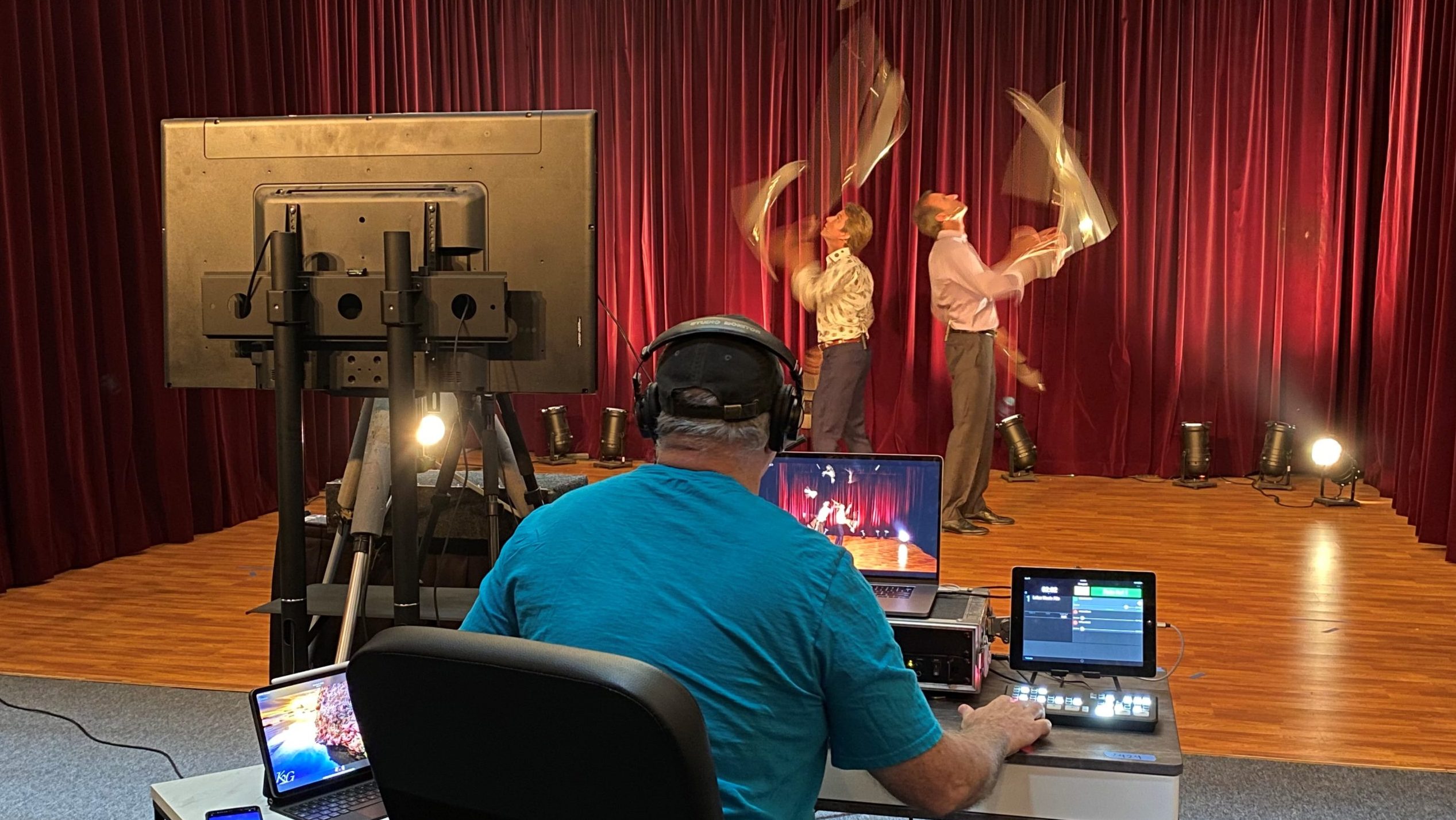 Despite being a novice to the virtual game, Max hopped on the train pretty early, doing his first virtual show in late March for a summer camp that caters to kids with cancer, an appearance he has been making for 18 years. "This winter 'reunion' show was a great way to keep in touch with very special clients. Campers as well as staff participated, and it went amazingly well for my first time 'Zooming the Sez.'  In fact, the kid who won was playing from Israel."
Since then, Max has hosted dozens of corporate meetings, his last one for accounting firm Ernst & Young.
Wee and Morse have done about 20 virtual events so far, and continue to get busier. The Passing Zone also offers a workshop where they teach their audience how to juggle. "The workshop is an excellent opportunity for the audience at home to get on their feet, get involved, and learn something completely new. And we're able to watch them, individually, and offer pointers and advice based on what we're seeing them do on the screen," Wee says. "It creates an intimacy much greater than we can do when we're on stage in front of a large audience."
Indeed, Wee enthuses about this increased level of intimacy that Zooms allow. "We see their living rooms! We know their names!" Wee exclaims. "There is something magical that happens when, instead of the audience all gathering in one place to see us, we're able to come to them, up close, wherever they are, and perform directly to them, in their world instead of ours. It's amazingly intimate, and in some ways the audience can feel even more involved when they know we can see them."
Another way Wee and Morse gets the audience involved virtually is by incorporating an image of someone from the group and attaching that face to a cloth dummy. "It's a fun way to give someone attention and focus, make them the focus and star of the trick, while they are watching safely from home," Wee says. They also offer the option of having someone join live via iPad, which is placed on the face of a mannequin, during which the duo will talk with the guest, ask questions—and throw flaming torches and chainsaws around the mannequin.
Is Virtual Corporate Entertainment the Future?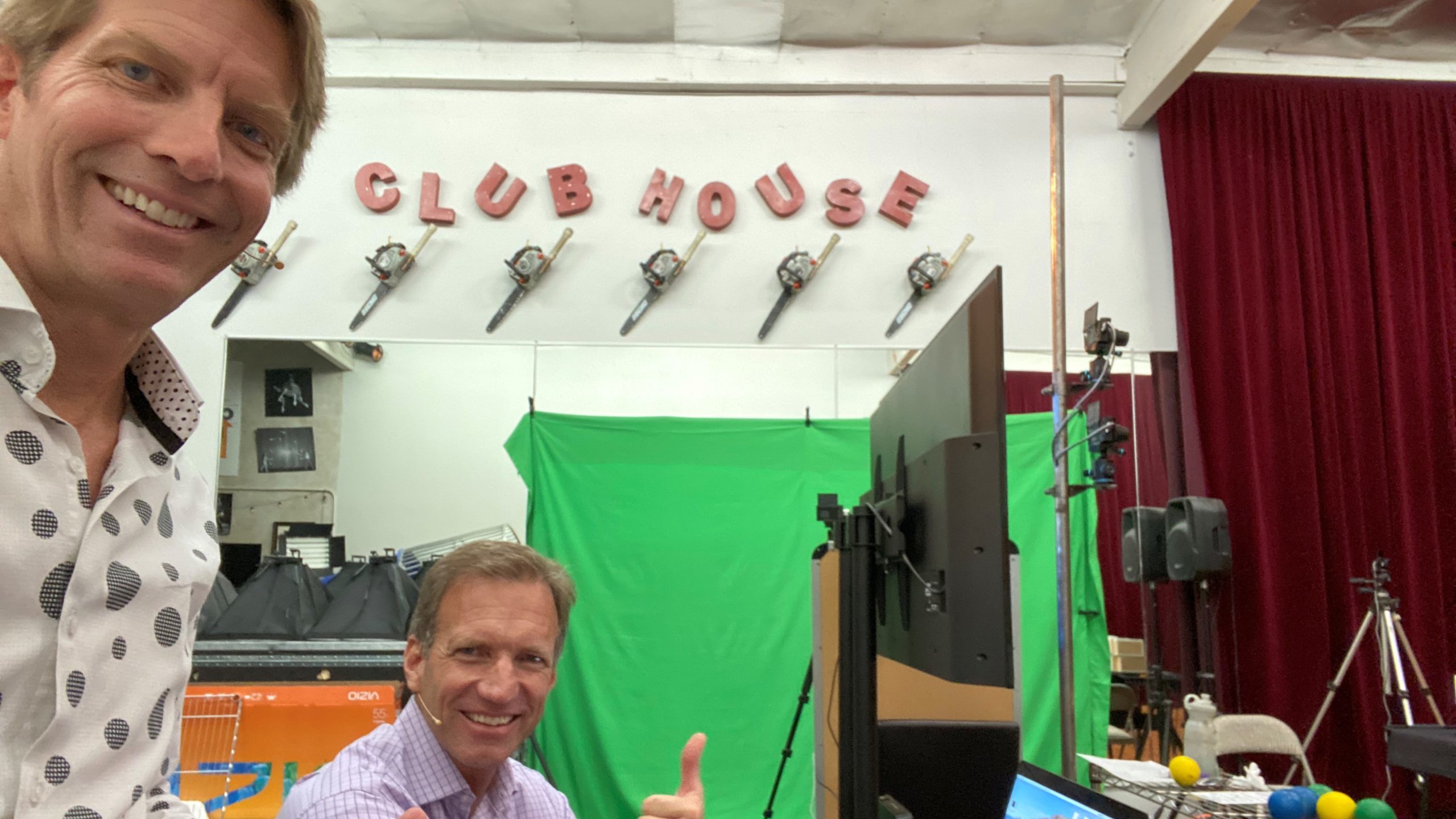 Just as remote work isn't going anywhere, neither will virtual entertainment, say the experts. "We are quite certain that there will be virtual meetings, even after in-person events resume," Wee says. "Also, in-person events are likely to have a virtual aspect to them, so even when we are on stage again in front of a live audience, we'll be used to the experience of entertaining those who may be joining from another location—probably their living room—and we'll be ready to address the virtual audience as well as the audience in front of us. We definitely plan to keep our virtual studio up and running."
As for Max, he's just as certain that virtual will remain a part of his performances. "Companies have seen that with a laptop and a plethora of online video-conference platforms, they can continue to run their businesses while offering employees the option of working remotely either full- or part-time. And if that's the case, then Steve Max will be ready to liven up their next meeting with a hilarious game of 'Simon Sez,' whether it be in-person or online."