As with many Monday holidays, most appreciate Labor Day for shortening the work week. However, with the chaotic state of staffing in the hospitality industry, the 140th year of celebrating labor unions merits a second look. Unionized hotels provide the stability and training that hospitality workers are seeking—they could be part of the solution to the shortage that meeting planners are waiting for.
The Beginnings of Labor Day
In 1882, the first Labor Day parade was held on September 5 in the streets of New York City. Two men are credited with the idea—Peter J. McGuire, general secretary of the Brotherhood of Carpenters and Joiners and Matthew Maguire, secretary of the Central Labor Union in New York. Maguire is reported to have attended the rambunctious first parade, bringing some much-needed music to the event.
The holiday would be recognized in later years, municipally in 1885 and federally in 1894 when President Grover Cleveland signed it into law. The first Monday of every September since has been celebrated with parades, picnics and family time to commemorate how far working conditions have come.
The State of the Hospitality Union
San Francisco has a strong union presence in Unite Here Local 2, which represents more than 15,000 hospitality workers in San Francisco, San Mateo County, the East Bay and the North Bay. Across the United States and Canada, Unite Here represents 300,000 hospitality workers and over 1,100 hotels and casinos.
Many of Unite Here's goals concern taking care of their hospitality workers. They negotiate for higher wages, improved benefits including retirement plans and family healthcare, job training, due process and safety concerns. For example, Unite Here used union contracts to protect more than 200,000 members from anti-LGBT discrimination before the 2020 Supreme Court ruling that included the LGBT community in the 1964 Civil Rights Act.
The financial benefits of union membership have been recorded several times. According to a 2021 study by the Economic Policy Institute, union workers earn 10.2% more on average than their similarly educated and experienced non-union counterparts. For hospitality workers, the U.S. Bureau of Labor Statistics found that the median weekly pay for union staff in 2021 was over $100 more than that of non-union staff—$756 compared to $645.
While Unite Here has a large focus on worker protections and benefits, the organization also has resources and departments dedicated to helping meeting and event planners host safe and successful programs in unionized venues.
What's in it for Planners?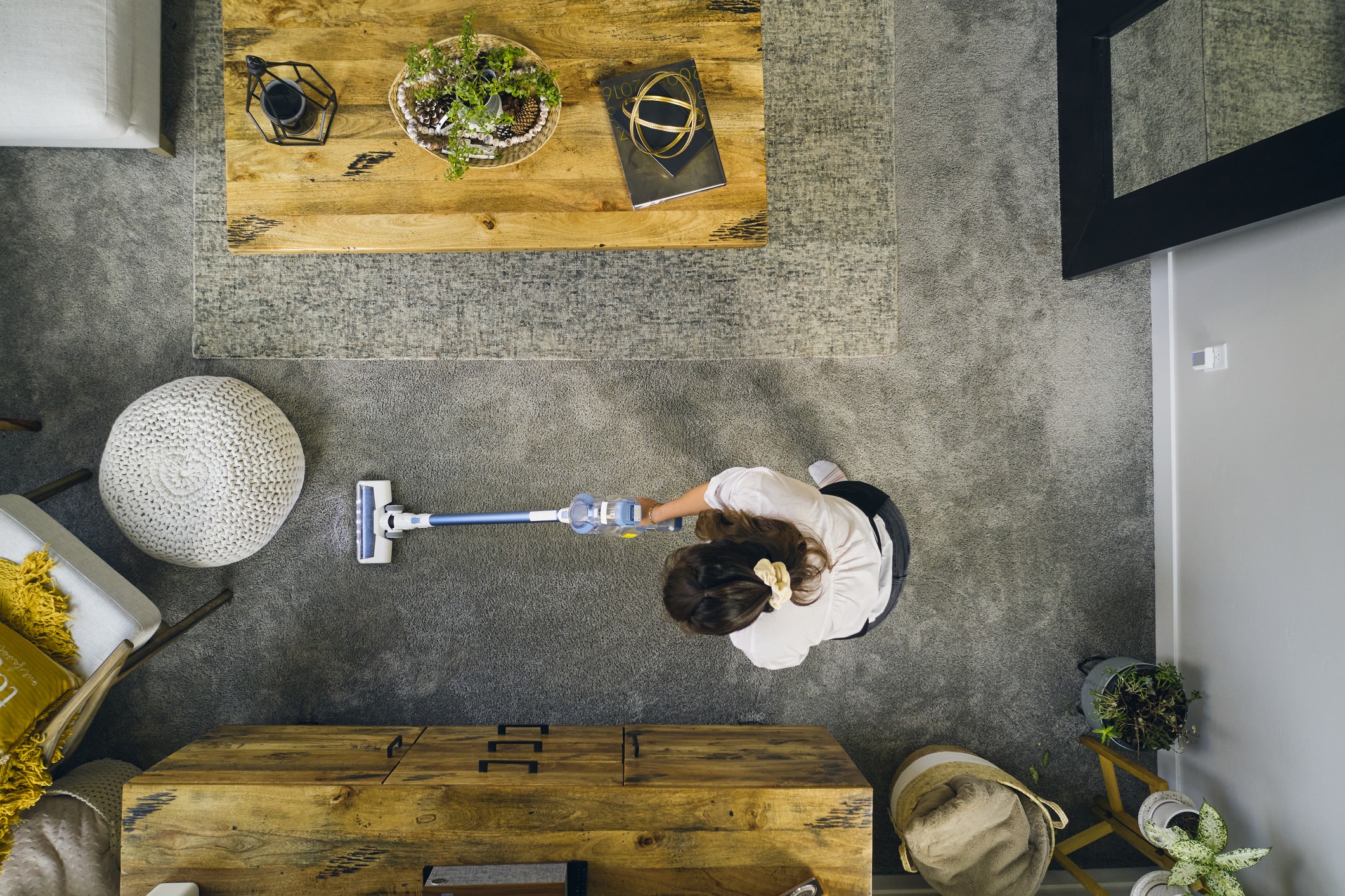 While union hotels have a reputation for higher costs and the possibility of strikes, since the start of the pandemic, the alternative has often been properties running skeleton crews that are either burned out or new to the position. Event production agencies often have to supplement hotel staff with their own employees to pull everything together.
Jessica Austin, customer outreach coordinator for Unite Here, reports that there has been "a huge difference this year between hotels that offer good jobs versus those that don't." Union hotels are more enticing for the dwindling number of hospitality workers. Agency, contractual protection and a livable wage are aspects everyone looks for in a career, but these are often missing from non-union hospitality work.
"When workers have good, stable jobs, there's less turnover, and workers will be focused on your function," said Carrie Sallgren, customer organizing director at Unite Here. She said that improved working conditions attract the "best of the best" hospitality workers. In addition, union venues in large cities like Las Vegas, Boston, Chicago and Los Angeles select staff with accreditation from special academies to make sure their employees are up to date on the latest technology, equipment and service techniques.
Sallgren continued, saying, "It's a time of great change in the industry, and event organizers want to know that their event is backed by an experienced team that will keep everything running smoothly and handle any hiccups. Union hospitality workers are highly skilled professionals, and they enjoy hosting the same organizations year after year, anticipating guests' preferences to deliver tailored service."
Resources Made for Planners
Unite Here created FairHotel to assist meeting and event planners in choosing a union hotel or venue. Its main service is as a directory for union or boycotted hotels across the United States and Canada with filters for location, brand, meeting space and guest rooms.
In San Francisco, there are 60 properties with solid union contracts that are not at risk for striking. Las Vegas has 56, Boston has 36, the Chicagoland area has 68 and Los Angeles has 72. Each area has a wide range of offerings in meeting space and guest rooms. San Francisco has unionized properties as large as Hilton San Francisco Union Square, hosting 1,908 guest rooms and 134,500 sq. ft. of event space, and as small as Seal Rock Inn with only 27 guest rooms.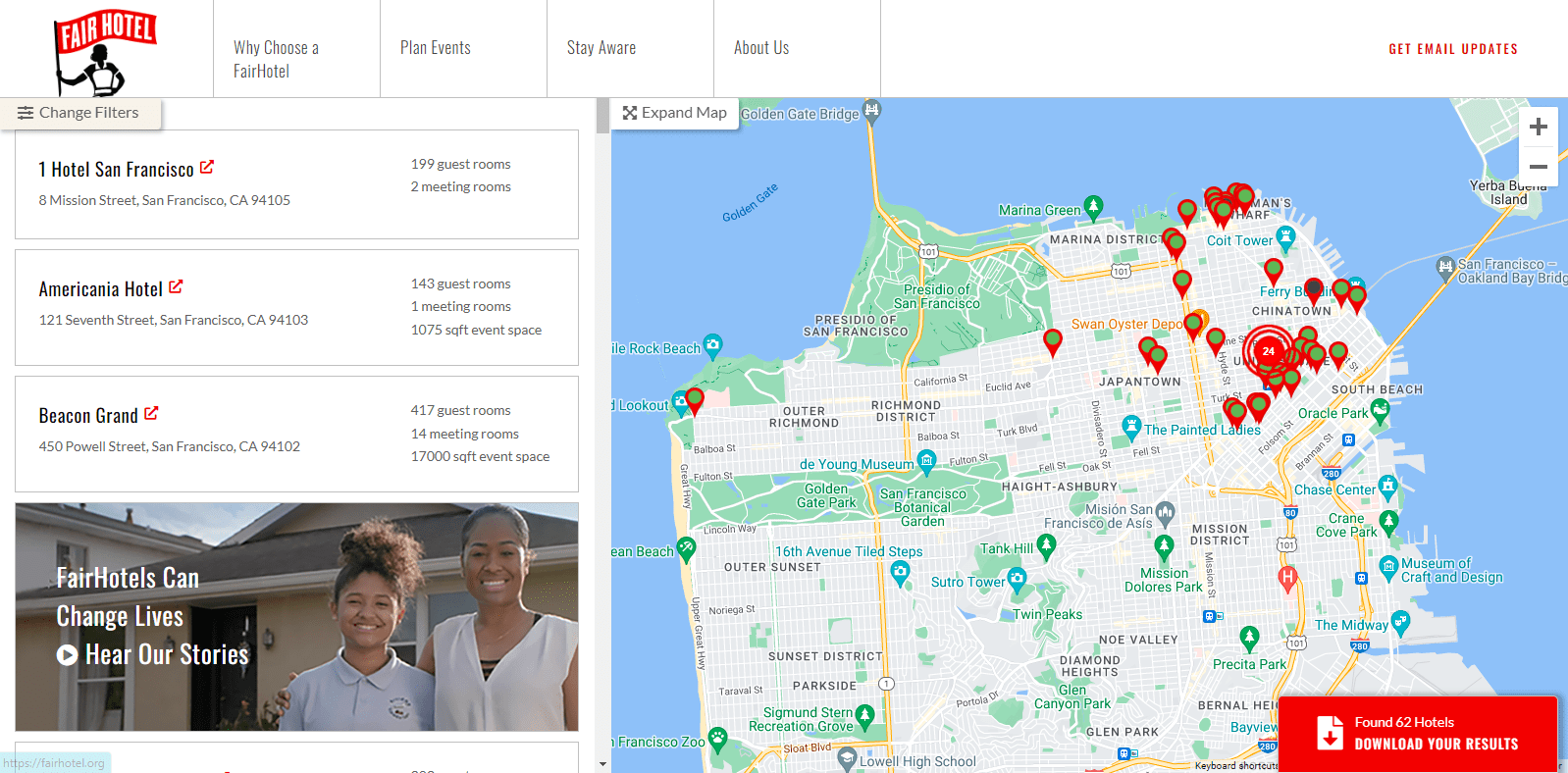 Under the "Plan Events" tab, FairHotel has additional resources. "Model Protective Language" is a set of example clauses that planners can include in event contracts to protect themselves and the event in the case of a strike or labor dispute. These supplement force majeure clauses that "do not necessarily include protections" for union-related incidents, said Sallgren. The model clauses allow planners to guarantee a certain level of service, clean rooms and the right to move to another location if needed.
Unite Here has a team that helps planners utilize these resources and provides labor forecasts for their chosen venue. Their customer resource department can be reached at 202-661-3680 or fairhotel@unitehere.org.
Supporting Hospitality Staff
Companies and organizations that focus on corporate social responsibility (CSR), sustainability and community find mutual benefit in booking with union hotels. Event organizers can meet their CSR goals and union properties host a successful event. If your company wants to do more to support hospitality staff, FairHotel has several options to consider.
Unite Here's biggest current initiative is getting hotels to have rooms cleaned every day. With staffing shortages, many properties have opted to only clean rooms at the end of a stay. This has constrained work hours, wages and health for housekeeping staff, 72% of whom report pain, stress and injury when cleaning rooms that haven't been serviced daily. Asking the front desk to have your room cleaned daily or including it in event contracts gives housekeepers more hours and an easier job.
Companies and organizations that want to pledge to patronize union hotels whenever possible can become FairHotel Partners for no cost. The pledge earns consultation from Unite Here's customer resource staff to ensure that your event will go off without a hitch.