No one ever said waiting in line was supposed to be fun and welcoming, but a production company recently partnered with the Special Olympics USA Games to challenge the way attendees queue up.
In November 2022, edgefactory, a full-service media production company, partnered with the Special Olympics Healthy Athlete Experience in Orlando, Florida, to host and give free health screenings to 12,000 athletes over a seven-day period with the help of 600 doctors. Although many believe those with intellectual disabilities have similar or better access to healthcare, many struggle to access the medical care they need.
What transpired was an example of how design and technology can make even an event as large this one a simple, accessible and entertaining process.
Cue Up the Entertainment
The creation of the event's multiscreen queue system, using a combination of digital signage on screens, physical signage in the form of colored decals, and audiovisual cues, navigation though the venue was made easy. Screenings were offered in eight categories, such as optometry, podiatry, emotional health and dentistry. When an athlete's turn was up, a number was displayed on screen, accompanied by a color and icon that symbolized the type of exam underway.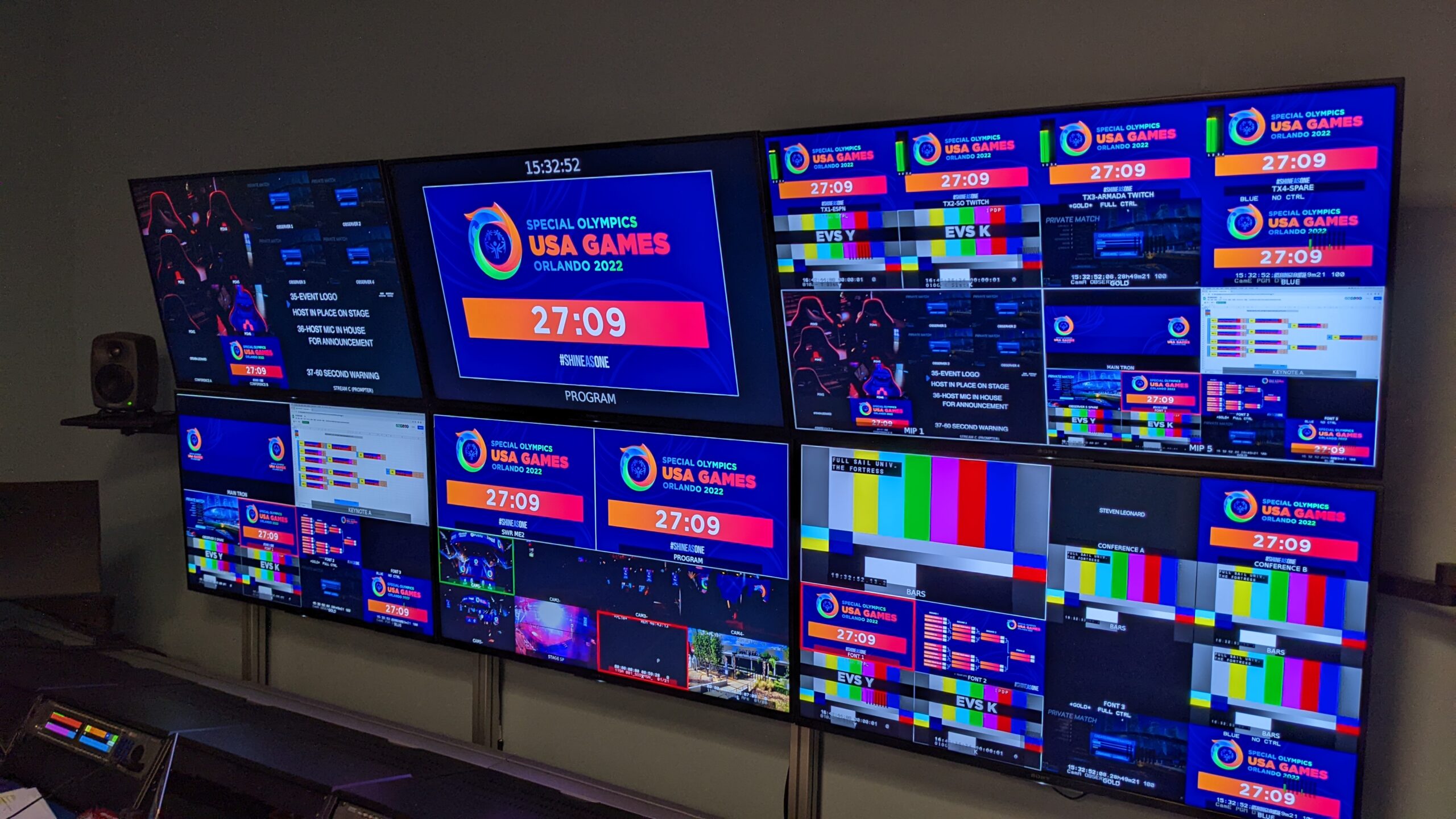 To keep the energy up, edgefactory produced its own channel that displayed health, sports and fitness content on TVs around the space, with music playing during the whole event.
Edgefactory partnered with Qmatic to design the queue system, something that Brian Cole, CEO of edgefactory, says was beyond their scope with such a large number of attendees. "Together we were able to turn a typically tedious experience into a streamlined process," he says. "Sometimes it's necessary to take what is not working and find a tool, and then make that tool part of the show. Make it seamless."
"Athletes enjoyed engaging with the video content streaming throughout the event, and the clarity and simplicity of the queue system kept stress levels down," Cole says. "The Special Olympics USA Game organizers were extremely happy with the outcome of the digital elements of the queue system."
Lessons Learned
Although many planners work on events of a smaller scale, there are still lessons one can take from this. "Plan plan plan," Cole says. "Whether it's a big show or a small one, having an accurate understanding of your attendees needs, and not just meeting them but going above and beyond, will help facilitate a more positive event experience."
Cole says that while planners don't need to go to the extent of making a customized queue system in the name of accessibility, what they can consider is how to incorporate accessible elements in other ways. "Even if only one attendee needs accommodations, you should always go the extra mile to ensure that everyone can experience the event, and that the content being shown enhances not hinders the experience.
"Even on a smaller scale, like a 500-person event, there are always opportunities to enhance experiences with well-thought-out content. There's nothing more frustrating for an attendee than having to wait around, no matter the size of an event. You want to constantly fuel an engaging atmosphere. If you are checking in attendees on the first day of a smaller event, you can still set up signage and TVs with custom content to pump up and engage the audience for the rest of the event."