In a now-famous 1943 paper entitled "A Theory of Human Motivation," psychologist Abraham Maslow identified a psychological hierarchy of needs that remains a popular framework in a wide variety of fields, including management training. A new white paper from FreemanXP, a San Francisco-based brand experience agency, suggests that planners can apply Maslow's psychological theory to meetings.
The author, FreemanXP's vice president of strategy and planning, international Niru Desai, believes that attendee engagement can be maximized when meetings are purposely designed to address attendees' wants and needs. She points out that these needs morph throughout the life of an event. "From proper guidance to different venues and speaker times to making connections and having fun, the needs span a wide universe. By tracking these needs as an event unfolds, we can design unique and engaging experiences to satisfy them—deliberately, on-time, and as they arise," she writes.
Desai acknowledges that identifying and meeting attendee needs can be challenging, however social media, mobile apps and other digital engagement tools that provide real-time data can allow planners to monitor, adjust and amplify the attendee experience.
Maslow's Psychology: A Hierarchy of Needs
Maslow's hierarchy of needs is often expressed in the shape of a pyramid. Basic physiological needs such as food, drink and shelter reside at the base, while self-actualization, the highest of the five levels he identified, is at the top. In between are safety, love and self- esteem.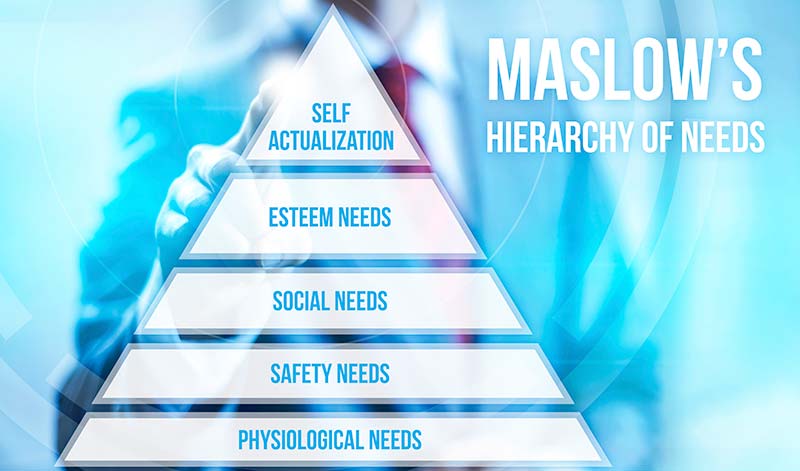 According to Maslow, basic fundamental needs must be met before humans can progress to higher levels . Similarly, Desai suggests that planners must ensure that the basic needs of their event attendees are met before attempting to engage them with deeper, "self-actualization" experiences.
The base of the meeting pyramid hierarchy of needs would include factual information about the venue, speakers and events that will take place over the course of the conference. Desai recommends providing these basics before attendees arrive, while at the same time ascertaining how attendees would prefer to receive communication throughout the event.
Then, Desai says, offer them the tools that will help them navigate their own preferred experience and rise up the pyramid. The goal is to provide relevant and insightful value that they will share with their networks. This self-actualization meeting experience may come about as a result of the level of access you provide to experts throughout the conference, or the engaging interaction the attendee experiences with others.
"By giving them the opportunity to engage with a community as well as get recognition and respect, their hearts begin to open to deeper experiences," Desai writes. You want attendees to leave your event with a sense of purpose and achievement, and share what they have experienced with others.
She points out that all event attendees want to grow, evolve and learn. "Their attendance is driven by these wants. For Maslow, this is the meditational stage of self-actualization," she writes. "What they take away will extend your event long after the lights go out."
Five Levels to Meeting Self-Actualization
Using Maslow's pyramid, Desai illuminates the five levels meeting attendees may progress through.
Level One. The base level guides attendees, making them feel more secure about attending the event. Effective tools for guiding employees include a mobile app, live onsite support and the introduction of social media tools related to the event. When attendees feel confident, they will be more open to the possibility of deeper engagement.
Level Two. When attendees feel comfortable about their surroundings, they will advance to the next level, which is value. Offer attendees a valuable experience by providing short, bite-sized presentations, access to experts, lots of visuals and social media platforms that they can engage with.
Level Three. Attendees want to interact, share their experiences with others and become a part of a community. Encourage connection and maximize networking opportunities. These deep emotional connections will make their individual experience stick.
Level Four. At this level, participants will most likely have formed important and lasting impressions about the experience and your brand. They may be open to contributing after the event ends, helping develop the content or experience for future meetings.
Level Five. At this highest level, attendees will incorporate what they gained at your event and share it with others both professionally and personally. Encourage this by providing tools that will enable them to continue sharing the content long after the event, and drive the future long-term success of your business by attracting return attendees, increased sponsorship and press coverage.