Editor's Note: Mario Peshev is a WordPress developer and architect at DevriX who has worked on the back end of Smart Meetings for several years. As an organizer of WordCamp, Peshev went from event organizer to event speaker at this year's WordCamp Europe event, presenting on a very relevant topic in an industry: remote employees. The event was hosted at  MuseumsQuartier Wien, Museumsplatz, Vienna. This is his experience as he prepared for the event.
Q&A with the co-founder of WordPress (Photo courtesy Florian Ziegler/ Flickr)
WordPress is the most popular platform powering over 26 percent of the Internet. In other words, statistically speaking, every fourth website online is built on top of WordPress.
The popularity and large adoption of the platform brings together a diverse group of people specializing in different areas—from developers to marketers, designers, agency owners, site builders, hosting companies specializing in WordPress, content producers and small DIY business owners.
What is WordCamp Europe?
WordCamp is the official event for all things WordPress. The first WordCamp was organized in San Francisco by Matt Mullenweg, the co-founder of WordPress, and nowadays one could pick between close to one hundred annual WordCamp conferences on six continents. WordCamp Europe 2016 was organized in Vienna, Austria, with 2,200 attendees, which made it the largest international WordCamp to date.
WordCamps organized in various countries follow different formats depending on their local communities. The lead organizers of WordCamp Europe had to identify the main fields of interest among their audience. As an active WordPress contributor over the past several years and a co-organizer of WordCamp Europe 2014 and 2015, I've been involved with the speaker selection process and the challenges of sifting through hundreds of applications, picking the most suitable talks and crafting a "story" between relevant titles whilst complying with various regulations and best practices.
One of my talk submissions was accepted this year, and I was honored to present alongside the two co-founders of WordPress, many of the platforms' lead developers and contributors, renowned business owners, and numerous experts in the field.
Training Courses vs. Event Keynotes
My second development job was in a training academy, and public speaking was an important part of my day-to-day. With over 10,000 hours on stage over the past 12 years I've had the chance to present in different formats on various subjects in front of different audiences.
However, presenting at a conference is extremely challenging and far different than teaching a course for two, four, or even eight hours. WordCamp Europe 2016 (WCEU2016) chose the 20+5 model: 20 minutes of presentation and 5 minutes for questions.
Being able to engage the audience and cover a certain topic in 20 minutes isn't an easy task. Most speakers err on the safe side by submitting inspirational talks that could be more spiritual or philosophic without having to dig deep into a matter, but hands-on, practical talks require a certain amount of aptitude.
Remote Culture
My topic was "Managing a Remote WordPress Team." Our agency was founded in late 2010, currently 25-people strong with employees across eight different countries. "Remote Culture in the New Era" is a trending topic that is emerging in the startup world, but larger enterprises have a harder time grasping the concept and applying the old-school managerial strategies to a new model of work.
Since most of the management books cover the corporate way of running business or mostly theoretical principles of building remote teams, I shared some personal experience on building a remote team and key differences in the hiring process, communicating on a regular basis with remote employees, maintaining motivation and dedication from distance.
Organizers of #WCEU 2016 formed several focused tracks in order to satisfy the largest groups of attendees specializing in different fields, such as development, running a business and building a community. Our business track combined several talks that covered different steps of running a business, such as:
–Building a smart and measurable email strategy
–Creating a successful product business plan
–Project management and working with clients
–Working with non-profits
–Cultivating happy teams
Being aware of the other selected topics, helped ensure that my talk focused on aspects that weren't covered in any of the other talks in order to avoid overlaps, yet including hooks that I could use to refer to the talks presented before mine. This helped to create a flow that connected each talk.
My three goals were:
1. Stress that remote working isn't a myth and is, in fact, very successful for certain businesses
2. Create an actionable model that makes sense and can be applied by anyone interested (and fit within the time slot)
3. Reflect on the main challenges and concerns that most people have when thinking of working in a remote environment
I met a medical professional on a flight who worked in a lab facility specializing in surgery. They used groundbreaking technology in the field, but one of the things that stuck in my mind was that they use 3D cameras that allow surgeons to perform remote surgeries. Think about it: critical operations that could only be performed by the most renowned surgeons in the world can happen at all times and anywhere across the world, and having doctors who can perform numerous surgeries from a room with a large screen in different continents every couple of hours is simply revolutionary.
I contacted a friend and learned a bit more about that technology. Then I used a photo of a surgical room early in my presentation claiming that remote work isn't applicable in some fields, including that industry which was more or less "common sense". Using my recent knowledge of medical equipment, I did counter my initial theory and proved that remote working is successful, reasonable, saves lives and is very much applicable even in industries that are assumed to require physical presence where minor mistakes would be fatal. That was a good start that allowed me to continue with the other two goals of my presentation.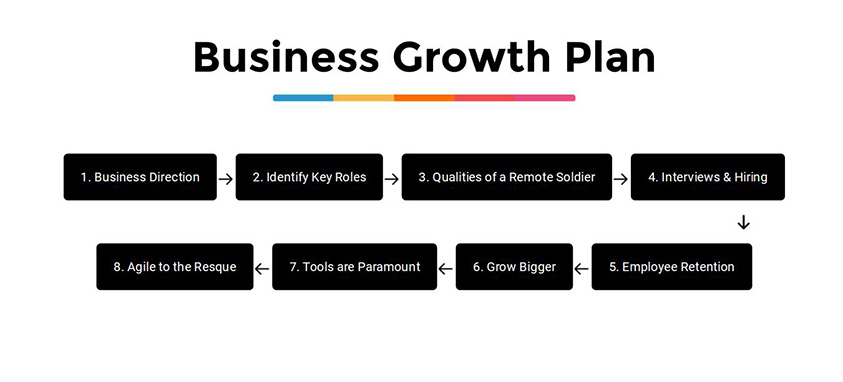 I broke down our business model to eight specific areas from building a new business to applying a flexible business model repetitively on a weekly basis that gets the work done, and using it as a framework for the rest of the talk.
While sharing actionable steps and practical tips based on experience, I also shared certain challenges with hiring remote personnel (and key attitude traits or soft skills to look for that are far less important for on-site workers), communicating and identifying motivation issues among remote employees, as well as building a friendly culture between team members sharing videos of memes online, playing online games or bonding between team members. Based on the follow-up feedback after my talk, those were the key bottlenecks for many agency owners trying to tackle new strategies with dated advice.