Fires raging in Southern California have already destroyed 1,000 structures. Tens of thousands of event attendees have been impacted as groups deal with air quality warnings and, in some cases, evacuation orders.
We spoke with Julie Mauer, vice president of marketing for Silverado Resort and Spa, which evacuated during the Wine Country fires in October for insights into how to keep everyone in your group safe and calm during an emergency at a venue.
In the Line of Fire
The Atlas Fire in Napa Valley started at approximately 9:20 p.m. on Oct. 8, and Silverado started evacuating at approximately 10:00 p.m. The fire was several miles away, but strong winds pushed it through the valley quickly. Silverado was one of the first sites evacuated.
Staff at Silverado acted quickly. "Our resort general manager made the call to evacuate before the fire officials began evacuating," Mauer reports. The process was extensive, since Silverado is a 350-acre resort with 350 cottage rooms, spread throughout four different "neighborhoods" and was at about 75 percent occupancy at the time. Staff began going door-to-door while front desk personnel called each room. Evacuees fled to a nearby shopping center before moving to alternative accommodations or evacuation centers.
Reopening for Business
Several events scheduled at Silverado were cancelled over the next two weeks while the resort was closed for repairs. Silverado fully reopened Oct. 25 after cleanup was complete. By the end of that month, most of the region's 1,200 wineries were open for business with fewer than 10 seriously damaged, according to Visit California reports. All had an increased awareness about the importance of preparing for emergencies that can happen very quickly.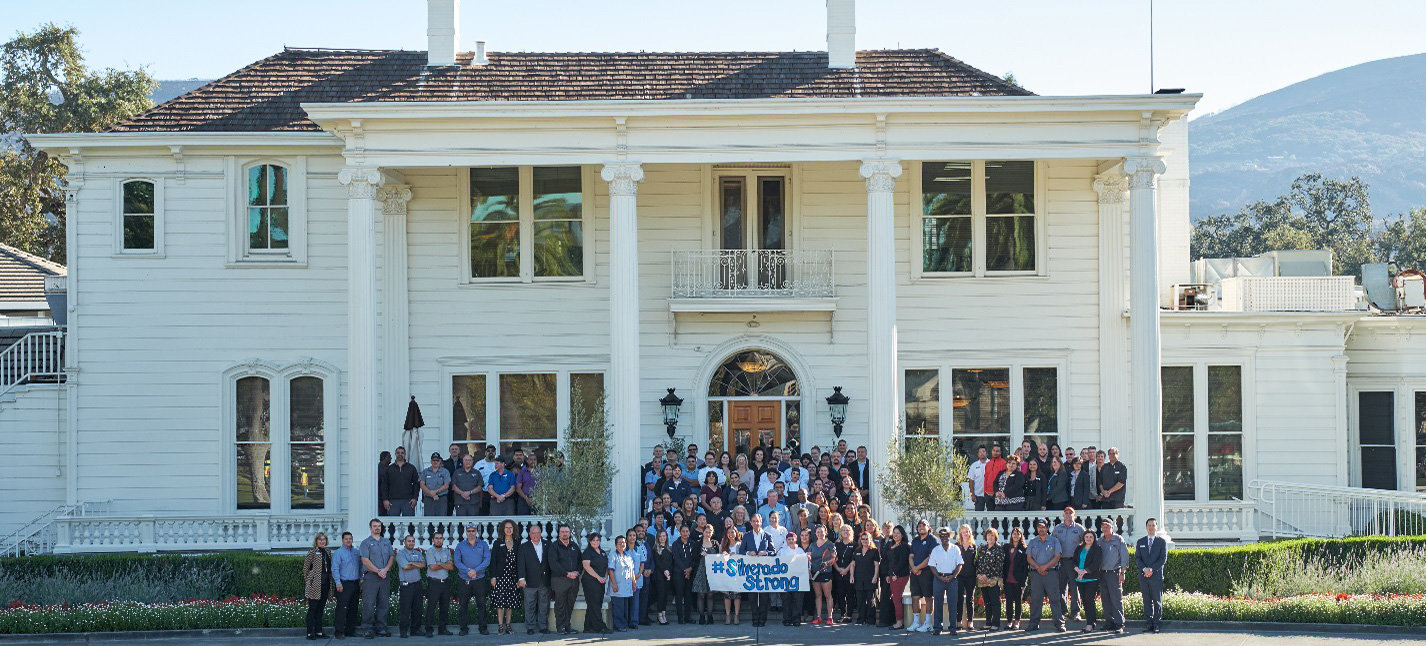 Photo credit: Silverado Resorts
Lessons Learned
So, what can event planners holding events in Southern California and beyond do to keep attendees safe when disaster strikes?
1. Communicate assembly points
Things can get chaotic in an evacuation, but if you have one or more assembly points in place, guests and attendees will know where to head once they've left the building. Tip: Make sure to base the assembly points around emergency exits, so there isn't wasted effort required to reach them.
2. Establish a chain of command
Everyone needs to be assigned a role to follow in case of emergency so no part of the process goes overlooked. In the case of Silverado's evacuation, the general manager had the insight to evacuate before officials alerted the resort to do so. In swift moving fires, these last-minute calls are critical. Tip: consider developing a text alert system for faster communication.
3. Run drills
Every employee—and, ideally, event professional on site—needs to be familiar with the emergency plan. That way in case of a real emergency, instincts kick in, and they know what to do and where to go. Depending on the disaster potential in the area, regular training sessions ensure hotel plans will be well orchestrated if something happens. While security teams often take a leading role in a disaster, it is important that all staff know what to look out for and how to direct guests, should it become necessary.
4. Know your property map
This should include main water shut-off, main electrical shut-off, main gas shut-off, locations of portable fire extinguishers and location of pull stations. Knowing where these are beforehand streamlines the process of putting out fires in an emergency or directing the evacuation team properly.
5. Conduct regular risk management evaluations
Many hotel and resort owners are often caught off guard by the high costs of repairs following a disaster. Evaluating costs can be even more difficult when you're trying to move as fast as possible to reopen the doors. Professional restoration companies can conduct pre-loss assessments to determine adequate insurance levels.
6. Keep list of guests, including special needs
Maintaining a list of everyone attending a conference and their contact information can help event professionals and hotel staff confirm that everyone has gotten out safely. By noting which attendees might require extra assistance in case of emergency, you can more easily direct resources there.
While thinking about what could happen in case of emergency may not be the most fun part of planning an event, being prepared ensures that everyone is evacuated safely, and that you can get back to business as swiftly as possible—just like the Silverado did, as seen in the photo below taken during the grand reopening.
Do things right, and you might wind up with great testimonials, just like Frances Faulkenberg had for Silverado:
"I am the Event Chair for an industry group and we had our annual meeting planned for the Silverado Resort on November 8-10, 2017.  Imagine my anxiety when the Napa Valley fires broke out 4 weeks before our meeting was scheduled.  We immediately contacted the resort to find out if they were still up and running.  The Conference Service Manager and the Vice President of Sales and Marketing took time out of their incredibly busy schedules to keep me updated continuously on the status of the resort.  Even after they were evacuated and did not have access to the resort, they kept me continuously updated.  Amazingly, they did not have any major damage and our meeting went on as scheduled."