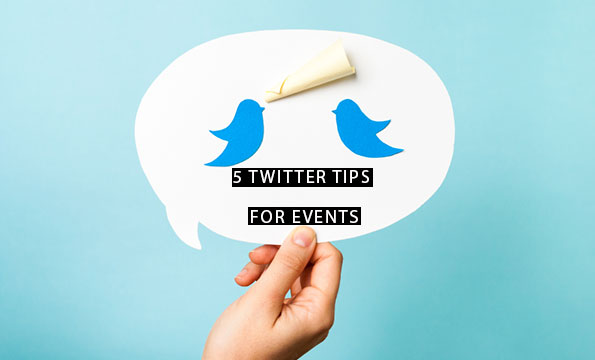 As the tools and tactics to make the most out of your events evolve, there's one effective platform that sometimes gets overlooked in favor of the latest gadget or app: Twitter.
However, a new partnership between Twitter and Google means that your event-related tweets will now have the potential to show up in front of more people than ever via traditional Google searches. If you're still kicking the tires with Twitter, here are five effective tips you can use to help find new clients and promote your events.
1. Beef Up Your Bio
Twitter allows you up to 160 characters to tell the world about who you are and what you do. Make sure to include highly searched keywords in your bio like "meeting planner" or "events professional" so those who are interested in your services can easily find you.
Include a link in your bio to your corporate website, or even link to your event page directly. Don't forget to include a personal, yet professional, image of yourself. Twitter accounts with personal images get much more engagement than those with abstract images or corporate logos.
2. Use #Hashtags
The ubiquitous hashtag symbol "#" calls attention to the topic of your tweets and allows your content to be seen by a much wider audience (i.e., people who do not necessarily follow you already). Use relevant, high-traffic hashtags like #eventprofs, #events, and even cities like #LasVegas or #Seattle in your tweets to increase their exposure and generate conversation around your event.
Create a unique hashtag, like #SmartMtgNOLA for example, to promote your event. That way, when anyone searches or clicks that hashtag, they'll see all the tweets that relate to that specific event. Use free tools like Ritetag  or Hashtagify to help you find and analyze the best hashtags to use in your tweets.
3. Find Your Target Audience
If hotel executives, event sales staff, and members of your target audience have taken the time to follow Tip #1 above and beefed up their bios, you can use a great free tool called Followerwonk to search Twitter bios for keywords that are relevant to your event. For example, you can search for keywords like "VP Sales" and "Hotel" and even limit your search to a specific city, or a specific corporate website to find accounts you can connect with and pitch your event.
You can also use Twitter 's Advanced Search to find conversations about your event happening in real-time on Twitter. Join these conversations to find opportunities to promote and generate organic engagement around your event.
4. Create Twitter Lists
Once you've found some relevant accounts and leads to follow on Twitter, keep track of them and save them for future reference by including them in a Twitter list. Lists are groups of accounts on Twitter sorted by whatever characteristics you like. Create public lists like "Hotel Contacts in California" or make your lists private to keep track of competitors without having to follow them.
As your event draws near, you can simply open your event lists to see what your contacts are tweeting, instead of having to search for each account individually on Twitter.
5. Display Real-Time Tweets at Your Event
You've got your lists set up, you've got a great event hashtag and people are using it to interact with you. Why not go completely public and post a real-time stream of your tweets on a wall at your event? Encourage attendees to post pictures of your event, ask questions or post comments (using your event hashtag in their tweets).
You can do this "DIY" by connecting a laptop to a projector with your Twitter account streaming your event hashtag, or you can use third-party tools like Tweetwall to customize and streamline the process.
Get content like this in your inbox—or in your mailbox! Subscribe here.