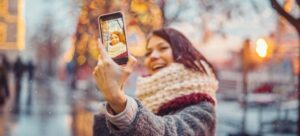 Instagram is big and getting bigger, and marketers are making a strong presence on this social platform a pillar of brand strategy. The numbers speak for themselves. According to Eventbrite's 2018 Guide to Instagram for Event Marketing, there are 25 million active businesses on Instagram, and more than 200 million users check brand profiles every day. A third of the most-viewed Instagram stories come from brands, and 30 percent of Instagram users have purchased from a brand they first discovered on the platform.
Instagram is extremely valuable for event promotion—a great tool for marketing your meeting in the months leading up to it, during the meeting itself and following its successful execution. Here are some tips on how use Instagram to take your event to the next level.
Make Your Page Pop
When promoting an event, you need a captivating Instagram page to draw in potential attendees. You want to show what makes your event unique, what you'll bring to the table and why people should want to come.
In the few months leading up to the event, include your audience in the planning process. Share a video snippet of your team hard at work, or a photo of the event space. People enjoy feeling as though they're seeing something others aren't; by giving little glimpses into the preparation phase, you're piquing potential attendees' interest.
Invite Your Audience to Interact
Another way of drawing people in is to make them work for rewards. Instead of simply announcing who your keynote speakers will be, make your followers guess by revealing weekly hints about who they could be. The grand reveal will be all the more exciting.
If this isn't your first time hosting the event, post photos and videos from the past to showcase what attendees can expect. Use a hashtag (we can't say it enough!) early on, so potential attendees can find #ThrowbackThursday memories from past attendees on one page. You can also search the hashtag to re-gram photos previously posted.
Game Day Guide
The day is here, and you finally get to see your ideas and hard work come to fruition. But the day can also be overwhelming, and it's easy to let social media fall by the wayside. But from start to finish, Instagramming is a must. Having a strategy for what posts you are going to put up—and when—with captions already drafted will take the pressure off.
The morning of, start by posting a welcome message and any necessary agenda items. People will check in for last-minute information you post, so answer any pressing questions in your caption. This will not only help attendees feel properly prepared—you'll also be saving yourself from repeatedly answering the same thing.
Don't forget about Instagram stories. These pictures and videos disappear after 24 hours, creating a sense of urgency to check your page regularly to avoid missing anything. Nobody wants to feel left out.
Throughout the day, people will inevitably take breaks to scroll through social media and post what they're doing. Use the hashtag you set up in the months leading up to the event and encourage attendees to do the same. You can even run a contest for the best Instagram post using your hashtag. Bingo! People will be more likely to share their experiences.
Post a video of yourself doing a pre-event interview with a keynote speaker or chef preparing Insta-worthy dishes. This taps into everyone's love of feeling in the know.
If all this sounds slightly overwhelming, consider making room in the budget for somebody who can handle your social media for you.
Post-Event Feedback
As fun as it may have been, it's a relief to be done with an event. But that doesn't mean your presence on social media is over.
People use social media to express what they thought of your event—positive or negative. A few days following the event, make sure to post a thank-you note to attendees. In this same post, ask what could be executed better next time. Set up a survey, and when those suggestions come in, acknowledge them. It's easy for people to feel as though they're just another comment; show you care about their opinions by responding personally.
For a month or two following, update regularly with photos and videos from the event. You don't want to fall victim to "out of sight, out of mind," especially if it's an annual affair. Continue to engage with your followers, and it will pay off in the long run.