A virtual board meeting will soon be able to fit in the palm of your hand. Apple's new Group FaceTime will enable up to 32 callers to participate in a conversation all at once, and this fall, iPhone, iPad, Mac and Apple Watch users will be able to access the new service after downloading iOS 12.
Conference calling is nothing new, but it requires dialing in to a line and typing in a long series of numbers to connect. Some users have found this to be a challenge and miss the call or cause the call to be delayed until they're able to successfully connect, thus making other people on the line grow impatient and maybe even choose to skip the meeting. Services such as Skype enabled video conferencing, but Group FaceTime is significantly advancing this technology.
As of January, Apple said there are 1.3 billion users of its products, making Group FaceTime accessible to most planners. "That's an increase of 30 percent in just two years, which is a testament to the popularity of our products and the loyalty and satisfaction of our customers," said Apple CEO Tim Cook.
Meeting professionals will find this handy for multiple purposes. In the planning stages, you'll be able to speak to all of your vendors—venue, florist, decorator, linen company, deejay, caterer, PSAV—simultaneously and make sure everyone is on the same page. If attendees can't be in the same place at the same time, intimate gatherings, such as executive board or committee meetings, can occur over FaceTime instead of around a conference table in a boardroom.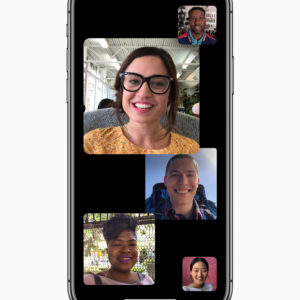 If you're stuck at the office late or out of town and want to check in with loved ones for a family meeting or bedtime story, you can utilize this group feature. You can speak to your spouse and children on all their devices so that one phone doesn't have to get passed throughout the house, with everyone taking individual turns.
The faces of active speakers are highlighted as tiles. When a participant begins speaking, their tile automatically enlarges. To bring a select person front and center, double tap on their face. All other participants' faces appear minimized in a carousel roster at the bottom of the screen.
To add some humor and lightheartedness into your group conversation, replace your face with a cartoon version of yourself or an animal head using the Memoji or Animoji features. The emojis track facial expressions, eyes and tongue. Filters and stickers are also available to customize the experience.
iOS 12 will become available as a free update this fall for iPhone 5s and later, all iPad Air and iPad Pro models, iPad 5th and 6th generation, iPad mini 2 and later, and iPod touch 6th generation.