SkyGuru provides real-time explanation and what to expect during your flight
Meet Alex Gervash: an FAA and EASA licensed commercial pilot, psychologist, and now—app creator. Gervash is the director of Fearless Flying, a center dedicated to treating aerophobia, a condition which the National Institutes of Health estimates afflicts up to 40 percent of the population.
So after eight-plus years of treating patients with fears of flying, and observing more than 7,000 successful graduates of the program, Gervash gathered information from resources around the world to develop SkyGuru, an iOS app that uses smartphone sensors and a series of algorithms to literally talk users through the flight—even on airplane mode. So if you've ever thought to yourself, I would feel so much better about flying if I could just pick the pilot's brain throughout the duration of the flight, you're in luck.
How does it work? After a user has downloaded the app, they input the flight number into the app 24 hours before the flight is scheduled to take off. The app offers advice on the best seats for queasy travelers, analyzes weather conditions, calculates flight times, and explains dipping sensations, sounds and turbulence as they happen throughout the flight.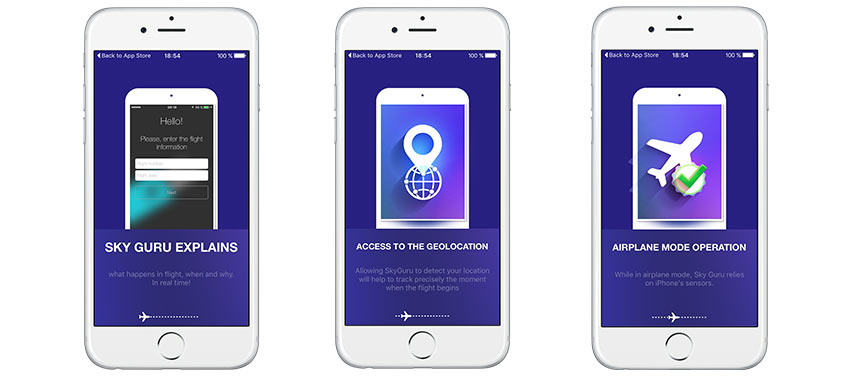 The app also predicts maneuvers on takeoff or landing based on current conditions to keep the user as prepared and in-the-know as possible, and can warn users of delays.  During stressful moments, such as during turbulence, the app sends reassuring messages, for example, "Control yourself rather than the airplane."
The app can even answer questions users may have—such as why the lights in the cabin are blinking.
Gervash claims that the anxiety is often due to a simple lack of knowledge. "People need support during turbulence or with understanding a strange sound," he told the Daily Mail.
The app was just released and costs $6.99 during launch period. The app's cost will increase to $19.99.