Meeting and event planners are all too familiar with travel. They know each step in the process and have memorized every airport hack out there. Aware of how unpleasant long hours of travel can be, tech companies are working to alleviate the discomfort, inconvenience and general frustration. Perhaps these products will even revolutionize our expectations of the entire experience. In fact, these nifty gadgets are definitely cool enough to splurge on.
1. Mymanu CLIK Earbuds by Mymanu
Language barriers, be gone! These miniscule earpieces have the capacity to automatically translate 37 different languages instantly. Well, almost instantly. The translation process takes an amazing five seconds.
Preorder is available at $199.
2. Wair by Clausette
This scarf is a must for those suffering from allergies or traveling to heavily polluted cities. The apparel has a sensor and built-in filter that catches extremely fine bacteria, pollen and pollution particles.
Preorder is available at $56-$91.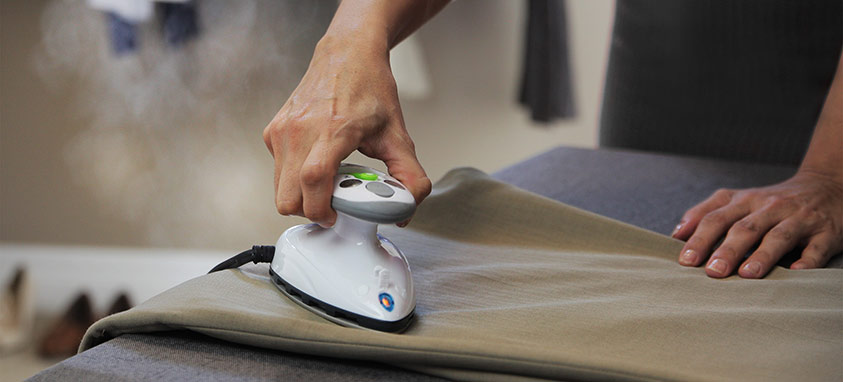 Photo by Steamfast 
3. SF-717 Travel Steam Iron by Steamfast
Business travelers know it can be a struggle to keep suits and blouses wrinkle-free during travel. This travel iron aims to eliminate that issue. The tiniest iron of its kind, around the size of a computer mouse, SF-717 Travel Steam Iron provides a 420-watt motor and three heating levels.
Purchase is available at $24.99.
4. Polaroid Pop by Polaroid
Much like its predecessors, Polaroid Pop photos print instantly, but with an added option to save them digitally. Polaroid Pop has a 20-megapixel sensor and 3.97-inch LCD touchscreen. It's the perfect gadget for making Instagrammable—and scrapbookable—memories.
Retail price hasn't been announced yet.
5. Pocket Keyboard by ZAGG
When business calls or inspiration strikes, a smartphone can transform into a laptop instantly with Pocket Keyboard. Once folded out and attached, it can preserve 86 percent of the typing space of a desktop keyboard.
Purchase is available at $54.99.
6. Luminette by Luminette
Light therapy has long been a practice used to treat seasonal effective disorder, insomnia and jet lag.  Now, it is also portable. Held in a protective case, Luminette's light therapy glasses can be worn wherever you are. They can have a lasting effect with just 20 minutes of use.
Purchase is available at €239 ($258) and trial at €39 ($42).
7. SmartBackpack by AMPL
Doesn't it seem like your smartphone battery tends to die when you need it the most? Now you can easily keep all of your devices charged while on the go. This water-resistant backpack can charge numerous devices at once through its USB ports. The paired app will even let the user know what's charging and when other items need it, reassigning charges accordingly.
Purchase is available by size at $249, $429 and $499.
Photo by goTenna 
8. goTenna Mesh
GoTenna Mesh allows users to contact others with a range of a few miles. Designed for outings where service is unreliable, such as hiking and sailing, GoTenna is also useful during international trips.
Purchase is available for a pair at $149, or a set of four at $289.
9. GoPro Hero 5 Black by GoPro
Characteristic of GoPro, the device is waterproof and offers a wide range of futuristic features, including voice activation capabilities, a two-inch touch display and a compact, portable design.
Purchase is available at $399.99.
10. Delsey Pluggage by Delsey
A built-in luggage GPS ensures your suitcase will never be lost again. Other Delsey Pluggage features include an internal scale, phone charger, fingerprint ID lock, interior light system and wireless speakers.
Price estimates around $500-$600.