Bikes, Bucks and Breweries
Meet where the unique unite
By Morgan Saltz
To be located in the middle of the country means people from all walks of life will bring something different to the culture. Milwaukee says it is "the city where the unique unite" and that is shown through its diversity in its history, its population and even its meeting spaces. Meeting profs can be sure their attendees will find their niche or discover something new. Or both!
Local Expert Tip
"Milwaukee is an exciting meetings destination with an unexpected 'wow' factor."
–  Claire Koenig, communications director, Visit Milwaukee
Experience Milwaukee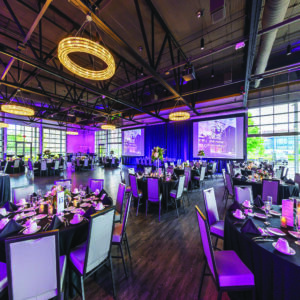 Harley-Davidson Museum. Milwaukee is home to the world's only Harley-Davidson Museum. It isn't just motorcycles and memorabilia—the park-like campus also includes gift shops and Motor Bar & Restaurant serving Wisconsin classics like fish fry and local draft beer. The restaurant offers private and semi-private dining for groups and a flexible menu.
Historic Breweries. The art of brewing craft beer has become increasingly popular in recent years, yet Milwaukee has long been known for brewing, even predating Wisconsin becoming a territory! Earning the moniker "Brew City," groups can take guided tours with local beer experts or check out Pabst Mansion, home of the founder of Pabst Brewing Company.
Read More: Midwest/Chicago: Midwest History Meets Modernity
3rd Street Market Hall. Described as the "new face of downtown," The Avenue is home to 3rd Street Market Hall. Serving global cuisine such as Kompali Tacos Y Tortas and Kawa Sushi, 3rd Street Market Hall represents authentic Wisconsin as well. Grab some sweets from Mid-Way Bakery, made with Wisconsin dairy, or snag some Milwaukee apparel at Brew City Brand.
Lake Michigan. "I think something that unites many of us is our proximity to the greatest lake, Lake Michigan," says Koenig. "It's something we orient ourselves with, it's a recreational outlet year-round, and it's something that is a driving force behind many industries here. I think for many Milwaukeeans, it's incredibly hard to imagine living somewhere that isn't anchored by a body of water so massive that it's much more like an inland sea."
Sports Venues. Greater Milwaukee hosts sports venues as divergent as the USA Triathlon, US Open, USA Fencing and USA Volleyball. A new professional USL soccer team will be calling Milwaukee home in the developing Iron District in 2026.
5 Fantastic Places to Meet