Meetings in Eastern Canada heat up
April 1, 2022, was a landmark for meetings in Canada and that's no April fool's joke. It was the day that a new arrivals protocol was put into play. Visitors from outside Canada would no longer need to take expensive Covid PCR tests. Proof of double vaccination would be enough to enter the country (while at press time less expensive rapid antigen tests were required for reentry, but told us they expected the United States may drop that soon on reciprocity).
"We are thrilled by this new measure of the lifting of previous measures," says Emilie Belisle, assistant director of communications with Quebec City Business Destination/Convention Center. "A lot of events had an issue with this. We have a lot of international conferences in life sciences coming from all over the world and this new move will make it so much easier."
"I think it's necessary at this point and obviously we are listening to the directives of health officials, but for us to reignite travel and tourism, it's imperative that we lift it," agrees Lesley Mackay, vice president of meetings and major events, Ottawa Tourism.
Carol Damiani, manager, meeting and convention sales, Tourisme Montreal says her city is ready for business. "Demand is really up compared to last year," she says. "It's six times higher than at the beginning of the year."
Heather Neale, managing director of sales with Destination Toronto was looking forward to the resumption of international groups, as well. "With the return of business events, our community remains committed to innovative solutions that achieve meeting objectives while prioritizing health and safety," she said.
"Demand is really up compared to last year. It's six times higher than at the beginning of the year."
—Carol Damiani, Tourisme Montreal
An International Capital: Toronto
Toronto's Bay Street anchors one of the top ten financial hubs in the world. Scotiabank (market cap of C$95.46 billion with operations in 50 countries), TD Bank Group (market cap of C$149.9 billion) and Royal Bank of Canada (RBC with market cap of C$166.1 billion and branches in the United States and 17 Caribbean countries) are all located there.
But Toronto doesn't just do money. With a $364 billion economy, it generates 20 percent of the country's GDP and is an innovation hub for North America.
"We are a business hub for key sectors, including life sciences, technology, food and beverage, finance and advanced manufacturing," said Neale. "Our business community consists of bright minds and through leaders who deliver meaningful conversations and support for business events."
Toronto is also famous for being a melting pot of cultures and ideas. More than half of residents were born outside the country and over 180 languages are spoken.
Toronto provides "a spirit of inclusiveness and a sense of welcome that meeting attendees will feel upon arrival," Neale says.
Read More: 3 Reasons to Plan for Eastern Canada
The result is a rich melding of culinary (7,500 restaurants at last count), entertainment and educational offerings. In fact, it is the most highly-educated population in North America and home to five world-renowned universities and six colleges.
The return to international meetings is being welcomed enthusiastically. Since more than 135 million people live within a 90-minute flight and two airports serve destination in 55 countries, it is a regular stop on many major event rotations.
The International Association of Privacy Professionals is bringing their Symposium there in May. Destinations International is bringing the annual convention of DMOs to town in July. And International Association for the Study of Pain World Congress lands in September.
Where to Gather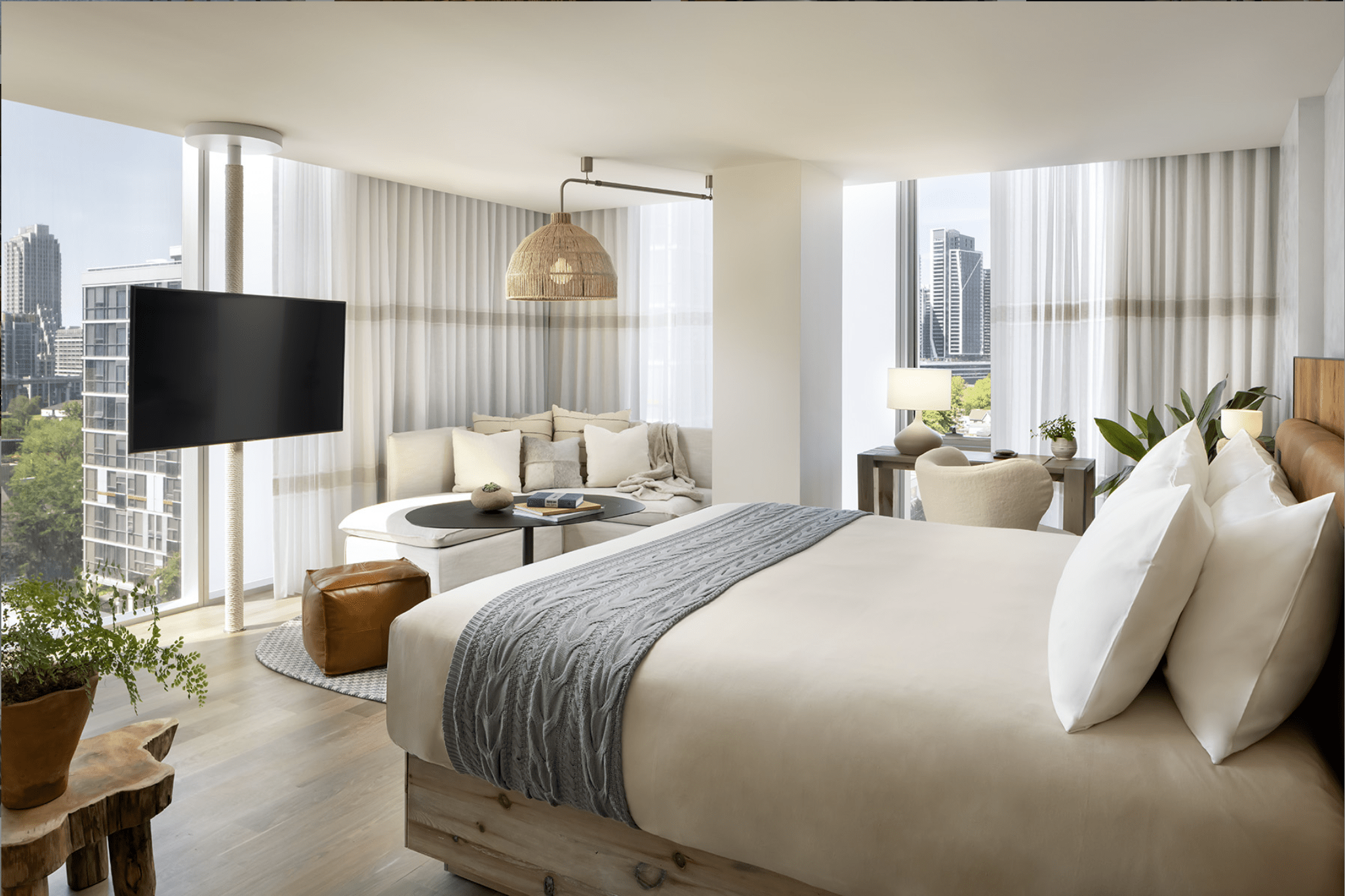 Toronto offers more than 36,000 hotel rooms in some 170 properties, with 14,000 rooms within walking distance of 2 million-square-foot Metro Toronto Convention Centre (MTCC), which sits on a direct air-rail link to Toronto Pearson Airport (YYZ). How convenient is that?
InterContinental Toronto Centre, connected to MTCC through glass doors, adds 18,000 sq. ft. of meeting space to the mix and many of the 584 guest rooms offer sweeping views of Lake Ontario and the city.
Nearby, historic Fairmont Royal York recently celebrated its 90th anniversary with a massive renovation that jazzed up the sophisticated spaces. From the all-new entry experience and hip Clockwork Bar in the lobby, to the plush linens in the 1,300 guest rooms and rooftop garden, the place is buzzing. All 62,000 sq. ft. of elegant event space have been lightened and brightened without losing the crystal and gold touches that have welcomed presidents and monarchy over the years.
1 Hotel Toronto opened in 2020 in the emerging King West Village neighborhood is the luxuriously organic, urban retreat guests have been waiting for. Light-filled, woody guest rooms and five restaurants, all featuring locally sourced ingredients await. It is topped by a pool deck with city views and features 14,000 sq. ft. of meeting space.
Much-anticipated W Toronto is set to open in Yorkville in June with 222 dramatically appointed guest rooms and its own rooftop bar and restaurant.
Faraway So Close: Montreal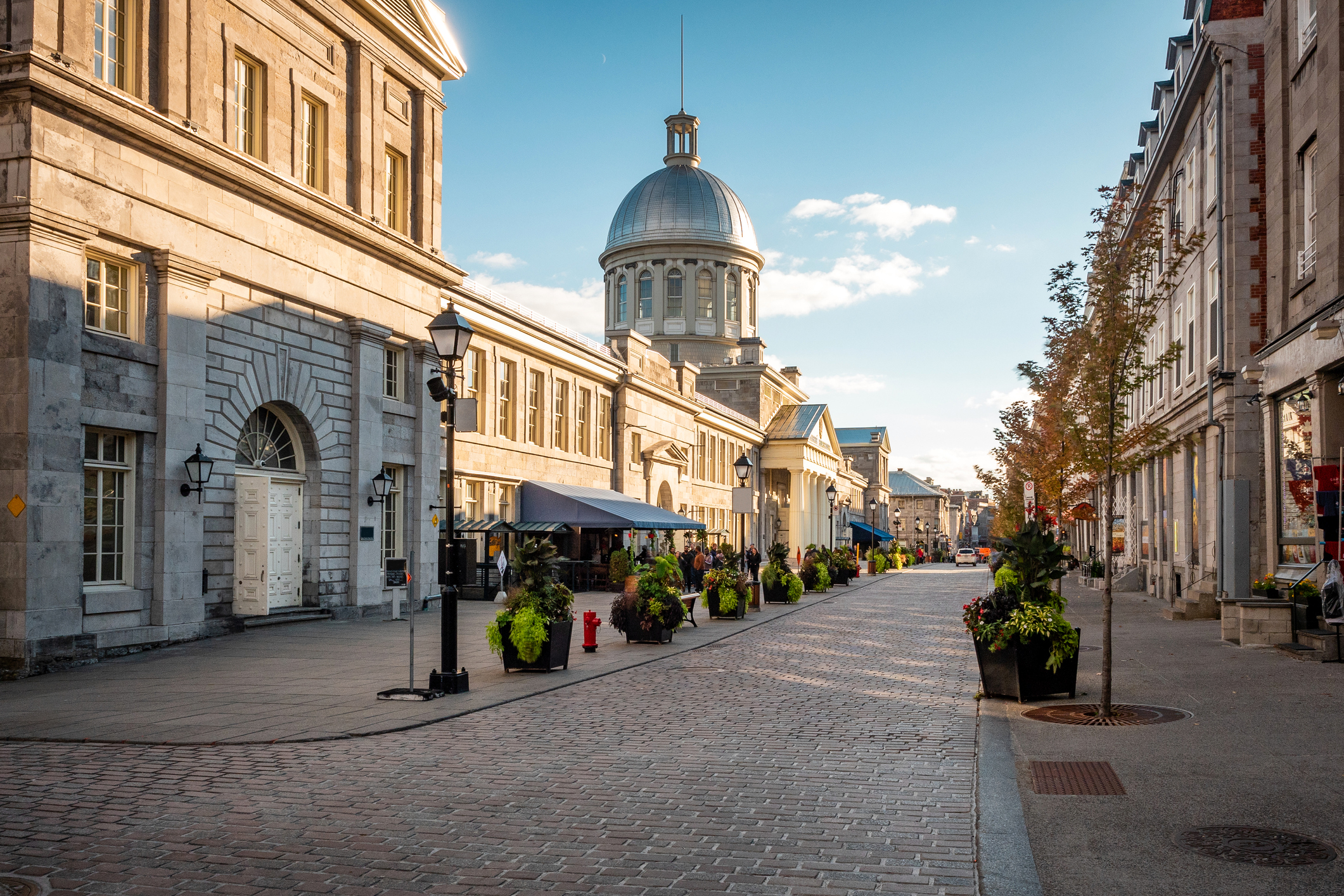 "Ninety million Americans live within a two-hour drive of Montreal," says Damiani. "Its proximity is only one reason why it's a fantastic destination for conventions and conferences. It has the luxuries of a major North American city along with the feel of being a European destination—a joie de vivre that's hard to resist."
Part of that joie de vivre is in the year round indoor/outdoor festivals that Montreal is known for: the Jazz Festival, the "Just for Laughs" comedy festival, fireworks, circus events as well as inclusive LGBTQ festivals, pride parades and more.
Other aspects of the city that feed the mind, soul and body are its hard-core dedication to the good life, la vie en rose, and a distinct ability to make anything into a party. Food here is serious (and it's not just poutine: that famous conglomeration of French fries and tasty fats).
The city boasts five-star restaurants where local Quebecois cheeses and world class ice wines are on vivid display along with farm-to-table organic proteins and vegetables. Damiani points out that the city has more restaurants per-capita than anywhere in Canada and the second in North America after New York City.
It's also part of life here to pull up a rattan chair at a bistro in Old Montreal and watch les flaneurs, the eminently stylish folk of Montreal, stroll by while sipping your café au lait and munching on a freshly made pain au chocolat. This is one reason why when American filmmakers want to evoke the spirit of Paris in the 1920s, they film on the streets of Old Montreal.
Art and design are also important components of life for Montrealer. The Museum of Fine Arts in the Area of the city called, "The Golden Square Mile, is a world class museum and the largest by gallery space in Canada. Very special events have always been held in the museum's Hall of Bronzes, Glass court and other space and although this has  temporarily been curtailed by Covid regulations, watch that space for re-openings that will add the elan of classic and contemporary art to a meeting or event.
Where to Gather
Montreal Convention Centre (Palais des congress de Montreal) opened in 1983 and has won the accolade of being the top international event host in the Americas by UAI. This February the Palais announced that it has become the first convention center in Quebec to receive GBAC STAR certification. The Palais' 113 event rooms and spaces includes 396,785 sq. ft. of exhibition space and 353,036 sq. ft. of meeting room space.
Damiani points out that one major sell of Montreal to meeting planners is the proximity of so many conference hotels to the Centre—walking distance proximity.
"We've got some brand-new hotels and some that have been renovated, all within easy walking distance of the Centre," she says.
The Marriott Chateau Champlain, for instance, totally renovated its 611 guest rooms and almost 35,000 sq. ft.  during the pandemic. Hyatt Centric Old Montreal recently opened with 177 rooms and is a 5-minute walk from the Centre. A mere two-minute walk away, a new, 97-guest room Homewood Suites by Hilton Montreal Downtown is a convenient option.
In 2023, the Royalmount an ecologically based community project near the Montreal Trudeau International Airport (YUL) opens with 1,500 guest rooms, plus a conference center and extended stay suites.
Fairy Tales and Festivals: Quebec City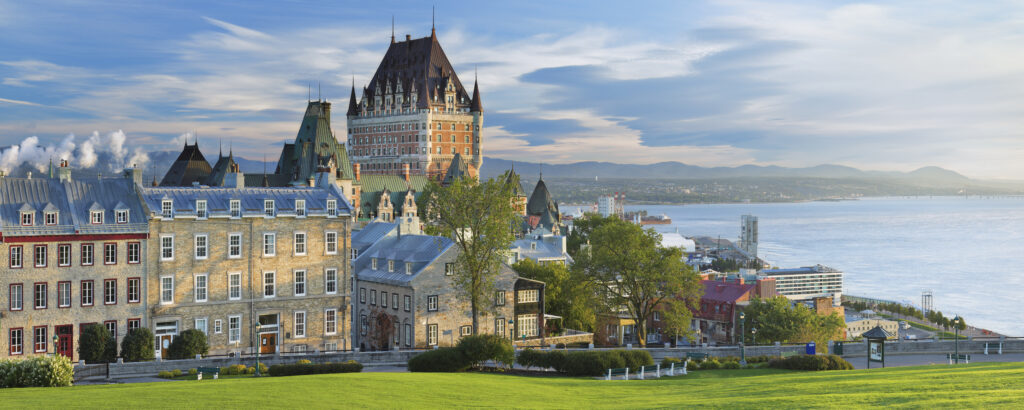 In the province of Quebec, about a 2-hour drive from Montreal, is Quebec City: a historic town whose Old City heart is a UNESCO World Heritage Site.
"We have all the fixings of a large city, but we have this beautiful downtown, a magical place," says Quebec City's Belisle.
"It's unique in North America and a great backdrop for meeting attendees to soak up the atmosphere and destination because so many of our conference hotels like Chateau Frontenac are located near or in Old Quebec."
Quebec City Convention Centre in the center of Quebec's capital bills itself as "anything but conventional." The Centre prides itself on being "built on a human scale" and "people friendly" with food and beverage services sourced from some of the best restaurants in Quebec. Underground passages (good for fairy-tale, but freezing Quebec winters) connect the Centre to the Quebec Hilton and the Quebec Delta as well as an indoor parking lot.
The Centre has a total capacity of 9,000 attendees and 294,290 sq. ft. of usable space. But like many aspects of life in French-speaking Canada, utility is always balanced with beauty, style and a love of the good life.
There's a petit cafe for light meals, an intimate solarium overlooking the Saint-Jean-Baptiste district, a VIP lounge with a view of the historic Fairmont Le Château Frontenac with an adjoining boardroom and meeting room and a loggia with a view of Quebec City and the Laurentian Mountains.
Chateau Frontenac dominates the city like the Loire Valley chateaux it was built 129 years ago to evoke. You half expect Beauty and her Beast to be living within its 15th century-styled towers. It is "designed to host an executive meeting for 12 or a professional conference for 700."
Frontenac's Grand Ballroom, which can welcome up to 1,000 guests, is a chandelier-bejeweled diamond, hewn at the height of the great railway hotel boom and redolent of the days of late Victorian Canada. Massive windows and carved ceilings evoke scale, drama and history.
Although Frontenac has pride of place in Quebec City's hotel scene, it's not at all the only jewel in this crown. Hotel Le Germain Quebec is an artful, ergonomic and comfort-forward property ensconced in a century-old building in Quebec City's Old Port. The property's Salon Germain (up to 80) and Espace D (up to 40) offer meeting spaces with massive windows which let in Quebec's brilliant often snow-reflected light.
The hotel (and the other Germain hotels in the family-owned portfolio) is warm and stylish: imagine a cashmere throw on a chill day with a glass of port.
All of Canada in a Capital City: Ottawa
Ottawa, the capital of Canada and seat of Parliament, is located in Ontario across the Ottawa River from Quebec province.
Lesley Mackay, Ottawa tourism's vice president of meetings and major events, wants meeting planners to know that one thing that makes Ottawa stand out is Shaw Centre, which has 6,000 hotel rooms within walking distance of its doors.
"I love how approachable the downtown area is," she says. "Other than a quick taxi or rail trip, there is very little transportation other than walking that you need when meeting here. It reduces the amount of planning that meeting planners need to do and reduces budgets as well because people can self-guide in downtown. You don't have to plan every single moment. People can get to an off-site venue and there's so much more they can take in."
Mackay highlights Ottawa's state museums (many with meeting facilities) and its expansive green spaces along with the fact that being the country's capital, representatives from all over the country live and work here.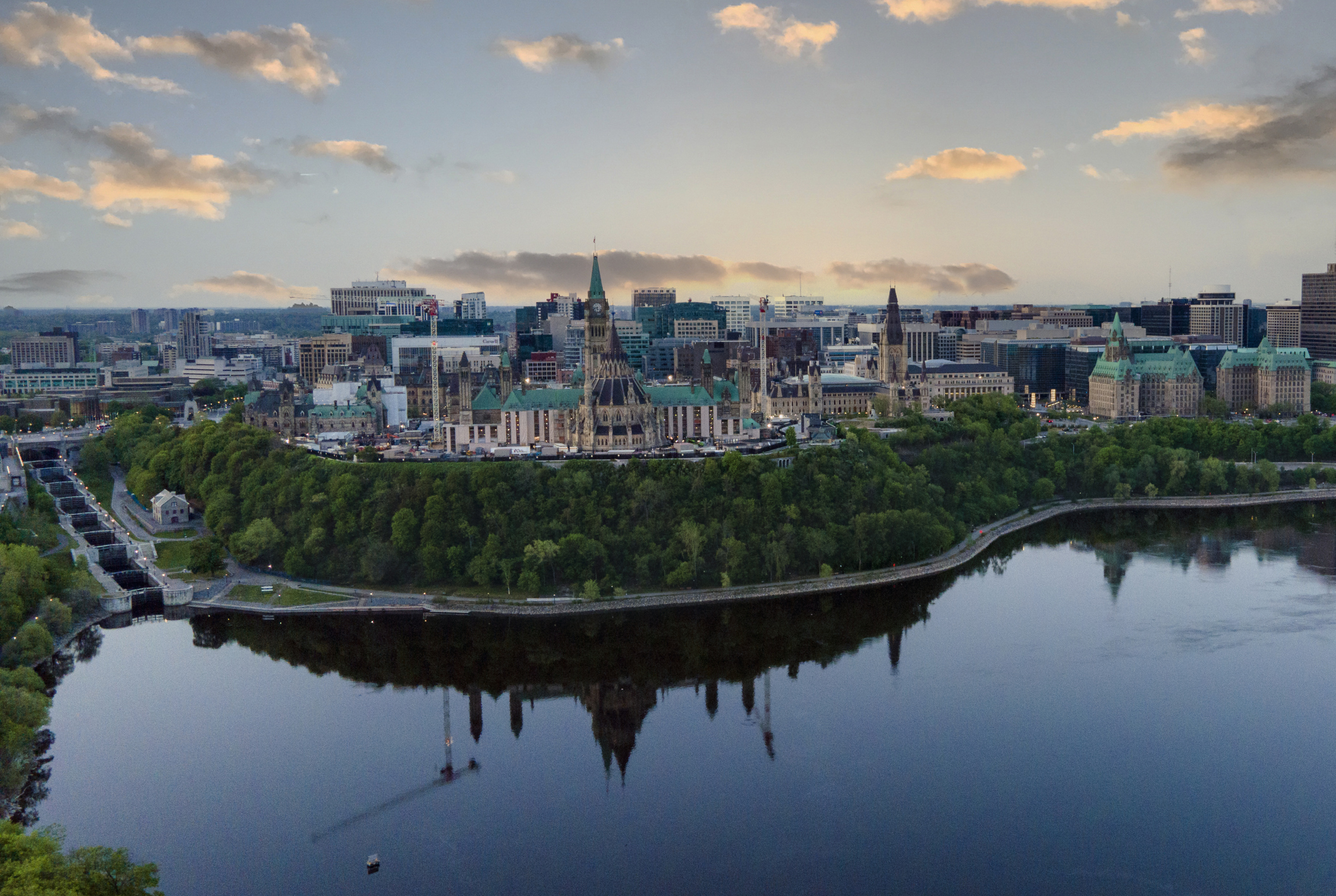 "It's a neat mash up of the best of Toronto and the best of Montreal," she says. "The vision and the spirit of Canada is within us. We have representatives politically and population-wise from all over the country and being here really gives you a feeling for what Canada is: we're such a huge country."
Mackay shares that the city's heritage Fairmont property, Chateau Laurier near Parliament, is building an extension to its 1912 structure, famed for its afternoon tea.
"The extension will have a new ballroom and a reconfiguring of all the meeting space and stunning views overlooking the Ottawa river."
She also shared that Ottawa's famed ByWard Market where tourists go to shop, eat and sample the city's famous "beaver tale" pastries may be opening up one of their historic buildings to become a meeting space.
"The secret of our success is how connected our city is to its internal eco-system—the people in our city are an amazing resource for meeting planners," she said.
Ottawa is also a center for business. The world headquarters of Shopify and numerous fintech and health sciences companies are located in the city.
Resources
Destination Toronto
Ottawa Tourism
Quebec City Business Destination/Convention Centre
Tourisme Montreal
This article appears in the May 2022 issue.