Growing business center offers big-time meeting value
Looking for a global city for your next event with all the urban amenities, but plenty of down-home charm? Smart Meetings talked to the locals in Houston, the island of Galveston and the master-planned community of Woodlands to get the real scoop on how to site a Southern Texas meeting that capitalizes on the resources of a leading-edge business center with all the hotel and venue infrastructure that goes along with that economic activity, while enjoying the unique character of a place that is brimming with creative personality.
Coordinates
Greater Houston has long been a major player in the transportation and energy worlds, but the southeast anchor of the Texaplex or Texas Triangle is dominating in new industries as well.
The fourth-most populous city (behind New York City, Los Angeles and Chicago) is growing faster than its rivals. Between the 2010 and 2020 census, Houston boasted 9.77 percent more residents compared to Chicago's 1.88 percent growth.
Part of the attraction is location. Houston covers more than 630 miles on the Gulf of Mexico. It is one of the most diverse when it comes to population and economic base.
In addition to traditional businesses listed above, the destination has made a mark in medical innovation (Houston Medical Center is rated one of the top cancer care facilities in the country) aerospace industries (a nickname is Space City) and is becoming a technology hub (Hewlett Packard recently announced it is building a 440,000-square-foot campus and moving its headquarters there from California). In fact, the city is home to more Fortune 500 headquarters than any other jurisdiction in the U.S., except for NYC.
Sustainability
The oil and gas power player has charged ahead in the field of renewable energy over the last decade as an employer and a user. More than 85 percent of the city's power (1 billion kilowatt-hours) comes from renewable sources. Houston was named as the top clean energy city by the U.S. Environmental Protection Agency.
Greater Houston Partnership counts more than 100 solar-related companies, 30 wind-related and $3.7 billion in cleantech Venture Capital Funding.
Galveston is a leading builder of LEED for Neighborhood Development projects with walkable green areas and low-energy use buildings as a priority.
Read More: Big-Time Festive Spirit in Grapevine, Texas
Accessibility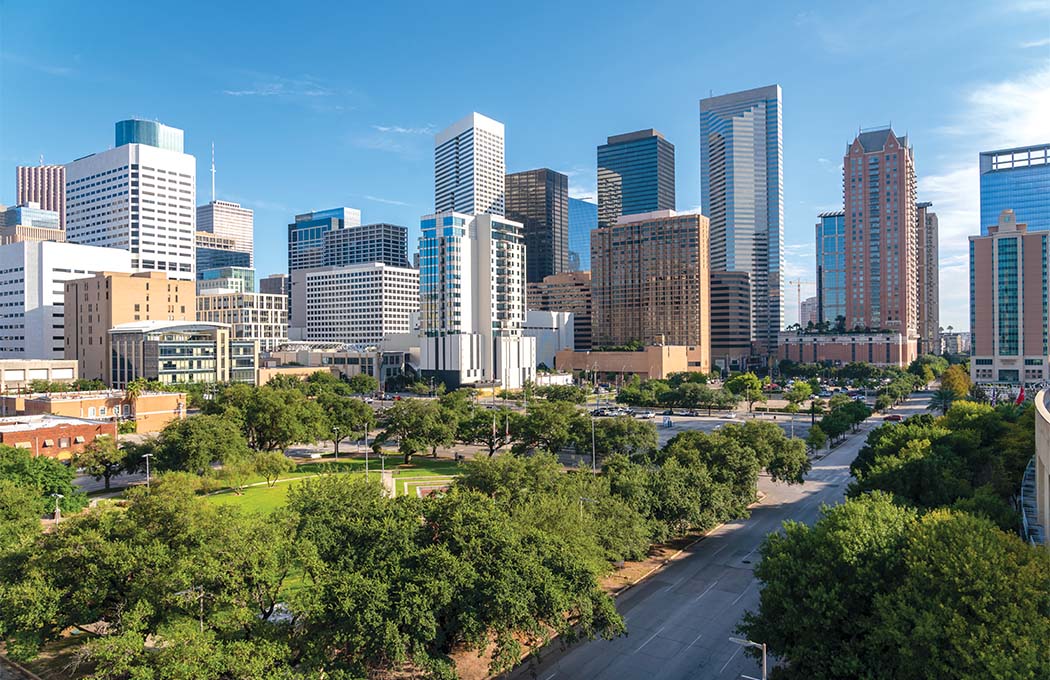 Houston is a truly international destination with access through two major airports: George Bush Intercontinental Airport (IAH) where 45 million passengers checked-in annually pre-pandemic and William P. Hobby (HOU), which now welcomes flights to and from 83 destinations in the United States and Latin American. Ellington Airport (EFD) is a licensed commercial spaceport and supports operations of the U.S. military, NASA and private jet services.
"Houston is a truly international destination with access through two major airports."
Woodlands is just 25 minutes from IAH and offers a waterway trolley and easy walkability.
Enduring Favorites
Houston is hosting meetings again. In fact, Nathan Tollett, director of sales for Visit Houston, reported that the city has a calendar for the year comparable to 2019, though it remains to be seen what the attendance numbers and square footages will be. "It's all about how you react," he quipped.
Case in point: In December of 2021, 5,000 attendees at World Petroleum Congress gathered in 1.8 million-square-foot George R. Brown Convention Center, the first time the group had been in the United States in 30 years. Attendees had many choices for their stay in and near Avenida Houston entertainment and convention district.
Marriott Marquis Houston opened in 2016 with 1,000 guest rooms, 153,300 sq. ft. of meeting space, a Texas-shaped lazy river and a skywalk to the convention center.
Also connected to George R. Brown, Hilton Americas-Houston's 1,200 guest rooms and 91,600 sq. ft. of meeting space, which were renovated in 2019. R24 Executive Rooftop Lounge views are available for Diamond Hilton Honors Members and your VIPs staying on the executive level floors.
Toyota Center, home of the NBA Houston Rockets, offers more than 56,000 sq. ft. of meeting space for 2,000 people in some of the most comfortable seats in any arena and VIP areas, such as Lexus Lounge and Golden Nugget Club.
New and Noteworthy
Hyatt Regency Houston, the city's original convention center hotel, unveiled a multi-million-dollar renovation in 2021 that
transformed 955 guest rooms, 71,000 sq. ft. and a welcoming atrium lobby.
In 2019, The Post Oak Hotel at Uptown Houston opened a mixed-use development with 250 ultra-modern guest rooms and 35,000 sq. ft. of meeting space.
Blossom Hotel Houston Medical Center opened at the end of 2021 with 267 guest rooms, lunar-inspired design, 9,000 sq. ft. of meeting space and an international aesthetic. Zenith, the rooftop poolside lounge, offers city views.
Read More: Hyatt Loves Local…and the Why, Where, How and Who of Ecotourism Today
Slated to open in summer 2022, Hotel Lucine will be a fully revitalized 61-room boutique hotel located on Galveston's beachfront in a structure originally built in the 1960s as Treasure Isle Motel. The new hotel will feature a pool and patio, a rooftop bar with 180-degree Gulf views, and a restaurant anchored by James Beard Award-winning chef Justin Yu and celebrated restaurateur Bobby Heugel.
A multi-million-dollar renovation is also underway at the 110-year-old Galveston beachfront hotel, which was renamed the Grand Galvez.
The 220-room resort, formerly known as Hotel Galvez, was purchased by Dallas residents Mark and Lorenda Wyant, who plan to introduce a feeling of luxury and sophistication to the property with elegant designs, including white marble flooring with black framing, crystal chandeliers throughout, and royal burgundy carpets and accent draperies.
The Woodlands Resort will soon become the first Curio Collection by Hilton-branded resort in Texas. The 402-room, AAA Four Diamond property with 75,000 sq. ft. of indoor meeting and event space and an array of picturesque outdoor function areas is slated for an extensive program of enhancements projected to begin in the second quarter of 2022.
And The Woodlands Waterway Marriott Hotel & Convention Center just unveiled its refreshed 345 guest rooms on the heels of a $4 million renovation of its 65,000 sq. ft. of meeting space to incorporate the latest streaming technology. The reimagining also included associate training to ensure protocols are maintained and health and safety is a priority.
The Essentials
22 of the 2020 Fortune 500 companies are headquartered in the Houston area.
3 million people live in Houston with no majority demographic: The city is 37 percent white, 37 percent Hispanic, 17 percent Black and 8 percent Asian, according to a 2019 WalletHub survey.
1974 The Woodlands was intentionally founded as a livable, business friendly oasis 28 miles north of Houston on 28,000 tree-filled acres.
32 miles of beaches ring Galveston Island with breathtaking views and gulf breezes at the pavilion and entertainment stage at East Beach Park.
Nourishing Alternatives
Guests can choose from a world of culinary choices in Houston. Saint Arnold Brewing Company is Texas' Oldest Craft Brewery and the emphasis is on craft with the small crew tasked with everything from brewing, filtering, bottling and selling to drinking the beer. Crawfish & Noodles Chef Trong is Food Network-famous for juxtaposing Cajun and Vietnamese dishes, to create delicacies such as fried catfish with Cajun fries and lẩu dê (goat hot pot).
The Breakfast Klub breakfast hot spot has become a staple within the Houston community and visiting celebrities, including comedian Kevin Hart, former Houston Texans receiver Deandre Hopkins, and more. Whether it's the wings & waffles or the katfish & grits, guests can indulge in southern comfort food just like grandma used to make.
In Woodlands Waterway square, TRIS chef Austin Simmons' exotic flavors include Korean butter-poached crab and A5 Japanese Wagyu Beef. Nearby, Morton's Grille offers classics you have come to expect from Morton's The Steakhouse, fused with surprises such as Korean BBQ-glazed quail knots served in a luxurious private dining room. CollaborEIGHT is an eight-course dinner event where Chef Austin partners with other acclaimed chefs to create an unforgettable food experience.
"More than 85 percent of the city's power comes from renewable sources."
Local Secrets
Houston's Tollett, loves to take people to Irma's Original, a hangout that dates to when the area around Minute Maid Park was just parking lots. The Tex-Mex restaurant doesn't have menus or pretense. It treats everyone as family and serves whatever is fresh and real.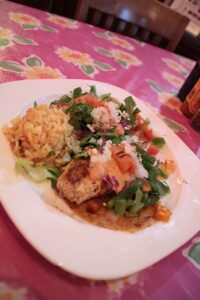 For team building, he suggests Space Center Houston and a taste of astronaut ice cream. Space tourism could be headquartered in the area when prices come down. Until then, touring more than 400 space artifacts, including flown spacecrafts and the largest collection of moon rocks on public can inspire team members to think big.
Bryan Kunz, director of group sales with Galveston Island Convention and Visitors Bureau suggests Galveston Naval Museum, home to the USS Cavalla, a historic WWII attack submarine, and the USS Stewart, a WWII Destroyer Escort, for an off-site with impact.
"Both vessels are available for tours daily and make for fantastic meeting venues as well, offering attendees a real connection to our country's and our island's history," he said.
Josie Lewis, director of sales with Visit The Woodlands pointed to Texas TreeVentures as a fun outdoor adventure course that is both mentally and physically challenging, offering a great group activity for convention attendees as they attempt to traverse a series of poles, cables and other elements.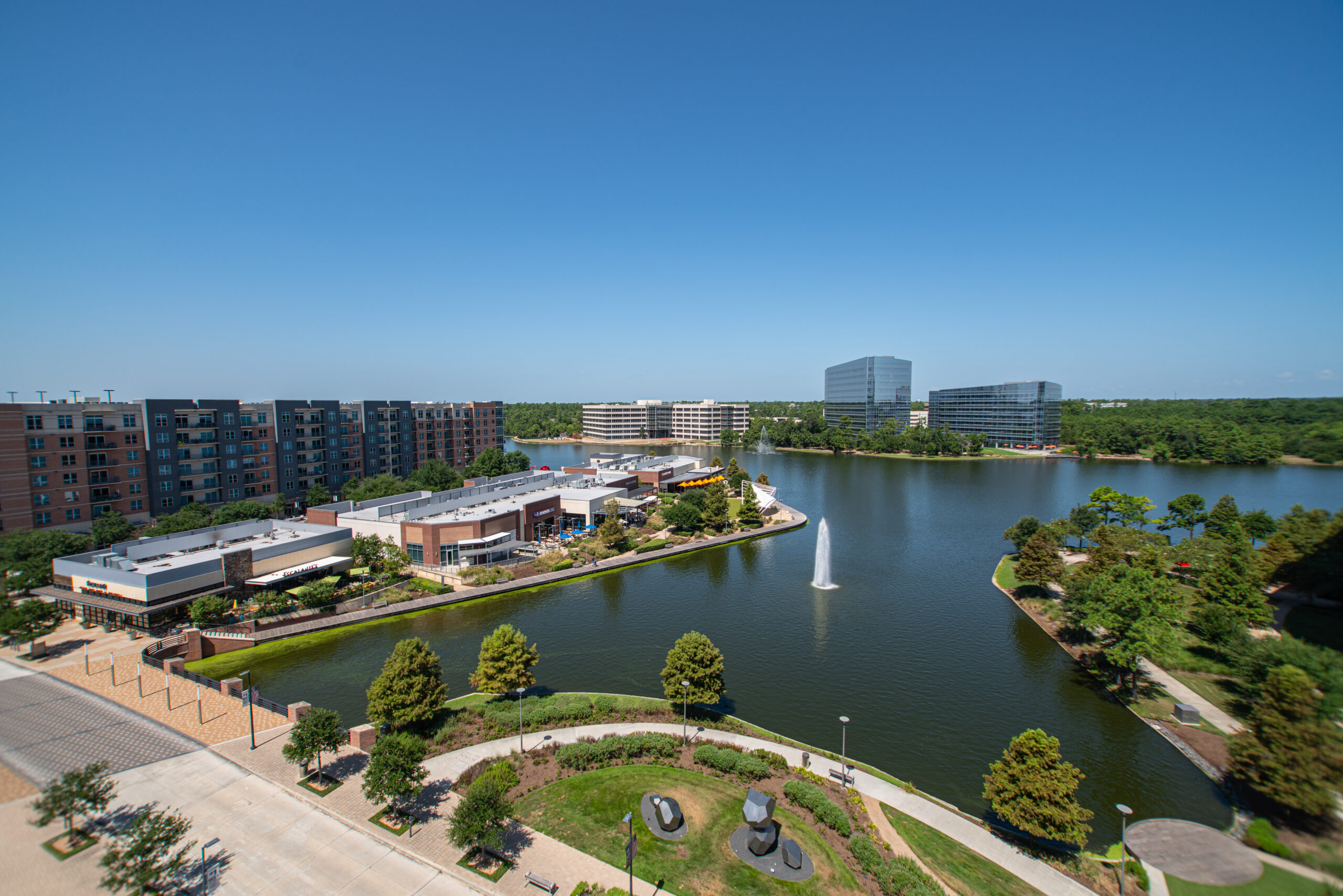 Surprise and Delight
The outlook is rosy for meetings in Southeast Texas. One fun vantage point is POST Houston, a former post office that features the world's largest rooftop park and farm, a concert venue, restaurants, bars, an international market hall and flexible co-working space.
The 5-acre skylawn features 360-degree, unobstructed views of the city's downtown skyline. Restaurants within POST Houston will be able to source ingredients from the farm for a "rooftop-to-table" experience.
In Galveston, Moody Gardens' Aquarium Pyramid meeting rooms sport viewing windows into the various displays where attendees can watch turtles, sharks and colorful fish swim past. They can also get up close and personal with one of the aquarium's resident penguins at a memorable Penguin Encounter.
This article appears in the February/March 2022 issue.