South Florida's tri-county area offers a unique set of benefits to planners.
Attendees can enjoy the outdoors—and the accent on wellness—all year long.
In this place where the sun always shines, there are two National Parks and one National Preserve, including America's only tropical jungle (Everglades National Park). There are also some of the most famous beaches on earth, some of America's greatest golf courses and a unique natural beauty, all of which make it easy for attendees to experience the Great Outdoors.
Here, outdoor corporate events take place pretty much every day, and you'll see the locals running, rowing, paddleboarding, hiking, biking, golfing, skating, walking, surfing or swimming. Here, too, you'll see state-of-the-art fitness facilities and spas with programs geared to meeting attendees.
Because the South Florida lifestyle has always incorporated health and wellness, its meetings infrastructure is geared toward the same for attendees. As a result, planners who bring their groups here say this leads to more attendee involvement, and more productive meetings.
Greater Fort Lauderdale
Greater Fort Lauderdale boasts 24 miles of beaches, and its 300+ miles of navigable inland waterways is the reason it's called the "Venice of America." Passengers on the iconic yellow Water Taxi boats ply these waterways not only to get around, but also for the scenery and the fresh air.
The Water Taxi stops at the Greater Fort Lauderdale/Broward County Convention Center, downtown Fort Lauderdale and the swanky Las Olas Boulevard area, filled with distinctive shops and restaurants. These colorful crafts also service Fort Lauderdale's beach, which first gained fame for 1960's beach movies like "­Where the Boys Are."
Greater Fort Lauderdale also stretches out to the west, into the unique Everglades ecosystem. Here, airboat rides, fishing, and hiking along raised trails like the Everglades Conservation Levee Greenway are popular with attendees, along with attractions such as "The Jungle Queen" riverboat, which travels into the edge of the Everglades and a small Seminole Indian encampment.
Throughout the region, public art colors neighborhoods with beautiful murals and Instagram-worthy sculptures, like the colossal "Thrive" sculpture near downtown Fort Lauderdale's Riverwalk. As a result, interesting off-site venues abound, including great outdoor locations.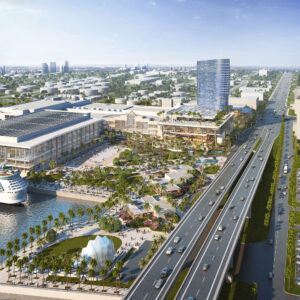 Anchored by the Greater Fort Lauderdale/Broward County Convention Center, the Convention Center District offers thousands of hotel rooms within a 1.5-mile radius, and over 37,000 in the region. The convention center is just four miles from Florida's third-largest airport, and adjacent to Port Everglades, the third-busiest cruise port in the world.
This was the first convention center in Florida to be LEED-certified, and one of only three in the country to receive LEED Gold certification for an existing building. In addition, it's also been certified by the Green Building Certification Institute.
Read More: 3 Days of Delight in Southern Florida
The center currently has 800,000 sq. ft. But not for long; it's now undergoing an extensive renovation and expansion. By 2025, there will be 1.2 million sq. ft., with four ballrooms (one of them on the waterfront); 215,000 sq. ft. of meeting space; 50 breakout rooms; and a waterfront plaza. At the same time, the Center will also unveil a long-awaited Convention-Center hotel, with 800 guest rooms and 75,000 sq. ft.
The facility was closed for part of the project, but is now re-opened, and successfully hosted the famed Fort Lauderdale International Boat Show in October and the Florida International Trade & Culture Expo in November.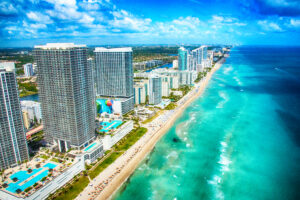 Greater Fort Lauderdale unveiled two new hotel properties in January last year. AC By Marriott Fort Lauderdale Beach Hotel has 171 guest rooms, 948 sq. ft., a restaurant and convenience store, and Cambria Hotel Fort Lauderdale Beach offers 98 guest rooms, 2,200 sq. ft., restaurant and pool.
Projected to open this March is Four Seasons Fort Lauderdale, on the beach with 189 guest rooms and 12,900 sq. ft., a terrace, spa and restaurant.
If your attendees want to enjoy fresh Florida air with some football, Hard Rock Stadium, home of the University of Miami Hurricanes and the NFL's Miami Dolphins, is just 18 miles from Fort Lauderdale. If they want to watch the game the rest of the world calls football, they can watch Inter Miami FC, based at DRV PNK Stadium in Fort Lauderdale.
Greater Miami
Miami has become an international capital of commerce, cuisine and culture, with one of the most impressive skylines in America. "The Magic City" is a trend-setter in urban development, too, with imaginative architecture and amenities (there's a ten-mile park running underneath an elevated rail line).
The city first gained fame during the Art Deco era in the 1930's, and today boasts the world's largest collection of Art Deco architecture, with over 800 buildings. Fifty years later, Detectives Crockett and Tubbs of "Miami Vice" brought Miami into living rooms all over America.
Officially called Greater Miami and Miami Beach, this region is home to 150+ ethnicities and 60+ languages. It's the only city in America with two National Parks (Everglades and Biscayne). World-class meeting facilities draw over 1.3 million business/meeting travelers annually, and planners can access over 58,000 hotel rooms, and interesting off sites, indoors and out.
Thanks to a recently completed $620-million renovation/expansion, the Miami Beach Convention Center (MBCC) is now a state-of-the-art facility. The "new" MBCC includes a 60,000 sq. ft. Grand Ballroom, 500,000 sq. ft. of exhibition space, an expanded Grand Lobby, 84 breakout rooms, 2,100 miles of cable to support IT communications, a $7.1-million art collection, three expansive outdoor terraces, and new green spaces for outdoor events. In addition, the Center has achieved Global Biorisk Advisory Council® (GBAC) STAR™ Facility Accreditation and LEED® Silver Certifications.
In its last fiscal year before Covid—while undergoing renovation—MBCC hosted 38 events and 423,000 attendees. In December, the renowned Art Basel event staged a successful return, attracting over 60,000. In February, the center hosted the prestigious Miami International Boat Show.
The facility's about to fulfill a longtime dream, with a convention center hotel. Grand Hyatt Miami Beach will open in 2024/2025, with 800 guest rooms.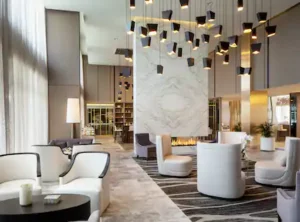 Thesis Hotel Miami opened late-summer 2020 in Coral Gables, with 245 guest rooms, 6,500 sq. ft. and two restaurants. Hilton Aventura Miami opened last March, with 208 guest rooms and 8,466 sq. ft., a restaurant, coffee shop and pool.
Two new "sister" hotels are coming this spring. CitzenM Miami Worldcenter will be in the  Miami World Center district, with 351 guest rooms and 1,850 sq. ft., a fitness center, 10th-floor pool deck and skyline lounge with views of the city and Biscayne Bay. Opening on downtown's Brickell Avenue is CitizenM Hotel, with 252 "smart" guest rooms, eight meeting rooms accommodating up to 14 attendees, and a rooftop pool, bar and fitness area.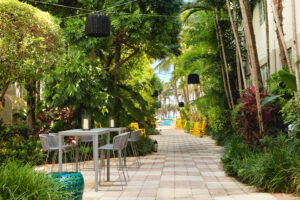 Two Miami Beach hotels have recently upgraded. The Confidante Miami Beach offers 343 guest rooms and 26,000 sq. ft. at the beach, and has enhanced its Vista Terrace and meeting spaces. Kimpton Surfcomber Hotel, an oceanfront property in the Deco District, completed an upgrade of the 186 guest rooms, 53,000 sq. ft. (indoor/outdoor), and public areas in December 2020.
Miami's health/wellness ethic is evident as soon as you land at Miami International Airport, the first in Florida and only the second in the U.S. to receive health accreditation from Airports Council International (ACI) World. The Greater Miami Convention & Visitors Bureau sponsors Miami Health & Wellness Months every February and March. The Greater Miami and the Beaches Hotel Association's Sustainability & Wellness Council is also a great resource, and in 2020 the region launched MIAMILAND to promote its great outdoors.
Read More: Hot Tips for Visiting Miami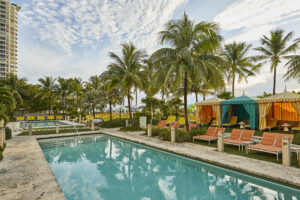 Greater Miami calls itself "Wreckreational Diving Capital of the World," with  dive-able wreck sites including ships, oil platforms, army tanks and even a "Spirit of Miami" Boeing 727 jet. Small wonder that a national organization called Mindbody has named Miami the healthiest city in America, for the third straight year.
Brandon Green is Chief of Staff at BTC Inc., a Bitcoin company in Nashville, TN. He brought 12,000 attendees to Mana Wynwood Convention Center in Miami last year for the "Bitcoin 2021" conference. BTC is staging "Bitcoin 2022" at the Miami Beach Convention Center from April 6-9, and expecting 35,000 attendees.
"In February 2021 we decided to move our 2021 conference to Miami," Green says, "because  other cities were hesitant to stage large gatherings. But Mayor Suarez of Miami told us, 'Come to Miami, and we'll make it happen.' And they did."
"Miami likes going boldly," Green says. "And that's the type of person who goes into Bitcoin. The city was a great fit for us. People there were happy to have us. They have a great service ethic. And we can't wait to go back."
The Palm Beaches
The Palm Beaches are a collection of 39 towns centered around the growing city of West Palm Beach, with abundant outdoor off-sites.
In Palm Beach County, Between-the-Sessions experiences are a priority, and there's an abundance of imaginative team-building opportunities.
There are two lively, walkable convention districts in West Palm Beach and in Boca Raton, with meeting spaces, hotels and attractions. This region was also the first in Florida to with a destination-wide GBAC STAR™ accreditation, so attendees can feel safe from arrival until departure.
Nestled in the vibrant downtown of West Palm Beach, the GBAC STAR™-accredited Palm Beach County Convention Center offers 350,000 sq. ft. of meeting space, a 100,000 sq. ft. exhibit hall, a 22,000 sq. ft. ballroom, 19 breakout rooms, a large pre-function/lobby space and an executive boardroom. It's connected to the 400-room Hilton West Palm Beach, with an additional 31,066 sq. ft., and the surrounding Art & Entertainment district has 1,200 hotel rooms, world-class cultural institutions and lively nightlife.
In 2020, the center added a 5,000 sq. ft. outdoor venue with stunning views called the SKYroom, to expand the outdoor space overlooking the city. It also recently installed a new Air Scrubber system that reduces viruses (including those causing COVID-19) and contaminants.
The Palm Beaches are now seeing a 35% increase in meeting groups coming in 2022 compared to 2021.
"Attendees are looking for a place that incorporates wellness—physical, mental and environmental."
–Kelly Cavers, senior vice president of Discover The Palm Beaches
The Opal Grand Oceanfront Resort & Spa opened last summer in Delray Beach, overlooking the Atlantic with 366 guest rooms, 30,000 sq. ft., a wellness-focused spa and a restaurant. The Ray Hotel Delray Beach opened last September, with LEED-certified design, 141 "smart" guest rooms, 19,859 sq. ft., pool, three eateries and fitness programming.
Scheduled to open in West Palm Beach about now, Banyan Cay Resort & Golf will have 172 guest rooms, 100,000 sq. ft., a spa, two restaurants, pool and golf course.
Opening mid-year on the ocean on Singer Island, Amrit Ocean Resort & Residences will have 155 guest rooms, meeting spaces for 200, and a health-wellness program. Toward year's end, Mandarin Oriental will open in Boca Raton, with 158 guest rooms, two rooftop pools,  restaurants and bars, a 4,500 sq. ft. ballroom and meeting spaces.
Several landmark hotels will complete renovations early this year, including PGA National Resort & Spa in Palm Beach Gardens, with 339 guest rooms, 28,520 sq. ft., a spa and five golf courses; and Eau Palm Beach Resort & Spa, with 309 guest rooms, 30,000 sq. ft., spa, two restaurants and a bar.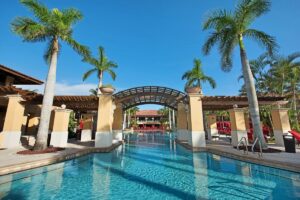 The Seagate in Delray Beach, with 14,000 sq. ft., will begin renovating its 154 guest rooms, public spaces and Beach Club this summer, also adding a restaurant.
The Palm Beaches offer outdoor recreation from golfing and kayaking or walking along the Intracoastal Waterway to beach yoga. In addition, special experiences for attendees range from beach clean-ups to helping save the sea turtle population to meditation coaches who can bring mindful moments to long meeting days.
A New Golden Era at The Club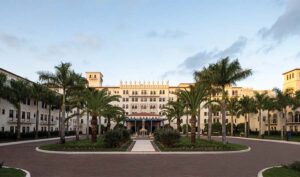 Everything old is new again at the original resort destination in the City for All Seasons. Boca Raton Resort and Club is now officially The Boca Raton.
The collection of five waterfront hotels—Cloister, Yacht Club, Beach Club, Tower and Bungalows—is in the midst of a $200 million upgrade that includes all new dining options from Major Food Group, Orangetheory and Hydrow fitness integrations, and a new take on Florida meetings.
This article appears in the February/March 2022 issue.