Tourism Australia's new campaign slogan is "Australia, it's a place you feel," but, the country is actually a multisensory destination. Perth, the capital city of Western Australia, taps into all five senses—and adds a bonus dose of Aussie humor.
Sight
The place to see and be seen is Elizabeth Quay, walking distance from Perth Exhibition and Convention Centre. Jam-packed with hotels, dining and entertainment, Perth's newest riverfront tourist precinct opened in January 2016 and will be complete in 2020. Several outdoor event spaces are available to rent. The bustling hotel scene there includes The Ritz-Carlton at The Towers, which is estimated to open next year with 204 guest rooms and DoubleTree by Hilton, which Is estimated to be complete in late 2019 with 229 guest rooms.
The six-star Crown Towers Perth is shining bright at the ultimate meeting host site and luxury accommodations. It currently stakes a claim as the city's largest hotel, and accommodates up to 3,000 in its mega-sized ballroom.
If your meeting agenda allows some flexibility, a side trip to Esperance, an eight-hour drive or two-hour flight from Perth, is worth a visit to enjoy the must-see bubblegum Pink Lake.
Sound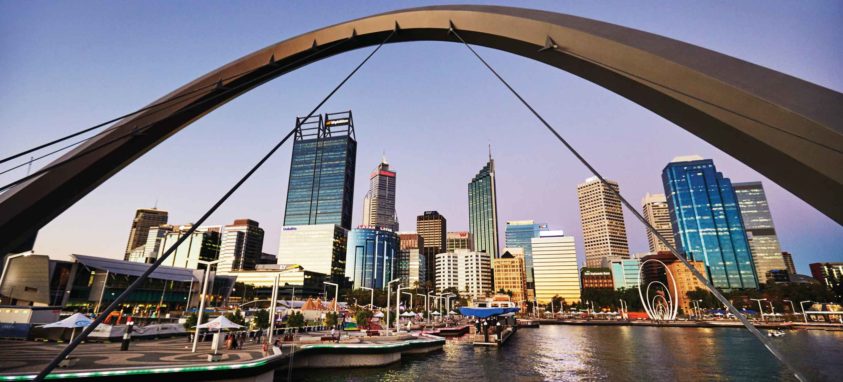 Photo of Elizabeth Quay, Perth, by Illustrations Photography
Ring-a-ding-ding! Bring your event to The Bell Tower in Perth's Barrack Square, where guests will enjoy listening to Swan Bells chiming. Private event space is available and behind-the-scenes group tours are offered to learn the history and art of bell ringing.
Be careful not to burst an eardrum: Decibel levels just increased in Perth from fans cheering at the brand-new 60,000-seat Optus Stadium, which opened in January. Perth's footie team, the Eagles, will make it their new home, and it hopes to attract other major sporting events to the area. Conference space for up to 2,000 guests and behind-the-scenes tours are available.
Smell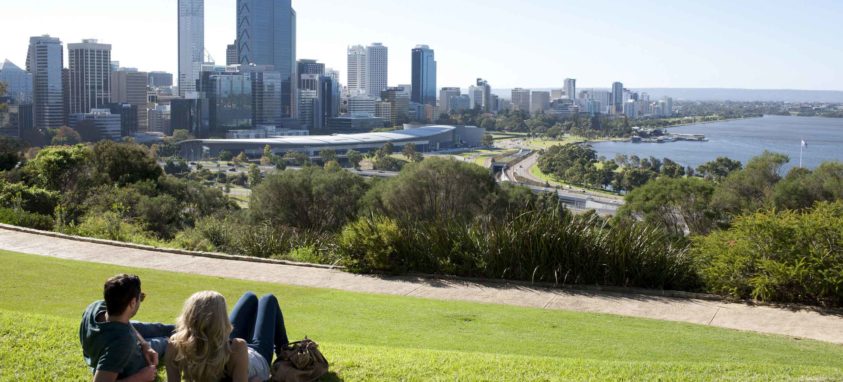 Photo of Kings Park and Botanic Garden 
One of the world's largest inner-city parks can be found in Perth. Breathe in the aromas of blooming flowers at Kings Park and Botanic Garden. Set up a picnic lunch for your group, overlooking the Swan River and city skyline.
Wake up and smell the coffee along Fremantle's cafe-lined Cappuccino Strip, which is starkly different from Perth because no skyscrapers are in sight. It's a 30-minute drive southwest of the city, and visitors can enjoy al fresco dining at Italian and seafood restaurants, drink at local microbreweries and listen to live music in this fun pocket of town.
Taste
Photo credit: Sean Scott Photography
Sip, Sip, Sip! A 25-minute drive east of Perth CBD, a bustling commerce and culture hub, is Western Australia's oldest wine region, Swan Valley, where grapes have been turned into wine for about 180 years. More than 150 tasting rooms, eateries and drinking holes can be found along its wine trail.
Touch
Get sand between your toes at the 19 white-sand beaches Perth has to offer. Take a high-speed ferry ride aboard the Rottnest Express from terminals at Barrack Street Jetty, Fremantle and Northport to this island paradise. Late last year, while in Perth for the Hopman Cup—a tennis tournament leading up to the Australian Open—Roger Federer took time off the court to snap a selfie with a smiling Quokka there.