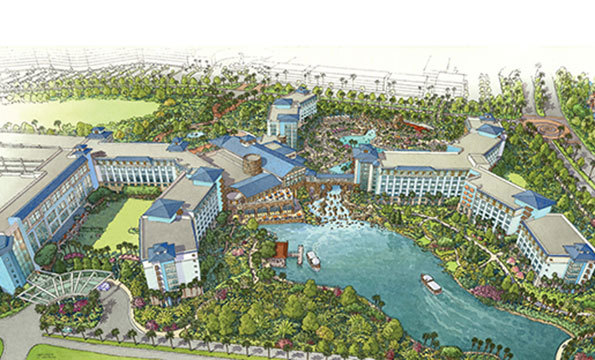 Gustavo Sanchez, national accounts director in charge of meetings and events at Universal Orlando, dropped by the Smart Meetings office on Feb. 20, to share some exciting news, and update us on some of their Florida properties.
Royal Pacific Resort
Universal Orlando is expanding the meeting space at its South Seas-themed, Loews Royal Pacific Resort—adding 56,330 sq. ft. by June 2015. The addition will include four breakout rooms and a new ballroom (not yet named) that will feature 35,995 sq. ft. of column-free, flexible space. When combined with the gigantic Pacific Ballroom, the property will boast a total of 141,330 sq. ft. of meeting and function space.  All 1,000 guest rooms at the hotel are also undergoing renovation. Restaurants on the property such as Emeril Lagasse's Tchoup Chop explore the Asian Pacific theme, and the resort hosts a Hawaiian luau every Saturday evening.
Loews Sapphire Falls Resort
In the summer of 2016 Universal Orlando will unveil Loews Sapphire Falls Resort, an upscale Caribbean property that will feature 131,000 sq. ft. of meeting space, including two ballrooms, and 1,000 guest rooms. Ground has already been broken on the project. Key highlights will be rum bars and a covered walkway that will connect the property to Loews Royal Pacific Resort, giving planners a total of more than 270,000 square feet of useable function space between the two properties.
Cabana Bay
Universal Orlando opened Cabana Bay in July of 2014. This property, which has a 1950s motel theme with antique cars parked outside and a bowling alley inside, features 1,800 guest rooms. It has no meeting space.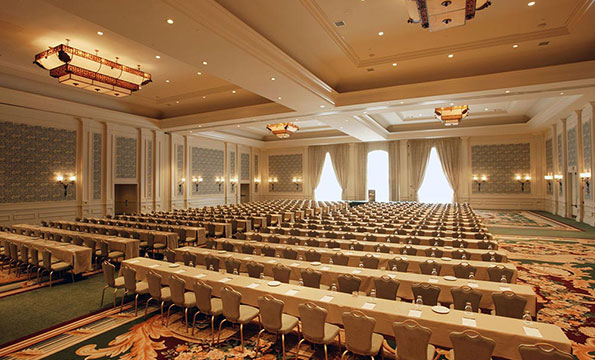 Loews Portofino Bay Hotel
There have been no recent changes to the brand's Italian-themed resort, which features over 42,000 sq. ft. of meeting space, 750 guest rooms, eight restaurants and a spa.
Hard Rock Hotel
The guest rooms are being renovated at this pet-friendly hotel, which has 650 guest rooms, 6,000 sq. ft. of meeting space and a 12,000 square-foot pool with underwater music.
When asked why meeting planners should choose Universal Orlando, Sanchez said "unlike big-box hotels, mid-sized groups of 200-to-500 guests will not get lost in our hotels." Universal Orlando focuses on business groups of 300-to-800 individuals.
Sanchez adds, "We are a complete destination. Once you are on our property, we have shopping, restaurants and movie theaters—basically everything you need. We are inside a theme park, but if that's not important to you, you will never notice that the theme parks are there."
However, for those who are interested in Universal's two famous theme parks, Sanchez points out that guests staying at any of the Universal Orlando resorts are permitted to enter the theme parks one hour earlier. Those staying at all properties except Cabana Bay gain front-of-the-line access to all theme parks, which is a $55-$65 benefit.