Riviera Nayarit only recently celebrated its 10th anniversary, but it has already been heralded one of Mexico's finest destinations, appealing to even the most discerning guests. Riviera Nayarit has been visited by Bill Gates, Lady Gaga, Rihanna and many other famous people. Its 192-mile stretch of white-to-black sand beach is framed by the lush, rainforest-covered Sierra Madre Mountains.
Deep-Sea Fishing
The region is home to a spectacular array of marine life. Each year, more than 500 humpback whales migrate to Nayarit to mate and raise offspring in Banderas Bay. Riviera Nayarit is known for being a year-round deep-sea fishing destination. Fishing charters await so that visitors can match wits and stamina with blue and black marlin, sailfish and yellow-fin tuna.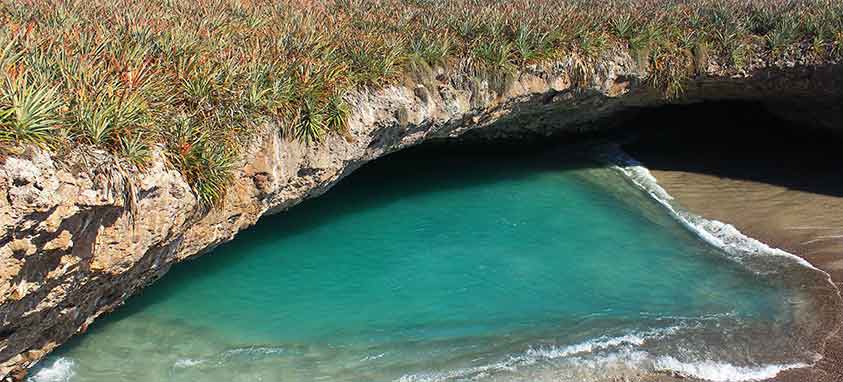 Find the Hidden Beaches
Marieta Islands, off the state's coast, preserves one of the rarest hidden beaches in the world. The protected sanctuary of land continuously calls to the wildlife. About 80 percent of North American migratory birds visit the islands each year. The secluded land can be visited only by taking a boat and then swimming through a cave at low tide.
Eco-Adventure Tourism
Riviera Nayarit's ecotourism has cultivated a plethora of new activities that involve interacting with surrounding nature, including whale-watching, dolphin- swimming, bird-watching, subtropical jungle canopy tours and excursions in the Sierra Madre Mountains. The increase in adventure tourism has resulted in a broader offering of more challenging activities. A few popular choices are scuba diving and snorkeling along the coast and in the Banderas Bay, Sierra Madre safaris and survival-skills training.
Further Reading: