You only turn 20 once. Now that we are old enough to know more, but still young enough to care passionately about supporting meeting professionals, we thought it was worth making a big deal out of it. Especially since what we are really celebrating is the innovation, resilience and dedication of our chosen meetings industry.
You are the ones who inspire us every day, make room in your life (and mailboxes) for Smart Meeting Magazine, SmartMeetings.com, Smart Chat Live! webinars and join us at Smart Meetings Experiences. You are the dynamic community we have been enjoying for two decades.
Learn about Marin Bright's top lessons learned in this exclusive interview from the 20th Anniversary Event.
But how to mark the occasion? Our friends are scattered all over the globe. And we seem to be going through a case of revenge meetings, which means a lot of our supporters are busy planning their own events. We love seeing that, but would not want to leave them out just because they are busy doing their jobs.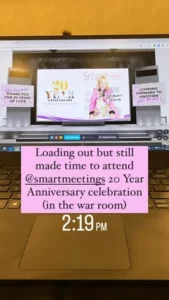 That was when our friends at Allseated suggested an event on their fun ExVo platform. For those who didn't make it, this is virtual way beyond Zoom boxes. Their fun 3D experience is the closest thing to walking into a ballroom we have seen. And it is completely customizable.
We chose an elegant art-deco theme with a hip coastal rooftop for the afterparty, but given enough time, their talented designer can turn your wildest imagination into virtual reality (Steampunk-Alice in Wonderland, ultra-modern urban retreat, if you can dream it, they can make it happen). A big shout out to Jamie Quickert for holding our hand through the process. You rock in so many ways.
Read the Smart Meetings June magazine cover story for all the lessons.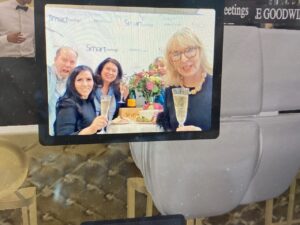 We were frankly humbled by the outpouring of support as friends who have traveled this journey at our side from the beginning reached out in the form of video messages, donating their services and joining us in the metaverse during the celebration. Entire Productions was kind enough to hook us up with not one, but two fortune tellers who helped us all focus on the wonderful things in store for the next 20 years (We love you Natasha).
Monterey Bay Aquarium brought the penguin-cute. Big Head Cartoon Caricature Art and Entertainment and Allseated's sponsored video booth captured the moment. Mixology Mixer supplied the Marin-tini recipe (see below) and David Martinez Magic added the wow. Grammy award-winning DJ Logic mixed the tunes.
And to our dedicated sponsors, Caesars Entertainment, MGM Grand Detroit, Citizen Watch America, Tourism Santa Fe, Sonesta Sint Maarten, Nizuc, M Resorts, Visit Baltimore, Philadelphia Convention & Visitors Bureau, Pocano Mountains Visitors Bureau, and SnackMagic. They brought the prizes and you were the winners!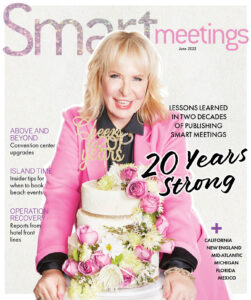 All of that would have meant nothing without you there to share it. Thank you to the overwhelming number of you who registered, logged in, tapped me on the shoulder to share your good wishes and posted about it on our #MeetSmart feed. You are the reason we get up every day and do what we do.
Our commemorative June Magazine and that event are a love letter to our community. We are dedicated to finding new ways to empower you to grow and thrive. Let's make the next 20 even better!
The Marin-tini!
INGREDIENTS:
1 Mango Passionfruit Tea Bag
1 oz Lemon Juice
1 oz Apricot Syrup
2 oz Tequila
La Croix Limoncello Sparkling Water
Shake it up, enjoy!