20 lessons learned in two decades of publishing Smart Meetings
Publishing has always been a labor of love. Our founder, Marin Bright developed her passion for the hospitality industry more than 30 years ago, first serving hotels and establishing herself as the top salesperson, then launching nine magazines for other people. In 2002, Bright started Smart Meetings with the goal of becoming meeting planners' top resource for industry news and information.
Over the past 20 years, woman-owned Smart Meetings has led the way as an innovator and trailblazer. Bright created the first 'consumeresque' B-to-B trade publication for meetings, pioneered the first one-on-one appointment-based events for hotels and planners and launched one of the first websites in meetings media. She inspires us every day.
With an obsession for supporting meeting professionals in their quest to plan higher, further, better, she has led a dedicated team in our own quest for smarter, braver and fonder.
That is why for our 20-year anniversary, we updated our tag line to "The Heart and Mind of Hospitality". We have always strived to bring thought leaders with fresh ideas and intelligent solutions in touch with the problems meeting professionals face every day. After all, "Smart" is in our name.
But we have also led with our love for the people, places and impact meeting professionals have on the world. These often behind-the-scenes masterminds power the most influential industry on the planet. Their company retreats, product launches, incentive programs and conventions fuel a more than $1 trillion economic impact, help solve pressing scientific and medical problems, elect state leaders and help us all feel a little bit less alone. That is powerful economic and mental health work. But our regular readers know all of that already.
To mark this special milestone, we sat down to ask Bright what she has learned in two decades (or 7,300 days or 175,200 hours or 10.512 million minutes or 630.72 million seconds, but who is counting?).
1.
There is always room for a new competitor if it brings a new idea executed well. When Smart Meetings Action Kit launched in 2022, no one was wringing their hands about the lack of trade publications for meeting planners on late night talk-show radio (that is where people shared their darkest fears in the days before Reddit for those who are too young to remember disc jockeys). That was because what they needed wasn't another meetings magazine. The meeting professional creative spark was longing for a whole new way of thinking about their mission, careers and lives.
Smart Meetings Magazine was launched as an alternative way of looking at #plannerlife. It was a richer, more colorful and thoughtful take on trends, changemakers and destinations. When you bring a fresh approach that is more fun, accessible and tied with a gold bow, the world will make room for you at the table.
2.
Never let a crisis bring you down. In fact, Smart Meetings was born in the midst of crisis. It launched in the months after the devastating attack on the twin towers in New York rocked traveler feelings about the safety of flying. Everyone said people would stop flying after the image of the plane hitting the skyscraper was put on an infinite loop, but we all know how long the hesitancy lasted. Once that tragedy was in the rear-view mirror, we continued to publish through the Severe Acute Respiratory Syndrome (SARS) outbreak, The Great Recession and the end of an era when "Friends" went off the air.
Each incident feels devastating when it happens and needs to be processed. The adage that the world will never be the same is true, but it is still the world and we all have to find ways to adjust and move forward. Every setback only renewed our commitment to find a way to serve our community when they needed us most.
During the most recent jolt, we learned along with you how to conduct and report on virtual and hybrid events. We brought back QR codes so you could more easily dive deeper into any topics that grabbed your interest and we got back to meeting in-person within months of the world shutting down. That is how we roll.
3.
Nothing beats face-to-face. Speaking of in-person meetings, did you know Smart Experiences was one of the first hosted-buyer formats to bring the meetings industry together in the United States? Yes, 13 years ago, we hosted a small gathering at Cavallo Point in San Francisco to create relationships through shared appointments. At their best, events are a magazine come to life. Attendees meet the people quoted in our monthly pages and live the decor, F&B and team-building ideas explained in print.
In the months after the outbreak of the novel coronavirus pandemic (remember when we called it by its full name?), we quickly partnered to stage a series of virtual one-on-one meetings to keep people productive as they were scrambling to rebook their rebookings and still have that in our toolkit for when the situation calls for a streaming solution.
However, by October of 2020, we were back to in-person events and have stayed true to the boutique model of luxury treatment, qualified attendees and white glove service. Now we host 10 events a year across the country and beyond. Those who have attended know it is the most efficient way to get business done and meet leading meeting professionals. If you haven't attended, don't you think it is time you registered?
4.
Sometimes a taste is enough. We know that not everyone can be at every exclusive Smart Meetings Experience. That is why we launched Smart Meetings TV on our web site and on Facebook Live so you can see some of the action from your office chair (or mobile phone). At our events and at IMEX America, we interview attendees to get quick updates on what they have been up to since you saw them last. These fast takes are one way to stay in the know until we can all be together again. Where there is a will to learn, there is always a way.
5.
The world moves fast; meeting professionals need to be faster. Smart Meetings was also one of the first events publications to launch a dynamic web site filled with breaking news. It has since been relaunched half a dozen times, but the premise has remained the same: distribute educations and inspiring updates as quickly and understandably as possible. Because anything that happens in the world touches meetings, we put world headlines through a hospitality filter to report on how it will impact you and what you can do to manage the news. That is why we update our web site daily. Wise meeting professionals start their day with their favorite hot beverage and a quick glance at smartmeetings.com because when you know faster, you know better.
6.
TikTok isn't just for kids. Smart Meetings has grown into the largest social media audience in the industry. On LinkedIn, Twitter, Facebook and Instagram, we start conversations about the challenges you are facing today. We recently added a TikTok profile so we could reel, dance and tip our way into the chatter there. Everyone has their favorite way to receive information. That is why we are making it easy to digest the updates we are seeing daily in whatever format tickles your fancy. Read what you want where you want. Thank you for following along!
7.
Print is still alive. We have a saying around here: "Smart Meetings pairs well with a glass of chardonnay." Yes, we often sport a mug of coffee when we jump on the web site in the morning, but when that colorful, glossy magazine arrives in the mail, it is time to put down whatever you are doing and curl up with a relaxing beverage to savor the package from beginning to end. We design the magazine each month to give you a nutritious informational meal, from our founder's welcome letter at the hostess stand and the amuse bouche of the front of book graphic bites to the vitamin-filled columns and meaty features. We want you to savor the magazine and finish fulfilled and happy. Cheers.
8.
A picture really is worth a thousand words. After so much digital scrolling, we understand intensely that the print magazine is a place to share images of places, events and people in-font of and behind-the-scenes. Send us your images so everyone can see what is happening.
9.
More conversation; less slide deck. No one has time for a long, boring lecture, but we still need to hear from thought leaders about new ways to approach problems. That is why we developed Smart Chat Live! This streaming forum is all about the conversation and not the PowerPoint.
Attendees send in their questions for the subject matter expert in advance so the time is customized to focus on their specific needs. The conversation is recorded so you can watch it at your convenience and highlights are shared in a story that can be downloaded and shared.
Whether you are looking for information about contract clauses, predictions for the year ahead or the best virtual platform (spoiler alert: the answer to almost all of these will probably be, "It depends."). The webinar is dead; long live the interactive streaming conversation.
10.
A circle of advisors opens doors. Our editorial advisory board and reader focus groups are our eyes and ears in ballrooms and budget meetings across the world. They let us know when there are changes in how contracts are being presented, updates on event tech innovation and fresh ways to deliver value.
They are also brutally honest about what we are doing that works…and what doesn't. We adore that feedback and strive to constantly improve. Consider this your official invitation to join the circle of advisors. When you see a story that needs to be told, let us know by dropping a line to editor@smartmeetings.com and if you see that we missed something, let us know that, too, so we can fix it right away and get our readers the best information available.

11.
Community trumps all. We are more than words and hotel rooms. We are connected as part of a movement sharing a common desire to see the industry we love get the support, resources and fresh ideas it needs to move ahead even in the most challenging circumstances (see Lesson No. 1). That is why when you see us at conferences across the country, when we ask you how you are doing, it is because we sincerely care about you, your programs and all the meeting professionals out there giving 150% every day.
This is a team effort and the more each one of us knows, the better we all will be at delivering value. That is why we created The Smart Connection LinkedIn Group to share opportunities and ideas. Hopefully you have joined already and are checking in on your community regularly. We are stronger together.
12.
Partnerships are everything. We can't do everything. In fact, the more we lean on the experts, the better off we all are. That is why over the years, we have worked closely with Destinations International, MPI, ASAE and Events Industry Council with the idea that we all win when we have access to shared resources. In fact, Event Leadership Institute powers our Smart U and we share an event-tech correspondent to this day. Is there a project we could be working on together? Reach out and let us know.
13.
Spotlights shine the way for everyone. Early on, we realized that one way to encourage excellence is to recognize it. That is why Platinum Choice Awards, the most coveted award in the hospitality industry was created all those years ago. This annual list of admired venues and destinations is curated by readers and independent experts. It has become the go-to resource for meeting professionals looking for true partners. In all aspects of life, if we want to see more of the best, it helps to celebrate real-world examples as a model for others.
14.
Speak up. A hotel or convention center is the space, but a meeting is a collaborative effort. That is why 11 years ago, we started asking our readers to nominate and vote on their favorites in a variety of categories from best beach or city hotel to international destination. We recently added the category of hybrid-ready.
This annual list reflects the experiences of real meeting professionals in real-time, but it is only a reflection of the state-of-the industry if enough people take the time. This is your chance once a year to influence what partners are recognized and have your voice be heard.
15.
Awards are for winners. Of course, in the end, it is real people who make events into powerful engines for change. That is why created two awards programs highlighting the individuals behind the scenes. The Catalyst Awards recognize the suppliers sparking magic daily and Planner of the Year Awards feature innovative meeting producers and their wisdom. Do you know someone who is thinking in new ways, elevating those around them and generally making the world a better place? Let's tell their stories so others will be inspired.
16.
Smart Women rule, roar and transform. Seven years ago, our founder Marin Bright realized that even though the meetings industry is largely populated by women, they were not reaching the highest levels at hotels, organizations and companies. They are also not getting the recognition they deserved.
That is why she organized the first Smart Woman Summit and featured leading women in events on our cover. Since then, hundreds of women have been honored and a community of Smart Women VIPs has developed. They come together in virtual meet ups, at the Annual Smart Woman Summit (in Nashville in August this year) and support each other in reaching their individual goals whether that is for a better title and pay, enhanced quality of life, or just to act as a sounding board. When women come together, everyone benefits.
17.
Sustainability is not a luxury. The long pause of the last two years was a reminder that no one lives in a bubble. We are all connected to each other and the earth. We need to be careful with the resources we have so we will be able to continue meeting in the future. That is why we partner with Smart Water to deliver clean rainwater-sources hydration in reusable containers at all our events. Everyone can do something to push every programs toward a smaller carbon footprint.
18.
Everyone is welcome. Another lesson over the last year was that we have the tools to make everyone feel included, whether that means being more thoughtful about showcasing diversity of thought on our stages, recording keynotes for an audience that can't physically attend or including sign language, translation and subtitles in our presentations. Diversity and inclusion must be shown, not told.
19.
Meeting profs are the most resilient, hardest workers ever. The world of meeting professionals is our inspiration. You proved how capable of pirouetting (we hate the word 'pivot') you are. Our mission is to provide the support you need to get the job done, even if what you need most is a reminder to take a moment for yourself, breathe and come back at it another day. Let's give ourselves and others a little grace right now. This is basically rocket science.
20.
20 is just the beginning. We are now officially old enough to know, but still young enough to care. We look forward to applying these lessons to the next 20 and learning some new ones along the way. From the beginning, Marin Bright has been all-in on doing whatever it takes to support the industry she loves and she still wakes up every day with that drive. Thank you for being on this journey together with us.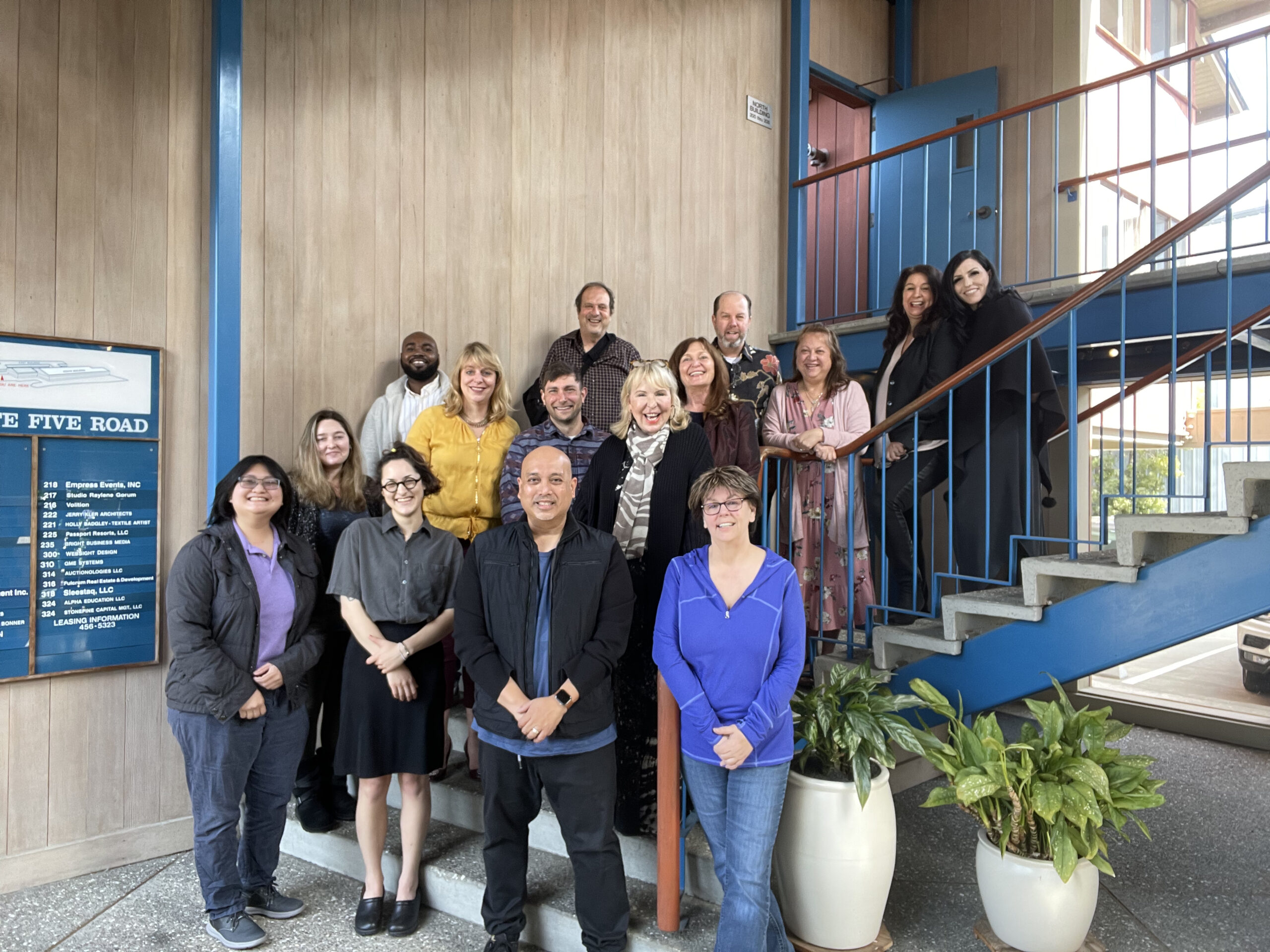 New Again
The more things change, the more they stay the same. We looked back at where the world was 20 years ago and compared it to popular culture today.
Big Screen
The top movies for 2002 included "Minority Report" with the eternally youthful Tom Cruise. Have you seen the trailers for "Top Gun: Maverick" coming out this year? He doesn't look like he has aged a day.
Austin Powers "Goldmember" was a big hit and has since become a cult film and irritating meme.
Spiderman starring Toby Maquire was dedicated to doing the right thing because, "With great power comes great responsibility." The new Spiderman franchise entry: "No Way Home", looks at the dark side of wielding spidey powers.
Smaller Screen
Some of the top television series of the early aughts have faded into the sunset, only to dawn again as nostalgic favorites and TikTok clips.
Johnny from 2002's "The Dead Zone" might be forgiven if, when he woke up from his coma, it seemed that not much had changed. Ryan Seacrest, Katy Perry, Luke Bryan and Lionel Richie are judges on this season's still popular "American Idol."
Airwaves and Lists
Two decades ago, radio stations counted down national top 40 lists and Nickleback's "How You Remind Me" was on the top of the charts list for 18 weeks. Today, we make our own Spotify lists and "Stay" by fellow Canadian and returning star Justin Bieber is top seeded.
The 2022 Superbowl halftime show was basically a performance ripped from the 2002 charts by Dr. Dre, Snoop Dogg, Eminem, Mary J. Blige, Kendrick Lamar and 50 Cent. No complaints here.
Also rocking concert venues across the world 20 years ago was the consummate entertainer Pink, playing "Let's Get This Party Started". Her drummer, Mark Schulman is an inspiring speaker in his own right and joined us multiple times at our Smart Meetings Experiences.
Between the Covers
We may be "reading" differently with tablets and audiobooks, some of the bestselling authors are the same.
Some familiar names are on the New York Times bestseller list then and now. John Grisham, Nora Roberts and Janet Evanovich. We want to make a special shout out to Dolly Parton, who along with James Patterson is on the list this year for "Run, Rose, Run" and is quite simply, timeless.
This article appears in the June 2022 issue.