Leadership with Financial & Insurance Conference Professionals (FICP) wanted to set an example. For the group's 2021 FICP Annual Conference in Arizona, they put a stake in the desert early on that they would hold an in-person event at JW Marriott Phoenix Desert Ridge Resort & Spa for 500 fully vaccinated people Nov. 14-17.
"Our hope is that once [attendees] attend this event, they'll be able to go back to their leadership and incorporate many of the things we'll be doing at our event this year, and [see] that safe, face-to-face meetings can resume," said Steve Bove, FICP executive director.
Those attending live were able to focus on being present, and key presentations were recorded for sharing at a later date.
Learn lessons from planning 2021 FICP Annual Conference by listening in on this exclusive webinar.
Fresh-air Vibes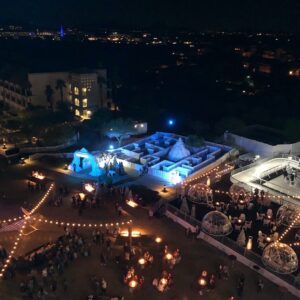 The event, themed "Adapt, Nourish and Execute," required proof of vaccination and indoor masking but took advantage of mild temperatures to hold meals and receptions outdoors. The host property is in the midst of a $49 million renovation of all 950 guest rooms and more than 241,000 sq. ft. of indoor-outdoor meeting space, making it easy to find fresh spots to gather.
An opening-night experience at Fairmont Scottsdale Princess sponsored by Accor added a festive note when the property's elaborate winter wonderland of ice skating, ice slides, a maze, lighted observation wheel and fire pits opened a day early for the exclusive enjoyment of FICP attendees.
A Sonoran theme at The Barn at Desert Foothills sponsored by MC&A and Visit Phoenix brought attendees under the stars for more networking between roping metal calves and line dancing.
Learn and Give Back
The adapt and nourish theme included a give-back activity, Paint if Forward, with Wet Paint Group and artist John Bukaty. Personal stories turned a craft project painting canvas sneakers into a powerful mission to help children get back on their feet.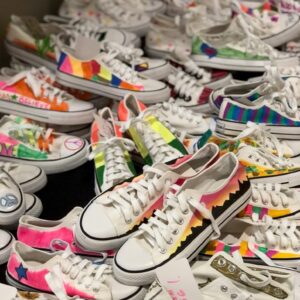 Sessions focused on helping members adapt to what is happening right now at their companies and in convention centers. Keynote Sarah Robb O'Hagan encouraged extreme meeting production. "Greatness is a team sport," she said. "Individual success is driven more by those around us than by ourselves. The better your teammates are, the better you will play."
ALHI President and CEO Mike Dominguez led a panel that looked at how meetings will change as the Covid pandemic fades to an endemic in the United States. Panelist Meredith Buggelli, corporate vice president of events with New York Life Insurance Company, confirmed that executives are just now starting to talk about plans for in-person, particularly when it comes to incentive events. "The realization has suddenly hit that another year is about to end, and we can start to get people together," she said.
Lori Allen, vice president of global event operations with MetLife, agreed. "The pent-up demand is real. Our sales teams are people-people."
Florence Nalepka, vice president of business development with PRA, stressed the importance of having conversations early and often because supply chains are challenged right now. "We have to understand the difference between the must-haves and nice-to-haves to find a balance that works," she said.
2022 FICP Annual Conference sails to Omni Boston Hotel at the Seaport, live and in-person.