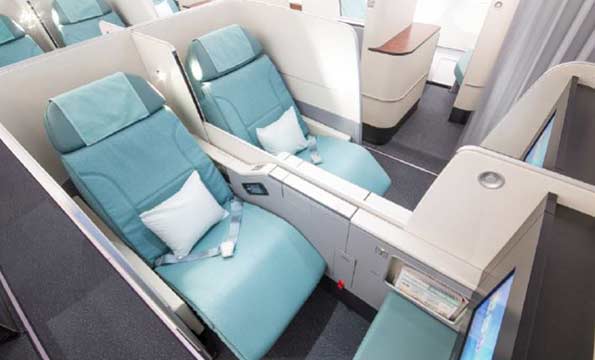 Comfortable seating is key to making air travel more pleasant. Frequent fliers will delight in the following airline cabin makeovers:
Korean Air Prestige Suites
Passengers can walk around their seatmates, instead of climbing over them. The seats are extra wide (22.5-inches, compared to the industry average of 17.2-inches) and feature ottoman foot rests and 75-to-87-inch seat pitches, compared to the average 31-inch pitch. The innovative seats are currently in use on Korean Air flights to Singapore, and are being installed on all new aircraft.
Air Astana's Economy Sleeper Class
Many travelers find it difficult to sleep on planes. Air Astana is addressing the problem with its new Economy Sleeper Class, currently available on flights from Kazakhstan to London, Frankfurt, Paris and Hong Kong. Passengers in this class get a mattress, pillow and duvet, as well as eye masks, socks, mouthwash and earplugs.
Singapore Airline's Premium Economy Class
Singapore Airline spent more than $80 million redesigning its premium economy class to include 19.5-inch-wide leather seats with calf rests, foot bars, power stations and special compartments to house water bottles, laptops and cell phones. Inflight entertainment upgrades include 13.3-inch HD monitors and noise-cancellation headphones. Food is also being upgraded. Premium economy passengers can select from three menu choices and sip complimentary champagne or wine. The new service will debut in August on flights from Singapore to Sydney.
SAS Erik Viking
SAS unveiled its Erik Viking cabins in February, and they are primarily available on long-haul flights from Copenhagen to the U.S. Three different cabin designs boast features such as direct aisle access, full flat beds with luxury bedding and massage seats. All have personal power stations, on-demand entertainment systems and Wi-Fi capabilities.
Cathay Pacific Business Class Seats
Cathay Pacific is upgrading the seats of its Airbus 350 fleet. The flatbed seats, designed by Zodiac Aerospace and the Porsche Design Group, will debut in February 2016.