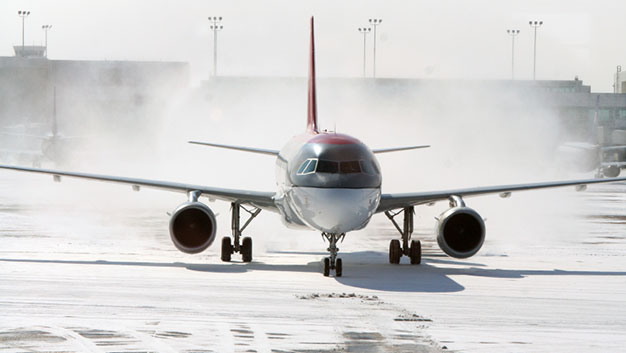 Business travelers, who likely spend more time on airplanes than at home, are more aware than anyone about the issues associated with winter travel—delays, cancellations, stress, chaos.
On Thursday, Delta Flight 1086 was attempting to land at LaGuardia Airport, when it skidded off the runway and rumbled through a chain-link fence. At the time, New York City was experiencing moderate snow, and according to reports, the plane had to briefly circle the area due to issues with snow and ice before touching down. The 125 passengers had to exit the plane by sliding down an inflatable chute. No major injuries were reported.
Passengers rely on the expertise of air traffic control and our pilots to navigate these difficult situations. Still, after blizzards have slammed the eastern half of the United States, most can't help but woner how safe runways are.
Brittany Jones Cooper, Yahoo's travel editor, reached out to aviation experts to find some answers.
Who's in charge of determining if a runway is safe to land on?
The airport authority is in charge of runway maintenance. This includes making sure that it is plowed and clean. But according to Joe Brancatelli, editor of JoeSentMe.com, the decision to land is ultimately up to the pilot. "The pilot is relying on the airport authority's evaluation of the runway," says Brancatelli. "But a pilot can abort a landing for any reason. He or she has ultimate power."
When does an airport runway close?
When considering closing a public-use airport or runway, airport operators must contact the nearest FAA District or Regional Airports Office prior to taking any action.
Can planes land on an icy runway?
While technically possible, landing on ice is not preferred. "A heavy plane can land on snow, slush, or ice, but it reduces the traction and the ability to brake," Mayerowitz says. "It's really decided on a case-by-case basis. According to SmartCockpit.com, in very cold and icy situations, runways can actually provide greater friction. This is how many airports in arctic areas are able to operate.
How do I check the conditions at my local airport?
The FAA air traffic control system command center posts information here. For more, go to yahoo.com