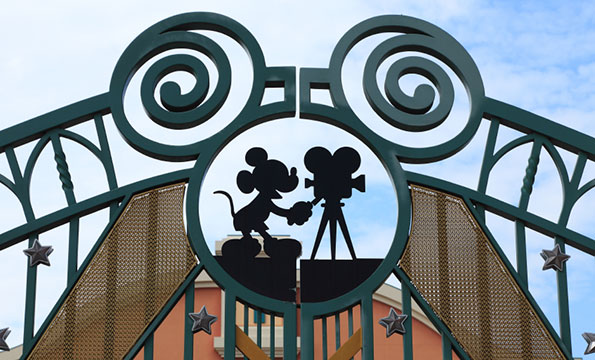 Shanghai Disney Resort's newest attraction, Garden of the Twelve Friends, features beloved Disney and Pixar characters cast as members of the Chinese zodiac. The new attraction was purposely unveiled to coincide with the start of the Chinese New Year.
"Introducing the 12 Disney zodiac characters to our guests is one way of conveying the best wishes of Shanghai Disney Resort during this traditional festival of family reunion in China," said Philippe Gas, Shanghai Disney Resort general manager.
The attraction features a garden wall decorated with flowering vines and colorful glass mosaics. The serene interior, which resembles a classic Chinese garden, has lush cherry blossoms. Families can relax together in the garden, and have their photos taken with characters that represent their own personal Chinese zodiac signs.
The Twelve Characters of the Chinese Zodiac at Shanghai Disney Resort are:
Year of the Rat: Remy, the rat-turned-chef from the Disney-Pixar film Ratatouille, who is clever, determined and dreams big.
Year of the Ox: Babe the Blue Ox, who is the hero of Disney's short animated film Paul Bunyan. He is loyal and a good friend to the giant lumberjack.
Year of the Tiger: Tigger, Winnie the Pooh's friend, is confident and cheerful as he bounces about in the Hundred Acre Wood.
Year of the Rabbit: Thumper befriends a newborn fawn and stands by him as he grows to be a prince of the forest in the Disney film, Bambi.
Year of the Dragon: Mushu is a small and fast-talking dragon whose enthusiasm and bravery make him the perfect guardian for Disney's Mulan on her quest for family honor.
Year of the Snake: Kaa, the wily python from Disney's The Jungle Book, is charming and hates to fail.
Year of the Horse: Maximus, the determined and quick-witted guard horse from Disney's Tangled, helps Flynn Rider free Princess Rapunzel from her tower.
Year of the Monkey: Abu of Disney's Aladdin is mischievous but his agility and cleverness come in handy in dangerous situations.
Year of the Rooster: Allan-A-Dale, a charming and melodic rooster who narrates Disney's Robin Hood, is a trusted ally who fights injustice and helps the poor.
Year of the Dog: Like all dogs, Pluto is honest, faithful and friendly. His cheerful demeanor makes him one of Disney's biggest stars.
Year of the Pig: Hamm, the wisecracking plastic piggy bank in the Disney-Pixar Toy Story films, is a loyal and trustworthy companion.
Year of the Sheep: The "Jolly Holiday" lambs from Disney's Mary Poppins represent the qualities that make those born in the Year of the Sheep so special—elegance, charm, serenity and gentleness. 2015 is the Year of the Sheep.