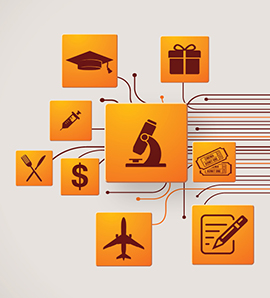 Compliance program helps negotiate complex regulations
What a difference a year makes. Last January, the Healthcare Meeting Compliance Certificate (HMCC) was just rolling out, with results from the beta test group not even released yet.
To date, 301 meeting and event industry professionals have successfully completed the program, including 54 in the fourth quarter of 2014. The certificate, which is endorsed by Saint Louis University, demonstrates competency in healthcare meeting compliance. Meeting Professionals International (MPI) acquired the certificate program in June from the International Medical Meeting Professionals Association (IMMPA).
One of the most interesting trends among those pursuing the certification is the number of hoteliers and convention and visitors bureau staff members who are participating. For example, Danielle Baruch of Loews Hotels, Elisa Sandoval of Hotel Nikko San Francisco, Kathie Hewitt of Saybrook Point Inn and Francoise Christine of Millennium Hotels & Resorts are among the recent graduates. Nichole Beran from Omaha Convention & Visitors Bureau, Minerva Garcia from Visit Indy and Christine Roberts-Tascione from Greater Fort Lauderdale Convention & Visitors Bureau also completed the program.
MPI is taking its four-hour certificate program on the road, including a stop at the European Meetings and Events Conference Feb. 3 in Krakow, Poland. MPI will also offer the program on Feb. 10 in conjunction with the third annual Global Pharmaceutical and Medical Meetings Summit at the Hyatt Regency Philadelphia at Penn's Landing.
The medical meetings summit, which runs Feb. 10-12, gathers senior pharmaceutical, biotech, medical device and healthcare meeting executives together to improve ROI-driven conversations and provide up-to-date information about reporting regulations.
Congratulations to the new graduates of the compliance certification program:
Carrie Bamper, LifeCell, an Acelity Company
Danielle Baruch, Loews Hotels
Nichole Beran, Omaha Convention & Visitors Bureau
Mauricio Best, Centro Banamex
Cynthia Blake, Meetings & Incentives Worldwide, Inc.
Michael Brill, MEDALS LLC
Rebecca Brown, Health LogiX
Wendy Butler, Meetings & Incentives Worldwide, Inc.
Catherine Canty, Novo Nordisk
Jennifer Carnahan, GES
Francoise Christine, Millennium Hotels & Resorts
Theresa Contreraz, CenturyLink Center Omaha
Naomi Cretcher, Pharmacyclics
Zoyla Dandan, Pharmacyclics
Eleanor Daniels, Ultramar Travel Management
Debbie Darwick, Health and Wellness Partners
Carolyn Fariello, Novo Nordisk
Traci Feliu, Novo Nordisk
Ma. Antonieta Gamez, Centro Banamex
Minerva Garcia, Visit Indy
Jill Gubner, Pharmacyclics
Alfredo Gutierrez, Anfitriones Nacionales APR, S.A. de C.V.
Lauren Hass, PENTAX Medical
Kathie Hewitt, Saybrook Point Inn
Megan Hoopingarner, HealthTrust
Bruce Katkowski, Health LogiX
Susan Kelly, GES
Jasmine Laguerre, OmniGuide Surgical
Sheila Lagura, Pharmacyclics
Steven Lorenz, Meetings & Incentives Worldwide, Inc.
Sarah Madrigal, Takeda Pharmaceuticals
Julio Marrero, Loews Philadelphia Hotel
Dana Marshall, Meetings Defined
Danielle Matchulat, Meetings & Incentives Worldwide, Inc.
Kristen McCauley, Tandem Diabetes Care
Krzysztof Michniewicz, ICP Group S.A.
Sandy Milewski, Novo Nordisk
Corey Mosher, Medtronic, Inc.
Abby Parker, Bishop-McCann
Wendy Phillips, Bishop-McCann
Cathy Piecuch, Ultramar Travel Management
Maria Rivera, Novo Nordisk
Christine Roberts-Tascione, Greater Fort Lauderdale Convention & Visitors Bureau
Elisa Sandoval, Hotel Nikko San Francisco
David Schenberg, BusyEvent Mobile
Seth Shraddha, Novo Nordisk
Jonathan Smedley, Novo Nordisk
Leighann Tivoli, Novo Nordisk
Bridget Tomlinson, LifeCell, an Acelity Company
Holly Treval, Health LogiX
Christine Vercoe, InterContinental Buckhead Atlanta
Peter Walker, Peter Walker Associates Limited
Perri Weissman, Novo Nordisk
William Witthaus, Cash Witthaus