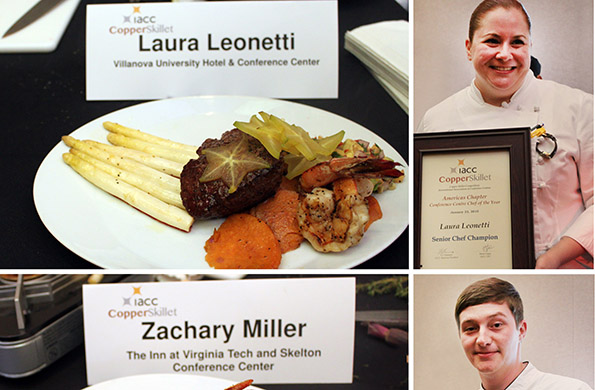 Laura Leonetti's award-winning dish; Laura Leonetti; Zachary Miller's award-winning dish, Zachary Miller
Chefs from IACC-member properties in North America recently gathered to compete for the coveted IACC-Americas Copper Skillet final at the Bonaventure Resort and Spa in Florida. The winners will compete in the International Copper Skillet global final in April.
This competition is designed to highlight the artistry and skills of IACC-member conference center chefs.
The winner in the Americas Senior Chef Category was Chef Laura Leonetti from the Villanova University Hotel & Conference Center. The judges lauded her dish of Filet Mignon and Jumbo Prawns, white asparagus, sautéed sweet potatoes, mango & avocado salsa.
Zachary Miller at the The Inn at Virginia Tech took the IACC-Americas Junior Chef Category for his winning dish in the cook-off. Industry expert judges loved his dish of brown butter seared prawn and filet with trumpet and lobster mushroom, red wine demi accompanied by smashed purple sweet potatoes and sautéed asparagus, carrots, and Swiss chard.
Chefs were presented with basic pantry items along with a mystery basket of proteins. They were given 30 minutes to prepare, create and present their creations to local area judges.
Leonetti and Miller will compete with other chefs from IACC chapters around the world at the International Copper Skillet Competition at the 34th IACC-Americas annual conference at the Bonaventure Resort & Spa in Fort Lauderdale, Florida, in April, where the 11th Global Copper Skillet Champion will be named.
The 34th IACC-Americas Annual Conference is scheduled for April 14-17.