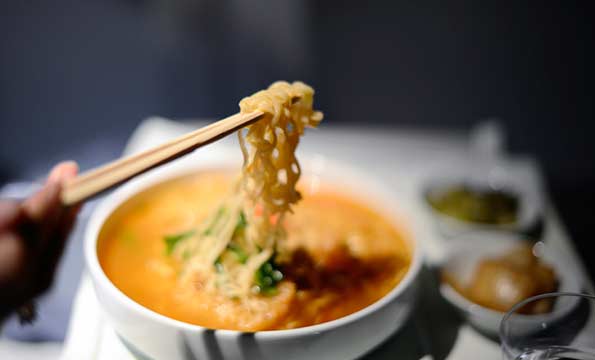 Thai Airways recently was selected as the top economy class caterer in a passenger survey conducted by Skytrax.
The survey, which was completed by 18.85 million passengers, was done as part of the World Airlines Awards, an independent, impartial global program. Many airlines have made major improvements in food options recently, with processed meals giving way to more healthy, delicious and specialized offerings, and this is reflected in the top five in the Best Economy Class Catering category. The top airlines were, in descending order:
1. Thai Airways: It offers not only outstanding Thai dishes, but also international fare.
2. Turkish Airlines: Continental breakfasts, Mediterranean sandwiches and gritty Greek coffees highlight the offerings.
3. Asiana Airlines: Korean noodles, spicy soups, Japanese-style dishes and fresh Asian vegetables salads are among the featured items.
4. Etihad Airways: It serves three separate Middle Eastern main courses and provides a complementary bar service that features spirits, beers and international wines, as well as a separate cafe offering tea, coffee and pastry snacks.
5. Cathay Pacific Airways: Hong Kong cuisine is featured, including lots of hot noodle soups, freshly cooked rice dishes and Oriental curries.
The World Airline Awards began in 1999, when Skytrax launched its first global, airline passenger satisfaction survey. In 2000, the survey attracted a 2.2 million passenger responses, which have grown annually.