Aerial shot of Hutchinson Shores Resort & Spa, Jensen Beach, Florida
Turner Construction took its training session to the beach
Editor's Note: Introducing new employees to a company's way of operating is a critical job. Smart Meetings sat down with Megan Faretta, regional training coordinator for Turner Construction Company, which onboards as many as 1,000 new employees every year, to talk about a meeting that ventured into uncharted territory.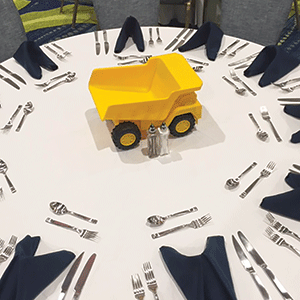 Business Goal: At as many as 10 new-hire conferences each year, 100 employees are given the chance to learn more about the company and each other.
"They may understand some of the topics from another job, but the relationships they make often last throughout their careers—whether they stay with Turner or not," Faretta explained.
Because attendees were a senior-level group, getting 100 new hires at a one-week conference was difficult. Many of them are running projects that for some valid reason make it difficult to get away. Support from operations, the executive team and human relations helped, but rolling roster management was essential. As one person dropped out, a backlog of people who hadn't been able to make other trainings was called up. In the end, one person didn't make it because of illness, but better to have an empty seat than expose others at the conference, Faretta noted.
The Challenge: Usually Faretta, who is a planning team of one, produces these conferences at a handful of properties in the middle of the country—Texas, Illinois or Colorado. Even the agenda is consistent. Only the names of the presenters change. However, her data showed that an overwhelming percentage of new hires were from Florida, so she chose Hutchinson Shores Resort & Spa in Jensen Beach, Florida, for the training, despite not being able to do a site inspection. Since she had no images to draw from, she was surprised the week before when she received a room diagram and it was not the clustered pod configuration she had expected. It was also a smaller meeting room than she was accustomed to using.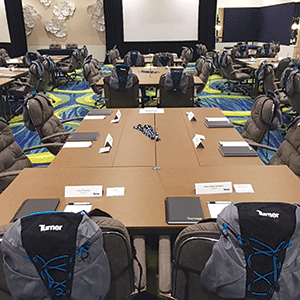 Solution: Faretta sent a PDF of a layout from a previous conference to the property, which rose to the challenge. She had to do little adjusting on-site when the team arrived.
Also new for the property was the idea of a "continuous coffee break." The property worked with Turner to create package pricing, so when people hit that mid-afternoon slump, they could grab a snack or a smoothie. Faretta jokes that attendees could gain five pounds at a Turner conference.
Success Measurement: Faretta surveys attendees about whether the training occurred at the right time, if trainers and topics were effective and if attendees liked the facility. This conference got very high marks across the board. She has also gotten feedback from supervisors saying a person really benefited because they weren't connecting the dots before, and that shifted after returning from the conference. She has even received handwritten notes about how important it was to attend. But she knew she was doing something right when she heard that a group was already planning a reunion in Florida a year later.
Lessons Learned: More communication up front could have helped avoid a stressful moment a week before the event. "The more information we can give in advance, the better it is for everyone," Faretta said.