Activations called on the resources of the Hilton network
A century of fast thinking paid off at an anniversary celebration
Editor's Note: We have all been there. A spectacular event has been in the planning stages for months. We have enlisted the top talent in the industry to create an experience unlike any other, but the day of the event, Mother Nature has different ideas. Smart Meetings sat down with Laura Hartmann, assistant director of events at Hilton Orlando, who explained how she has dealt with potential weather disasters.
Business Goal: In March 2019, the iconic Hilton Orlando served as the ideal venue for an Americas Leadership Conference (ALC), delivering a program of thought-provoking learning and training sessions, energetic panels and informal networking for leaders of Hilton full-service hotels. The business goal was to activate key strategic priorities as well as celebrate Hilton's 100-year anniversary.
Focal Point: Each day, participants were buzzing with excitement around inspiring stories featured in The Hilton Effect, a research document commissioned to mark the 100-year anniversary of the brand. The ALC App exploded, with attendee adoption of more than 90 percent, making it a platform to cross-pollinate business learning and best practices, as well as to share experiences from the innovations showcase, learning module and brand updates. The conversations on the app conveyed that executive, brand and keynote speakers left attendees inspired to return to their locations to activate on key business objectives identified for the fiscal year.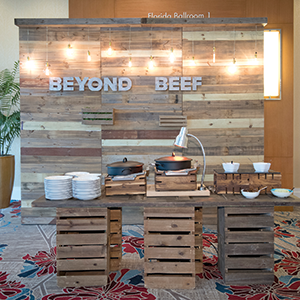 Attendees were also presented with a wide array of F&B options, ranging from larger-than-life French brioches to nitro-chilled frozen yogurt, that were as visually appealing as they were delicious!
Challenge: On the second day of the program, inclement weather arrived, bringing with it challenges in executing our outdoor evening "afterglow" event as planned by the main pool. With several vendors on deck to begin loading in, a rain call would need to be made, possibly risking the integrity of the design concept if moved inside to a less-desirable venue.
Solution: The team met to come up with creative alternative venues. The idea to move the event to the front drive porte-cochere (outside, yet covered from above) was proposed, and you could see the excitement building among everyone. After a quick redesign of the initial vision, the team was able to successfully pull off an amazing Miami Wynwood Wall theme event in an extremely unconventional space.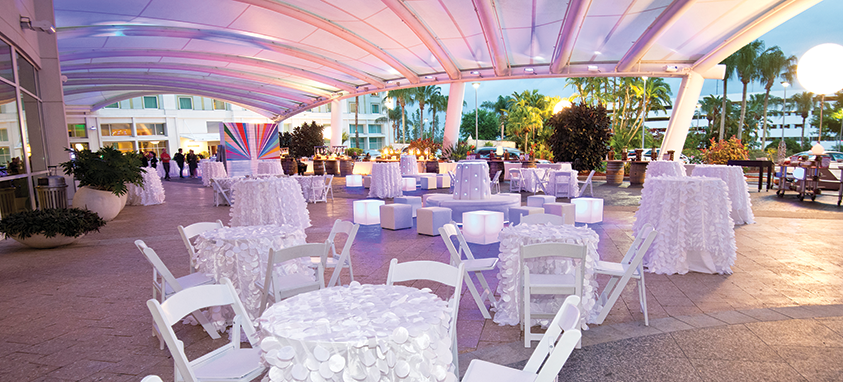 Success Measurement: The ALC App Measurement System and a post-conference online survey evaluated the quality of resources, key presentations and the Supplier Partner Showcase. In addition to a numerical rating, attendees shared that the tools and information disseminated in Orlando have already been implemented in many other hotels.
Lessons Learned: When we work together as a team, with a passionate approach for a common goal, there are no limits to innovation and creativity. We should never settle for or feel defeated by the Plan B moments that present themselves, but instead look at those situations as an opportunity to reimagine Plan A. Our customers, attendees and team deserve the best experience we can dream up, regardless of the circumstances that might stand in our way.