Should you add feng shui and other ancient practices to your checklist?
Recently, the high priests and priestesses of wellness gathered for their annual get-together. These are the visionaries and leaders of the global wellness industry, those who pioneer and advocate wellness practices and treatments.
Dr. Oz of TV fame was there, and so was Cleveland Clinic's Dr. Michael Roizen (the only chief wellness officer at a major U.S. healthcare institution), Dr. Andrew Weil and Wim Hof, known as The Iceman for his preternatural ability to withstand extreme cold and for being an evangelist for cold showers. Famed spas such as Tucson's Canyon Ranch, hoteliers such as Mandarin Oriental Hotel Group and distinguished institutions such as Oxford University and Harvard Medical School were also represented. This year's three-day Global Wellness Summit was held at The Breakers in Palm Beach, Florida.
But this year, the "delegates" at this invitation-only event were also wellness guinea pigs. They may not have been aware of it, but they were the first attendees at a large event to be touched by a process called "purposeful design."
In essence, this was an attempt to raise the bar for successful meetings. The concept of "meeting wellness"—a heightened sense of feeling engaged at a particular time and place—must necessarily involve more than the usual design considerations.
Planners, of course, are old hands at designing and configuring meeting and event spaces—and adept at responding to changing trends and the shifting sweet spots for specific demographics such as millennials. Yesterday's classroom style gives way to today's soft seating pods, and so on.
Yet, have you ever considered a meeting room's energy?
Three months before the Global Wellness Summit, a New York City-based company, EcoChi, began doing just that. EcoChi describes its approach as a blend of modern, evidence-based design principles (such as biophilia, biomimicry and environmental psychology) with millennia-old strategies (Chinese feng shui, the design wisdom of the Mayans, Vastu Vidya principles from ancient India). Debra Duneier, EcoChi founder and president, is a long-time feng shui master, LEED Green associate and certified eco-designer.
The concept of "chi," the universal energy feng shui strives to balance, traces to Taoism, a Chinese philosophy with origins tracing to the sixth century B.C. It's the delicate art of arranging buildings, objects, space and life to achieve healthy harmony and balance.
"This is the first time this has been done for a temporary space," says Duneier, whose previous clients have included private homes, businesses and a restaurant next to Westport Country Playhouse in Connecticut where the late actor Paul Newman was part-owner. "The owner told me people came there to heal.
Duneier began by assessing "where the energies are" in The Breakers' conference spaces, considering the history of the property, its orientation and layout, as well as the physical requirements of sessions during the summit. Using a traditional feng-shui tool known as the bagua, a compass reading of a space's energy, she determined how best to accentuate positive, and mitigate negative, forces. She broke down each space into segments of feng shui's five elements—fire, earth, metal, water, wood. As manifestations of chi, a balance of all five is sought.
Among the "cures" implemented as a result of bagua analysis was seating in a Breakers ballroom designed in gently curved rows to mimic the flower of life, a "sacred geometry" that fascinated no less a creative genius than Leonardo da Vinci, as well as an irregularly shaped stage.
Why go to all this extra effort? "Because life is lived—and conferences are experienced—the way they are designed," as Duneier puts it. The goal of purposeful design was to promote wellness and positive feelings among the summit's more than 500 attendees.
Did she succeed?
Michele Wild, director of conferences and events at The Breakers, says the event "rendered guests speechless. [Duneier] wove the story of the five elements with a master's hand, painting with color, light, fire and a deep understanding of the human experience…it's something we will remember for a very long time," Nancy Davis, chief creative officer and executive director of Global Wellness Institute, says.
Five Elements Gala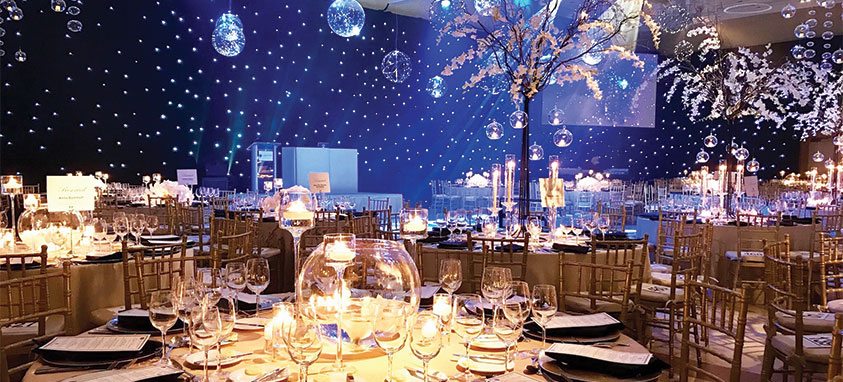 Duneier's mantra for the event's closing gala was Playful, Magical, Luminous and Celebratory. The bagua determined each table's color scheme and centerpiece. An LED "star curtain" transformed background curtains into an immersive experience.