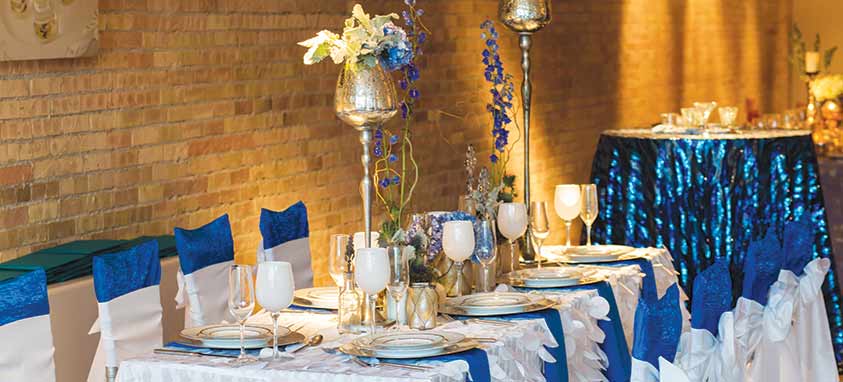 Table linens by Creative Coverings
Planners are looking for eclectic, lively spots for groups
Consistent with other recent trends in the meetings industry, groups are seeking more inspiring and engaging spaces that facilitate learning and networking.
"There's an overall aversion to boring meetings that don't inspire attendees," says Kevin Dana, director of product development for Cort Event Furnishings, which provides furniture rental to groups in the United States and more than 80 other countries. "Meeting planners have to be more creative in how they create spaces that incorporate technology and still take into account the human experience with furnishings that invite guests to relax and be open to learning and connections."
Dana feels that this trend is being driven by similar trends in residential home furnishings and by millennials, who generally are more open to new shapes, colors and textures while still wanting comfortable and familiar natural environments.
"Organic and earth-centric environments are increasingly important in today's design," Dana says. "Clients want a space that exudes warmth and facilitates connections, whether it's a meeting in a hotel ballroom or an evening gala."
A Shift Toward Eclecticism
Dana says that these environments have also inspired a shift toward more eclecticism, as well as popular midcentury- and Danish modern-inspired designs.
"Events are utilizing rich fabrics, textures, unusual shapes and mixed materials," he says. "The rustic and vintage looks of the recent past are morphing toward this eclecticism, too, combining Art Deco, modernism and urban industrial together for a more sophisticated residential vibe."
Planners wanting to create an eclectic modern design often use a textural mix of wood, marble, metallic finishes, lush fabrics and greenery. Dana has noted that black- or gold-toned metals set off by glass, wood or marble surfaces are trending in accent and dining tables, shelving and other furnishings.
He says that other trends include soft seating using shades of gray and light colors, as well as lifelike greenery to divide space and lend an earthy feel to warm up the event space and "bring the outside indoors."
Dana feels that the meetings industry is doing a good job of providing more stimulating environments and anticipates that in the future, it will implement more nontraditional elements and seating that can easily be moved around.
"Movable furniture facilitates impromptu small gatherings where people can gather, connect and exchange ideas within a larger meeting or conference," he says.
Storytelling as a Design Trend
Kate Patay, chief brand officer for Creative Coverings, also has kept close tabs on new design trends in the meetings industry. The company provides linen rentals to the industry by drawing on the expertise of Patay and other staff members who have served as event professionals. Creative Coverings has established itself as a trend leader by introducing many new fabrics and designs.
Most recently, Patay says that she's observed a new approach to design and style through storytelling.
"As opposed to doing a themed event, it's more about the underlying story being woven throughout all design aspects," Patay says.
When designing a winter-themed party, for example, a planner can create the essence of winter in everything, starting with the invitation and marketing materials and through the food, drink and decor at the event.
"Every aspect of the event should have that icy, cool feel to it," she says, adding that this storytelling approach creates an engaging experience and vivid memories.
Team-Building with Linens
Patay has seen a rise in the popularity of luxury linens and branding with colorful cloths. One common design element is the use of linens in team building. For instance, teams are separated by color and then speak on various topics based on the table at which they are seated, and then share ideas with the larger group.
She says that there has also been an increase in the use of pillows that coordinate with linens to adorn sofas and soft-seating options. "Pairing these design elements with each other really draws people together," she says.
Patay says that linen patterns with a new take on geometric designs and ikat are trending, along with neutral hues, other than blacks or browns. And, like Dana, she's noticed a preference for gray.
"Depending on who you speak with, gray is the new black and anything blue is not going away anytime soon," she says.
To the satisfaction of many meeting planners, Creative Coverings has been a forerunner in implementing another industry trend: sustainability.
"We strive to serve a larger purpose than just renting linens," she says. "When thinking about how Creative Coverings can make a difference, we developed and implemented a plan to reduce our carbon footprint. I am proud to say Creative Coverings is the only Emerald Green-certified linen rental and sales company. Our green initiatives include recycling damaged cloths, whether that be repurposing them for other rental items or donating to various organizations and using environmentally safe business practices."
Patay, who was selected as one of the 2017 Top Women in Meetings by Smart Meetings (see p. 61) also is an active public speaker to meeting groups.
"I love speaking on branding, sales, as well as upcoming trends and forecasting them," she says. "Teaching how to build a sales team or brand, and sustain it over the long term, is something I'm very passionate about. Discussing the many outlets, from fashion to social media, and how they contribute to trends is a fun one."