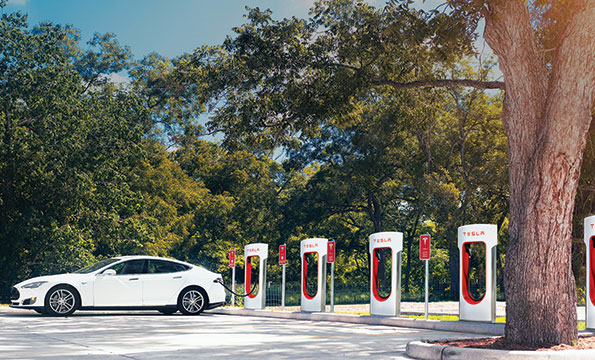 Embracing many environmentally sustainable business practices, Fairmont Hotels & Resorts' latest green venture is teaming up with Tesla Motors to offer state-of-the-art charging stations.
Participating California properties include The Fairmont San Francisco, Fairmont Heritage Place Ghirardelli Square in San Francisco, The Fairmont Sonoma Mission Inn & Spa in Sonoma, The Fairmont San Jose, Fairmont Miramar Hotel & Bungalows in Santa Monica and Fairmont Newport Beach.
Tesla's High Power Wall Connectors add 58 miles of range per hour to the Model S, charging the vehicle overnight, and replicating the convenience Tesla owners are accustomed to at home.
"Pioneering Fairmont Hotels & Resorts is constantly finding new ways to heighten the guests' experience," says Thomas Klein, regional vice president and general manager of The Fairmont San Francisco. "By combining leading-edge technology with our commitment to providing incomparable service, we now have the ability to extend high-tech, eco-friendly solutions for Model S owners."
As a leading travel provider, Fairmont is proactively aware of the impacts of business travel on the environment and is constantly seeking ways to reduce carbon output and help mitigate the effects of global warming. This green philosophy has grown to become a core value of the company.