Eric Yuan wants you to smell the coffee
Eric Yuan is not that different from you and me. He admits to suffering from Zoom fatigue at times. Yet the founder and CEO of Zoom Video Communications is not your average 52-year-old Silicon Valley billionaire—he's worth $4.8 billion as of early October, according to Bloomberg—either.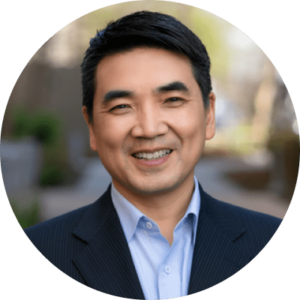 He talks a lot about happiness. His customers', of course. But also his employees'. (He won a Glassdoor Employees' Choice Award honoring the Top CEOs in 2018.) And his own.
As a college student in China, he was unhappy with the 10-hour train trip to visit his girlfriend. So, he decided to focus his programming skills on videoconferencing technology.
"The most important thing isn't your dream coming true," he said in a conversation with Thomas F. Rosenbaum, president of California Institute of Technology. "That's one day. It's more important to enjoy every day along the pathway."
Yuan's journey has become inextricably linked with ours. It's hard to imagine surviving the recent past—in our work lives, at least—without the technology he created as a way to eliminate his train fatigue. That faraway girlfriend, Sherry, is now his wife, by the way. And they live with their three children in Santa Clara, California, a world away from China.
How he got there, and where he is going, can tell us much about our own journey ahead and what meetings of the future will bring.
Far East to American West
He was born in Taian, in China's Shandong, an eastern province on the Yellow Sea known for its Taoist and Confucian heritage. The son of mining engineers, his Silicon Valley-like disruptive spirit manifested early. As a 9-year-old, he began rummaging through construction scraps to find copper to sell for cash. Then came the idea to streamline the process. He would burn away what the copper recyclers didn't want, in an old chicken coop. He ended up burning down his neighbor's cottage. "My parents were really upset," he told Forbes.
Read More: How to Zoom Your Events Like a Pro
Flash forward to his college years. His undergraduate studies were in applied mathematics and computer science, but the dutiful son followed up with a master's degree in geology engineering in Beijing. He already knew he would be an entrepreneur, however. In 1995, while in Japan in a training program for the company he was working for, the ah-ha moment arrived.
"While in Japan, Bill Gates gave Yuan his ah-ha moment."
"There was an industry show, and Bill Gates gave a keynote speech," he told a profile writer for the website of Sequoia Capital, the legendary tech investment capital firm that would win big on a bet of $100 million on Zoom two years before it went public, in 2019. "I was so inspired by his speech and I thought, 'Wow, the Internet is the future. I better embrace the first wave of the Internet revolution.' That's why I decided, maybe I should go to Silicon Valley, take a look."
His visa application to work in the United States was denied eight times. He would not be deterred. "I told myself, okay, great. I'll do all I can until you tell me that I can never come here anymore. Otherwise, I'm not going to stop."
Finally, video conferencing went from his dream back in China to his reality in California. In the summer of 1997, barely speaking any English, he became one of the first 20 employees at WebEx, where combining talk and a streaming picture on the Internet was born. (The technology, however, first debuted as a commercial solution way back in 1968 by AT&T at the World's Fair in New York City. It was called the Picturephone.)
Since communicating in English was fraught, he immersed himself in programming, often through the night. He excelled. WebEx went public in 2000, and soon after it was acquired by Cisco for $3.2 billion in 2007, Yuan was put in charge of WebEx's engineering group.
But he had a big problem. "I knew WebEx customers were not happy, and I understood why," Yuan recalled. "The solution was very old, the architecture was very old, and it didn't support video very well." Think back to those days. Unreliable connections. Choppy audio and video. Not mobile phone friendly—let alone smartphone friendly, since the first iPhone had just been released.
He tried for a year to convince higher-ups to build a new WebEx from the ground up but got nowhere. "They thought I was crazy. Why would you want to cannibalize an existing service where [our team] is still selling a lot?"
So, in 2011 he quit Cisco. But only after convincing someone else he wasn't crazy: his wife. Why give up a big paycheck and a job managing a team of 800? As he recounted that moment to Forbes, "I told her, 'I know it's a long journey and very hard, but if I don't try it, I'll regret it.'"
Yuan was determined to put video conferencing on the cloud, and to make it fast and easy for even the least tech-savvy of us.
Maybe he even dreamed of creating a new verb:
Zoom: To use the Zoom service to hold or participate in online meetings with enabled video support 
—  Merriam-Webster
An Unwanted Word: Zoombombing
Experts agree designing the experience Yuan wanted was a technical beast. A solution that worked seamlessly with every operating system, didn't degrade hopelessly with faltering bandwidth and was totally scalable to hundreds, even thousands of meeting attendees at a time—and thousands, even millions of meetings being held simultaneously.
Against these odds, Yuan and his team prevailed. They made it "beyond easy," as one reviewer put it, for anyone to join a Zoom meeting from anywhere on any device—all you need is a link. By early 2013, when the fledgling company emerged from its beta phase, Zoom boasted 3,500 businesses with 1 million customers. In April 2019, when Zoom went public, its share price rose 72 percent by the final bell on the first day.
"We always ask ourselves, 'Does this support hybrid work or not?'"
WebEx. Go to Meeting. Skype. Microsoft Teams. BlueJeans. It's not as if Zoom was playing alone in this cloud-based sandbox. But after March 2020, when the world changed overnight, only Zoom was almost ready to step into the void. And even Zoom stumbled.
Looking back, it's amazing how we all, let alone Zoom, got through it. From an in-person and face-to-face "normal" to Zoom meetings for every possible occasion: happy hours, concerts, parties, therapy sessions and dates. And, of course, learning, since Zoom offered its app free to K-12 schools, which was eagerly accepted by more than 125,000 schools across 25 countries.
Read More: Virtual and Hybrid Meeting Tech Updates You Need Now
As has been observed, most of us made due as best we could, but Yuan's Zoom suddenly bore the burden of underpinning the world's communication. It proved to be too much. "Zoombombing" became a thing as hackers disrupted meetings. Privacy and security concerns came to the fore amid what was described as a 3,000% growth in Zoom usage.
"We had never thought about those consumer use cases," Yuan said later. "Zoom was built to serve enterprise customers. And we have a very good plan to support them in terms of privacy, usability, security. But I made a mistake. Those consumers and often even the schools—they do not have IT teams."
In a blog post, Yuan took responsibility for the app's security issues and laid out a road map for addressing them. Company stock dropped, but then nearly recovered as Yuan made good on his promises.
Ironically, perhaps, what hurt Zoom's stock price even more was the fading of the pandemic and a return to F2F. From pandemic highs of nearly $600 a share, it traded in mid-October at around $75.
Yet Yuan was far from done.
Zooming Ahead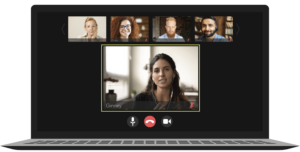 Imagine a Zoom meeting of the future. Get ready for a more fully immersive experience. Yuan wants you to be able to smell that cup of coffee a Zoommate brings to the meeting, to be able to understand instantly that language being spoken by a Zoomer in a faraway land, to have Zoom automatically generate meeting summaries and action items after the meeting is over. To have HD quality video augmented by virtual reality (VR) and augmented reality (AR). To incorporate artificial intelligence (AI).
"We're not there yet, but we want to make it a better experience than you can have in a face-to-face meeting," as he put it on "Killer Innovations," the popular tech podcast. "You will feel that intimacy in the future."
Greater and greater Internet bandwidth will be needed to fully realize Yuan's aspirations (and those, to be sure, of his many competitors, present and future). But some of the dream is already here. Zoom is adding new features all the time—some 300 a year, many of them integrations with third-party partners.
Among these are live language translation and meeting transcriptions. Zoom Events, a recently released product bundle, is a virtual event platform for hosting single-session and multi-day, multi-track events. It includes a webinar module that can host up to 5,000 attendees in a classroom-style meeting (no individual Zoom boxes, only the speaker on screen) and a meetings module for up to 1,000 participants.
"You will feel that intimacy in the future."
A "lobby" for attendees allows attendees to interact between sessions. There's an Expo Floor and Sponsor feature. The meetings module has breakout rooms. Both webinars and meetings offer registration (including ticket sales), white boards, file transfers, on-screen annotation, polling, surveys, livestreaming (on Facebook or YouTube, for example), closed captioning, session recording and more.
Zoom Rooms, part of the company's conference room bundle, provides TV monitors, cameras, speakers and Zoom software and is targeted to large-scale customers where the C-suite relies heavily on virtual meetings.
Yet Yuan and his team are betting heavily that the future will be hybrid. "With every new feature," he likes to say, "We always ask ourselves, 'Does this support hybrid work or not?'…So that, no matter where you are, you feel equal."
Beyond business meetings, Yuan and his team see unlimited potential in areas such as telehealth and remote learning. He cites a presentation at Zoomtopia, the Zoom user conference, at which a pharma customer presented a case study that connected 5,000 employees across the world to share and advance research on rare diseases. Another customer has brought Zoom into the live surgery theater to enhance medical expertise from great distances.
Yet another promising avenue for telehealth is in elder care, where video conferencing can give seniors medical advice in the comfort of their own homes.
Higher education, Yuan believes, is especially suited to Zooming. "Our first customer in this area was Stanford," he says.
His excitement endures. The evolution, too. Every night, he stops to reflect on the day and learn from it. "Normally, around 9 or 9:30 p.m., I think about, hey, if I started over today, yeah, that meeting I think I made a mistake, I should've let the team share their ideas before I jumped to a conclusion, or in that other meeting I should've shared with our customers about all those innovations," he told an interviewer. "If I started over, what could I do differently to become a better version of myself?"
The long journey continues, even though Eric Yuan himself rarely travels beyond his own Zoom box.
This article appears in the December 2022 issue. You can subscribe to the magazine here.