In the face of adversity, America's gaming properties have stayed surprisingly strong
In September, as a massive wildfire swept toward South Lake Tahoe, a city on the border between Nevada and California, local fire brigades reached out to nearby casino resorts for support. Over the course of two harrowing weeks, local residents evacuated the region, but the properties—including Harveys Lake Tahoe, Harrah's Lake Tahoe, Hard Rock Hotel & Casino and Bally's Lake Tahoe—offered up rooms, meals, conference space and other resources to support the firefighters' efforts.
"We were a big part of the emergency response teams' stay up in Tahoe during the entire period," says Don Goodman, executive director of sales for Caesars Entertainment, Northern Nevada, which operates the Harveys and Harrah's properties. "We had to cancel close to three-quarters of a million dollars in meeting business during that period through force majeure. Fortunately, the team was pretty prepped for this, because we'd been there before, especially when Covid first hit, so we knew exactly what we had to do. We were just very thankful that this was a short-term situation. Now it's back to business as usual."
This brand of "back to business" resilience has become a hallmark of the gaming industry in recent years, as properties across the nation have proved they can take a punch, stand back up and keep moving forward. Of course, it helps that demand for these properties—with their built-in dining and entertainment and "all-under-one-roof" model—remains remarkably strong.
"Gaming destinations have a tendency to provide more unique and varied experiences than non-gaming properties," says Michael Massari, chief sales officer for Caesars Entertainment. "Whether it was Sep. 11, or the Great Recession, or the pandemic, properties continued to sell out throughout these situations. Prices may go up and down, but people's desire to experience these multifaceted, integrated resorts is really high, and doesn't seem to wane."
Investing in the Future
Steady demand has allowed gaming properties to continue to make improvements, upgrades and acquisitions, while offering new amenities to attract meetings and conventions of all sizes. "We live in a world where interest is kept in nanoseconds," says Goodman. "You always need to offer something just a little bit new, a little bit better, consistently. And we are completely invested in making sure we continue to grow to keep people coming back."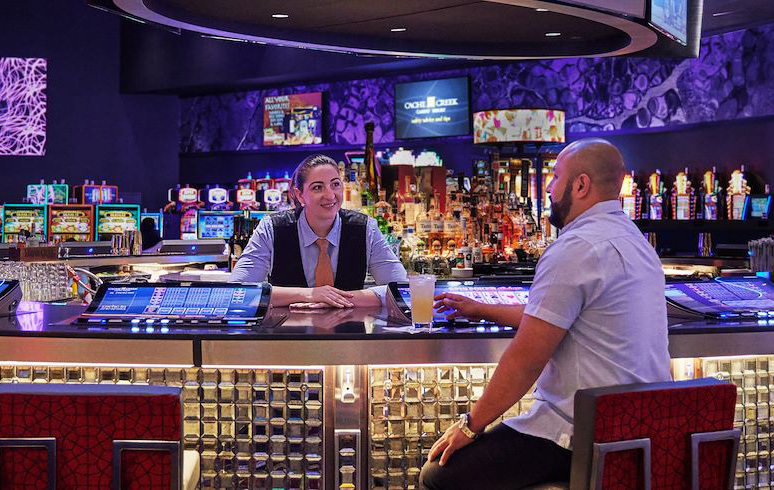 In Atlantic City, Bally's Atlantic City is getting an upgrade to the tune of more than $100 million, while Hard Rock Atlantic City is pumping at least $20 million into capital improvements. Caesars Entertainment, meanwhile, is investing $400 million into its three Atlantic City resorts. "Monopoly City" is also seeing renewed life beyond the resorts, as visitors can enjoy attractions like Steel Pier, as well as novel activities like axe throwing and Top Golf.
"We are thrilled about the continued investment and redevelopment that is occurring throughout Atlantic City as we continue to move our destination forward," says Larry Sieg, president and CEO of Meet AC, Atlantic City's Convention and Visitor's Bureau. "With new investment comes new business opportunities for the meetings and events industry and additional tourists who are looking to escape to new experiences."
Renovations are also under way in Reno, Nevada, where resorts range from 800-2,000 rooms—and meetings hotels offer 10 percent commissions for planners. The Peppermill (in Reno) and Nugget Casino Resort (in nearby Sparks) are both upgrading their guest rooms, and a new Kimpton property will be the first new downtown Reno hotel in more than 20 years.
"There is a lot of momentum in this destination and the meetings and conventions product, as well as the overall visitor experience, are going to continue to see major improvements for at least the next five to 10 years," says Mike Larraguet, vice president of sales for the Reno-Sparks Convention and Visitors Authority. "In addition to great meetings facilities and incentives, Reno-Tahoe is a high-desert destination, with hundreds of miles of hiking and biking trails, the beautiful Truckee River running through downtown, great local restaurants and lush forest and Lake Tahoe just minutes away."
Read More: Super-sized Spaces in Nevada
Casino properties are booming in other parts of the country, outside of traditional gaming destinations. Caesars Entertainment has announced plans for a new $500 million resort in Danville, Virginia, that will have 30,000 sq. ft. of meeting space. In California, a $550 million construction project at Yaamava' Resort & Casino (formerly San Manuel Casino), east of Los Angeles, saw the rise of a new tower hotel with 450 rooms and suites, as well as a new event center with 3,000 seats. In Northern California, meanwhile, Cache Creek Casino, about an hour west of Sacramento, recently completed a $180 million renovation that added a new hotel tower and a 1,300-seat event center.
Not surprisingly, the pandemic has done little to slow new development in Las Vegas. The city has opened three new resorts over the past 18 months, including Resorts World Las Vegas, a $4.3-billion property with 3,500 guest rooms and suites. The first integrated resort to be built on the Las Vegas Strip in over a decade, Resorts World combines three Hilton brands in a single complex. In addition to 50 meeting and ballrooms spanning 250,000 sq. ft., the property's features include an infinity pool with views of the Las Vegas Strip, as well as an entertainment calendar that includes the likes of Celine Dion, Carrie Underwood, Katy Perry and Luke Bryan.
The biggest player in Las Vegas, MGM Resorts International, has announced it will be taking over the operations of one of the city's most stylish properties, The Cosmopolitan, in a $1.625-billion deal. And to make it easier for planners to book meetings across its high-end properties on the Las Vegas Strip, MGM Resorts now bundles rooms as part of the "Luxury Meetings District," which includes the Bellagio Las Vegas, Aria Resort & Casino, Vdara Hotel & Spa and Park MGM Las Vegas.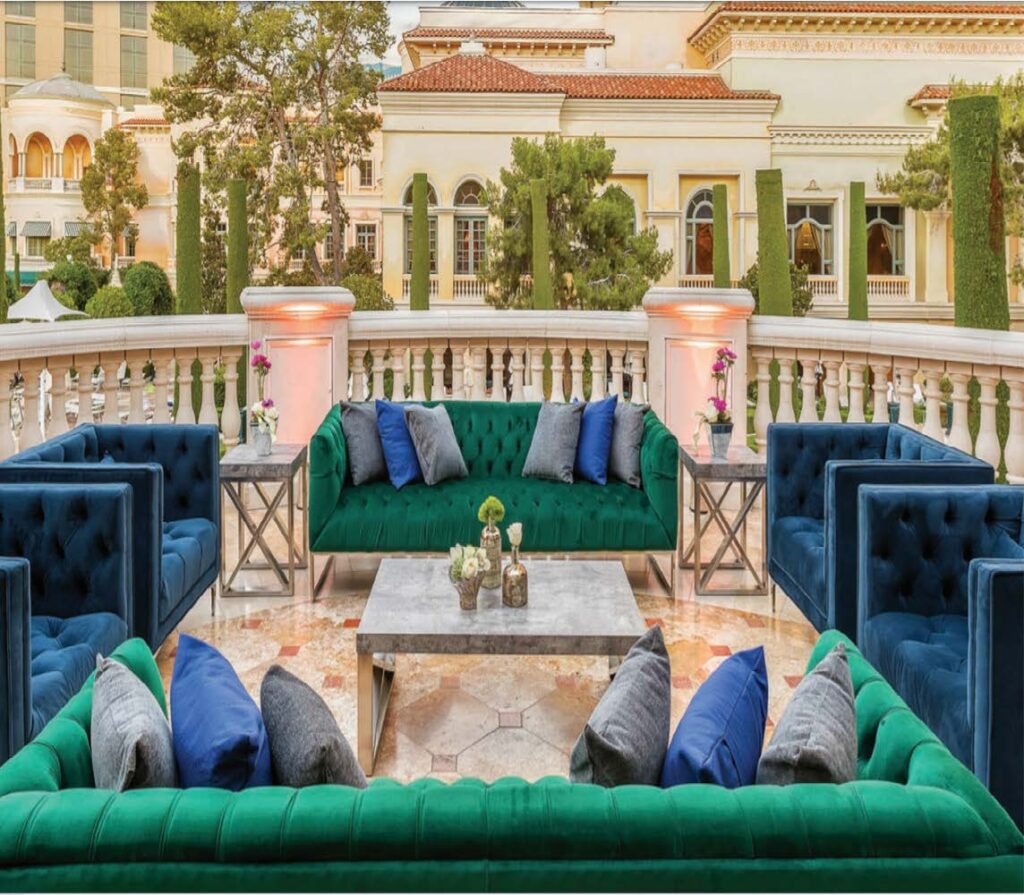 "We sat back and said, 'So many groups are using those properties, how do we market it as a 'one-stop-shop' for large groups to use within the campus?'" explains Stephanie Glanzer, chief sales officer and senior vice president at MGM Resorts International. "We have hosted thousands of groups since reopening, even up to the 5,000-attendee mark, and all of them are happening safely and successfully. Plus, we have hundreds of meetings still on the books for the rest of this year. Our pace looks very strong for the future, through 2022 and beyond. People realize the value of face-to-face meetings."
Overall, Las Vegas has added more than two million sq. ft. of new meeting and event space, including the 1.4-million-square-foot West Hall expansion at the Las Vegas Convention Center, and the spectacular Caesars Forum, home of the world's two largest pillarless ballrooms.
Even the smaller properties have continued to make improvements, thanks in part to that special extra income source that gives them an edge compared to properties in non-gaming cities. "Gaming properties have an added revenue source—the casino—that other hotels in the country don't have," says Maureen "Mo" Robinson, director of sales for South Point Hotel Casino, in Las Vegas, which has an 80,000-square-foot exhibit hall.
That's Entertainment
At a time when some attendees may be reluctant to travel to meetings and conventions, planners can count on gaming destinations to deliver the kind of excitement and star power that can get people out of their chairs. In Las Vegas, the coming months will allow visitors to see shows by Sting, Lady Gaga, Kiss, Celine Dion and everyone in between, while Cirque du Soleil and other entertainment brands have started to re-open shows that have been shuttered since the start of the pandemic.
Planners can also take advantage of new options for group activities and events. In Las Vegas, for example, Area15 is an immersive art and entertainment district that provides the backdrop for a memorable private event. Among the attractions to be found here are "WinkWorld," a psychedelic visual and auditory experience created by one of the co-founders of Blue Man Group, and "Rise-An Elevated Bar Experience" where guests sip drinks while floating 131 feet in the sky below a hot-air balloon. Area15 has special VIP "Insider Experiences" that are well-suited for incentives or teambuilding.
And whereas here most cities do not have a single ice-themed bar, Las Vegas is home to two: Icebar at The Linq Promenade, which can host up to 500 guests, and the Minus5° Ice Experience, which is kept a constant 23 degrees Fahrenheit to preserve the icy decor. Other options for a memorable offsite include The Mob Museum (which has a speakeasy bar in its basement) and Neon Museum, which tells the story of The Strip in lights.
Read More: Meeting Profs Demonstrate Agility at Smart Meetings Experience Las Vegas
"Las Vegas is known for gaming historically, but we really are an overall experience destination," says MGM's Glanzer. "It's no longer just about the slot machines and the table games. Now it's a destination that has the best food, the best chefs, the best entertainment, the best shopping, all within a very close proximity to a meeting."
"Some planners still feel if they book in Las Vegas they will lose attendees to non-meeting activities in the city. However, this is far from the truth," says Shelly Ryser-Blanton, executive director of sales at Treasure Island, a Las Vegas Strip hotel with 30,500 sq. ft. of meeting space. "Yes, most attendees enjoy what our amazing city has to offer, however, the meetings and events are always very well attended. Even the larger citywide conventions report larger attendance in Las Vegas compared to similar shows in other destinations. The most successful event planners ensure attendees meet all of their goals and objectives at the preplanned functions while allowing a little free time to do their own thing while in Las Vegas."
New Technologies and Experiences
In addition to developing new properties (and meeting space), gaming properties have used the past two years to leapfrog ahead in their use new technologies. "Many of the advances in technology that were more widely adopted because of the Covid-19 pandemic are just plain convenient, and we expect those will stick around for good, from contactless check-in, registrations and payments to keyless entry and thermal video screening," says H. Fletch Brunelle, vice president of marketing for Las Vegas Convention and Visitor's Authority.
"Two years ago, who would have thought you could order a margarita from your lounge chair at Bellagio? Now, because of the digital innovation, that's something you can do," says Glanzer. "We hope to all come out of this better. We took the past 18 months to say, how can we improve processes and experience and streamlining for our customers? I think that we have great opportunity and the difference will be noticeable."
A Focus on Responsibility
Last August, when the National Trade Show Alliance organized a job fair and trade show, Together Again Job Fair & Expo, organizers used Atlantic City Convention Center, which had not hosted an indoor event since the pandemic started, according to Laura Palker, president and CEO of National Trade Show Alliance. "We wanted to demonstrate that a live show can happen successfully and safely in a convention center," Palker says.
The two-day event featured roughly 100 exhibitors and an array of education opportunities, and attracted attendees from across the United States. The event was a success in part because the organizers took health and safety so seriously, Palker says. "The convention center has a hospital-grade air-filtration systems, and they were extremely customer-centric," Palker says. "You would certainly think that after a year and a half of being dormant that there would be bumps in the road, but they did not miss a beat, from setting up security, safety compliance, putting up appropriate signage, we felt like we were invited to someone's home."

At the same time that properties have been upgrading their rooms and amenities, they have also made strides forward in their corporate responsibility. MGM Resorts International, for example, recently launched a 100-megawatt solar array that produces 90 percent of the company's daytime power needs in Las Vegas. "Las Vegas as a gaming destination always has a misperception that we are not focusing on what's important, when in fact it's the reverse," Glanzer says.
In California, Western Electric uses Pechanga Resort & Casino's parking garage to generate enough power for 225 homes. And the Atlantic City Convention Center supports groups with "Meaningful Meetings," not only through its own "green" practices (including the LEED certification of the convention center itself), but also by helping groups connect and volunteer with local charitable organizations. "We are proud to focus on the initiative of regenerative tourism throughout Atlantic City," says Meet AC's Sieg. "With this approach, we are not only making a difference in our community, but we are also assisting meeting and event planners conduct a more meaningful meeting."
"Health and safety has always been pretty high priority for all of us property operators, and our planners on the customer side," says Caesars Entertainment's Massari. "Duty of care is not a new term. But the pandemic certainly has pushed all that to the forefront. And I suspect that it's going to stay at the forefront, that it won't fall back into the background anytime soon…We've got big renovations happening all over the country. We're just happy to be back doing what we love, waking up every day and trying to help people execute great meetings and events. We're just enjoying the moment."