Photo credit Golden State Warriors
This local hero is getting better every year, working on skills and resilience to reach seemingly unattainable heights.
Golden State Warriors superstar Stephen Curry often is described in such glowing terms. He's proud of his achievements, but he would be the first to tell you that what pleases him even more is that this description also fits many of the youth he has influenced in Oakland and other parts of the San Francisco Bay Area.
"Steph is a particularly important figure for the young people of this city," says Oakland Mayor Libby Schaaf. "He always brings to them the message to work hard in school, not just athletics, and he really resonates with them and the rest of the community.
"He's the best at his craft, but so humble and full of gratefulness to his family, faith, community and team. Steph's a great role model for kids."
And adults.
It would be difficult to find someone who better symbolizes Oakland's remarkable recent and ongoing rise than Curry, and not coincidentally, it is occurring simultaneously with the Warriors' ascent to unprecedented excellence. Just as the Warriors are giving the city a lift, the greater Oakland community is boosting the Warriors.
"Oakland is starting to gain recognition for the amazing culture that we have sustained for years," says Selena Wilson, vice president of organizational effectiveness at East Oakland Youth Development Center (EOYDC), one of the many local organizations that Curry and other Warriors are helping.
"The people of Oakland possess a sort of resiliency and togetherness that I think is reflected in the Warriors. There's also a sense that the consistency with which we have showed up as true supporters and fans is paying off—there's a real sense of pride that has uplifted the spirit of the city."
Warriors Community Foundation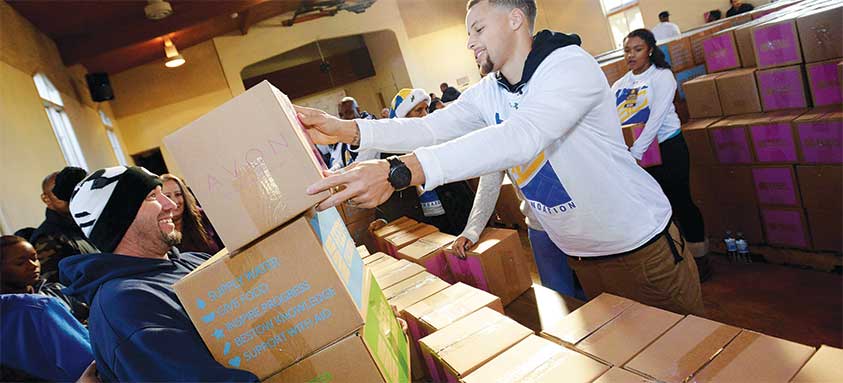 Curry participates in Feed The Children at Beebe Memorial Cathedral in Oakland
Since purchasing the team in 2010, owners Joe Lacob and Peter Guber built upon its tradition of community involvement by creating the Warriors Community Foundation, which is committed to making a meaningful impact on the lives of underserved Bay Area children. The foundation has increased contributions from individuals, foundations and corporate partners to approximately $1.5 million per year, and this has enabled it to expand its community outreach.
"We've applied a much more strategic approach to grant making, outreach and fundraising during the past three years," says Jose Gordon, executive director of the foundation. "We divide our efforts equally between Oakland and San Francisco, and make sure that our work is relevant and serves the needs of these communities."
Regina Jackson, president and CEO of EOYDC, applauds the Warriors' efforts.
"Under the new management, our Warriors have been re-engineered from the inside out, having not only created a dynamic and energetic championship team, but also facilitating a championship approach to identifying community needs and orchestrating ways to respond to them," she says.
Warriors personnel, including Curry and other players, make significant contributions through the foundation. The NBA requires players to participate in a certain number of community activities and efforts, and the team has no problem meeting the requirement.
"They do much more than required," Gordon says. "Fortunately, we have players who are deeply involved and committed to the community. They expressed an interest in knowing how they can best help, and have become involved with specific efforts.
"The players are enriched by the experiences, and feel a commitment to the community. With many teams, players are out of town during the offseason, but with the Warriors, many players have chosen to live here, even if they are from other areas. They feed off the community and help to showcase it. Our players are heroes—not just because of their talent, but also because they're very self-aware and involved."
Ajay Relan, founder of #HashtagLunchbag—which provides bagged lunches to needy individuals and families in more than 100 cities around the world—described how the entire Warriors team, including coaches and staff members, participated in an event at Oakland Marriott City Center in December.
"They built meals, wrote handwritten love notes acknowledging the humanity of recipients and shared experiences on their own personal platforms," he says.
Giving Back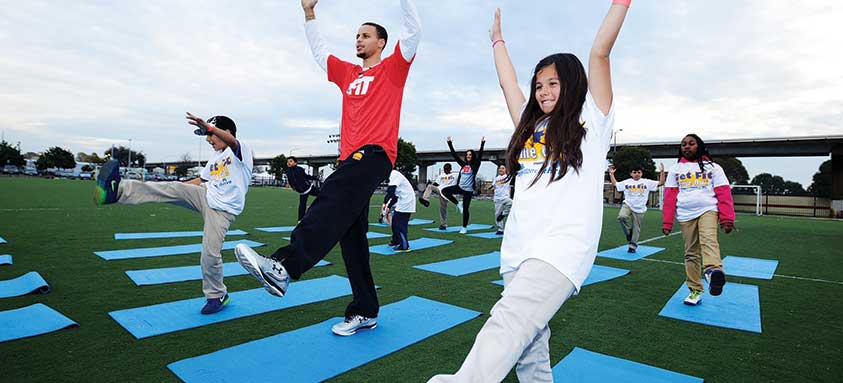 Curry at a Get Fit event at International Community School in Oakland
Curry has been serving several organizations through the Warriors Community Foundation, including Make-A-Wish Foundation, Feed the Children and Get Fit (see sidebar). The contributions he is making are deeply meaningful to him.
"It's special because I'm…trying to play well and inspire the game I love," Curry says regarding his involvement with the nationwide Make-A-Wish Foundation. "The [youth are] all from different states and backgrounds, and for them to have an attachment to me and my story means a lot."
Gordon says that giving back is part of Curry's nature and values.
"He has a wonderful family—his parents and siblings are invested in the community, too," Gordon says. "He is comfortable in his own skin and this translates into the incredible comfort he has with kids, staff, teammates and cultures.
"Giving comes naturally to him: I don't know if he knows how to be any other way. You can see it in his joy and style of play, in how he shares the ball."
Curry has been very involved with the Oakland community, and both are feeding off their symbiotic relationship. It will continue through the Warriors Community Foundation even if the team moves to San Francisco, as planned, in time for the 2019–20 season.
"Our vision is that the foundation remains headquartered in Oakland and continues to invest equally in both Alameda and San Francisco counties. We feel that it's our responsibility as the bay's team," Gordon says.
Challenges on the Road to Success
While Curry has had a privileged life—son of a former NBA player, lived in nice areas, attended excellent schools, etc.—he has faced significant challenges.
He won all-state honors while leading Charlotte Christian High School in North Carolina to state playoff appearances—and then wanted to play for the Virginia Tech Hokies. His mother, Sonya Adams-Curry, was an All-Metro volleyball player there and his father, Dell Curry, was Metro Conference Player of the Year there before embarking on a successful NBA career.
The Hokies weren't exactly excited about the younger Curry's slight 6-foot-2-inch, 163-pound frame, however, and didn't offer him a scholarship. He ultimately decided to accept a basketball scholarship to Davidson College in North Carolina. Curry quickly established himself as a deadly shooter and developed into one of the nation's top college players. He left Davidson after his junior year, and was chosen ninth by the Warriors in the first round of the 2009 NBA draft.
Curry averaged 17.5 points per game in 2009–10 and was named to the NBA All-Rookie First Team, but the Warriors finished with a 26-56 record. After a successful second season, he had surgery to repair torn ligaments, resulting from several sprains in his right ankle.
He seemed healthy when the 2011–12 season began, but sprained the same ankle twice and then strained a tendon in his right foot. Curry underwent surgery in April 2012, and ended up playing in only 26 of the 82 regular-season games as his scoring dipped to 14.7 points per game.
Making of a Superstar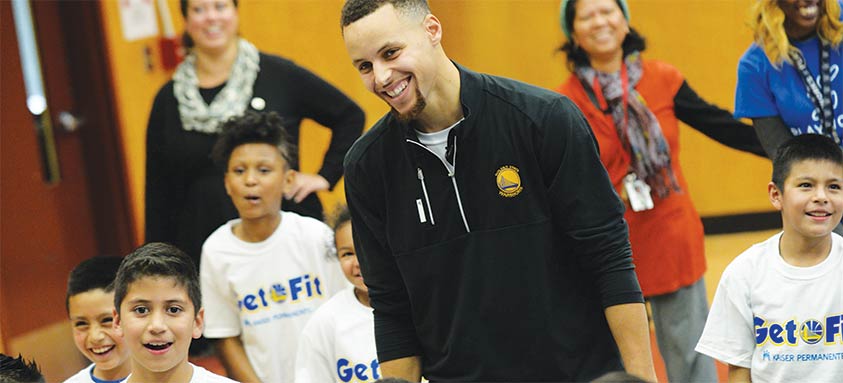 Steph Curry volunteers at Get Fit Time Out at Manzanita Community School in Oakland
Despite the rash of injuries and two surgeries, the Warriors signed Curry to a four-year, $44 million contract extension before the 2012–13 season. They believed that his dedication and commitment would enable him to overcome his injuries and develop his talent, and they were right—but to a degree no one could have ever expected.
Curry led the Warriors to the playoffs, averaging 24 points per game, and was chosen to the All-NBA First Team. Before the 2014–15 season, the Warriors hired Steve Kerr as coach, replacing Mark Jackson. Kerr encouraged a faster pace, giving Curry more opportunities to shoot. Curry flourished, averaging 23.8 points and winning the Most Valuable Player Award as he led the Warriors to the NBA championship.
This season, Curry continued to improve, averaging a league-leading 30.1 points; making 402 three-point shots, obliterating his own NBA record; and becoming the first player to unanimously win the MVP Award. The Warriors, with amazing chemistry and fabulous teamwork, achieved the best regular-season record in NBA history, 73-9, and nearly won another championship, losing to the Cleveland Cavaliers in the finals, four games to three.
Curry, now 6-foot-3 and 190 pounds, is arguably the best shooter in NBA history and has impacted all of basketball with his sterling offensive play. He has developed shifty, lightning-quick moves that are as entertaining as his exceptional long-range shooting. He makes everything look easy, belying the enormous amount of training that saved his career and enabled him to become one of the NBA's major stars.
Keke Lyles, a former member of the Warriors' medical staff now with the Atlanta Hawks, found that early in his pro career, Curry relied too much on his ankles for foot speed and change of direction. So, Lyles created a routine to strengthen Curry's lower body, including a yoga pose to build balance and core strength; hip hinge, a fundamental movement of lower-body exercises; and trap-bar dead lifts, which amplify gluteal muscles and hamstrings.
Curry continues to work on lower-body exercises and other conditioning methods with personal trainer Brandon Payne.
Curry also works tirelessly at his basketball skills, always trying to improve his game. He pushed himself harder than ever to prepare for the 2015–16 season, increasing his three-point range, among other things. His dedication paid off, inspiring his millions of fans and gaining new ones throughout the world.
Role Model Par Excellence
It's improbable that more than a fraction of Curry's young fans will make the NBA, and it's unlikely that any will equal his basketball accomplishments. But all of them can learn from and practice the same determination, faith, humility and social awareness that he displays on and off the court.
"Steph is someone who kids can see themselves becoming, if they put in the time and effort," says Kahlil Fuller, the founder of NBA Math Hoops, an organization supported by the Warriors and dedicated to improving math literacy among urban youth. "He isn't a 6-foot 9-inch specimen, but he has unstoppable skills. I think that this extends beyond basketball: Steph represents the hope that anyone can succeed in life and become truly great."
Two of Curry's shining moments in the Oakland community came after he won his NBA Most Valuable Player awards. A new Kia Sorrento SUV was part of his award prizes both years: Last season, he gave it to EOYDC and this year, he donated it to Covenant House, an Oakland-based nonprofit organization dedicated to helping homeless youth.
"When he gave our kids the keys to his MVP award—the Kia Sorrento—he affirmed their existence," says Jackson of EOYDC. "He said, 'I hope this car can help you get to more field trips that will encourage you to explore.'
"It is rare that someone at his level can connect directly to a child, but he does so in a way that encourages youth and demonstrates character. His sportsmanship and encouragement of the team stresses a dynamic of excellence and resilience uncommonly accessed by our population."
Just as with his basketball skills, he seems to do so effortlessly: It's part and parcel of who he is.
"Steph represents the hope that anyone can succeed in life and be truly great. "
–Kahlil Fuller, NBA Math Hoops
---
Off-the-Court Contributions
Steph Curry's community contributions are vast and varied, and include the following.
• Make-A-Wish Foundation: In December, Curry fulfilled the wishes of 10 boys from across the country by inviting them to a Warriors practice and game in Oakland.
"It's an honor that these 10 Make-A-Wish kids chose me to share a day with them," Curry said afterward. "I wanted to spend as much time with them as I could at practice today, and they got to enjoy a show tonight, so hopefully this is a day they will remember."
• Feed the Children: Curry and his family regularly team up with international hunger relief organization Feed the Children to provide support to 400 Oakland families during the holidays.
• Get Fit: Each season, Curry participates in an NBA Get Fit event in which he partners with Kaiser Permanente to motivate youth to stay physically and mentally fit throughout the year.
"It's great to be here at Manzanita Community School [in Oakland] to get outside and have fun with these kids," Curry said at an event. "The Warriors and Kaiser Permanente do a great job of keeping students active and focused on exercise and good nutrition throughout the school year."
---
Snapshot
Birthplace: Akron, Ohio
Full name: Wardell Stephen Curry II
Age: 28
College: Davidson College, North Carolina
Involvements: Basketball player for the Golden State Warriors and volunteer for several community organizations
Family: wife, Ayesha; children, Riley, 3, and Ryan, 11 months