"It's not easy being green," a famous frog once sang, but these days it seems not just easy, but expected for hotels, conference centers and meeting facilities. Of course, sustainability that feels seamless is actually a lot of hard work and takes intricate planning, investment in infrastructure and thorough certification.
"We find that an increasing number of our sophisticated travelers are making eco-friendly travel choices a strong priority, and that is why we are making it one as well," explains Jim Berkeley, president and founder of Destinations & Adventures International in Beverly Hills.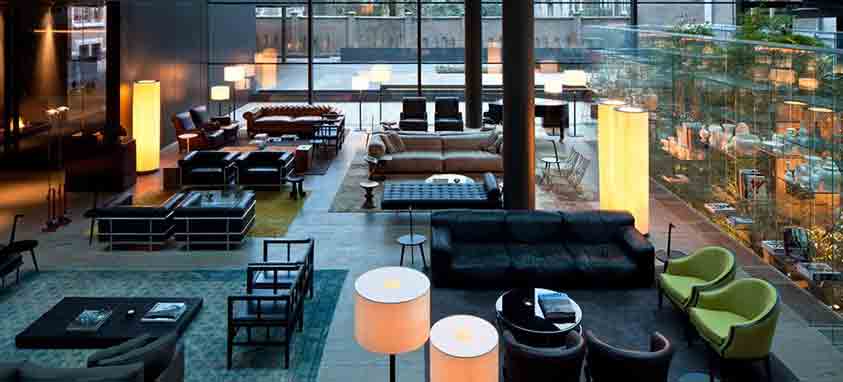 Conservatorium Hotel, Amsterdam
Caring for the environment is now a serious part of many people's daily routine, and they often continue the practice when traveling or on retreats. In previous years, separate recycling bins in hotel rooms were innovative, but now they're common. Savvy meeting and event planners go deeper to ask pertinent questions such as "Is the graywater reused?" and "How much of the energy is generated by solar power?" The green meetings industry has gone from groundbreaking to being the norm in a very short period of time, and what was once done backstage is now part of the show.
Take the LEED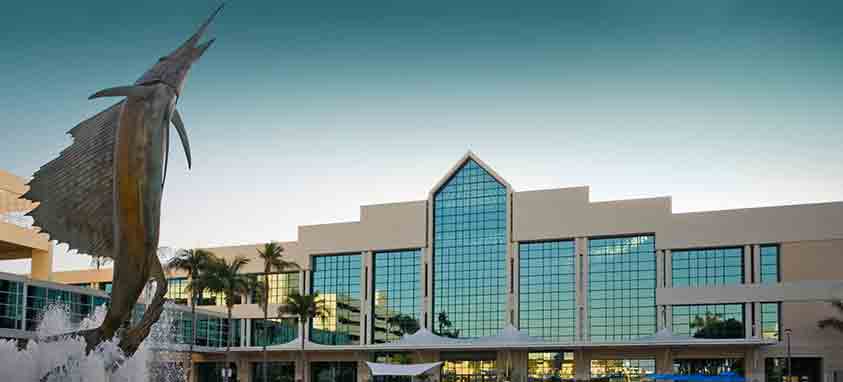 Broward County Convention Center,  Fort Lauderdale
Leadership in Energy & Environmental Design (LEED) certification brings high standards for businesses to follow. Properties go through rigorous tests to receive Silver, Gold or Platinum status. Bardessono in Yountville, California, and Proximity Hotel in Greensboro, North Carolina, are the only two hotels in North America to achieve LEED Platinum certification. With dozens more Gold- and Silver-certified properties on the continent, LEED is an oft-touted acronym, and guests understand the ecological savings that come with it.
In 2013, Green Globe became the second green certification system approved by the U.S. federal government. Green Globe has worked diligently with the travel industry over the past two decades to help environmentally aware companies participate in sustainable tourism. The organization's motto, "Do good by always doing better," reflects its focus on not just energy and water conservation, but also on diversity in the workplace and nurturing local cultures. Its sustainability plan includes reviewing 300 activities within businesses, and the organization has seen a marked increase in membership over the past few years. One reason is that green has become a marketing tool with economic benefits and long-term positive global rewards.
Being green is no longer an elite club that only a few enterprises—and one famous amphibian—belong to. As more venues participate in eco-friendly practices, the meetings industry becomes healthier.
Eco-Centers
Quebec City is a recognized leader in sustainability and a perennial must-visit destination as a foodie hot spot and UNESCO World Heritage Site. Quebec City Convention Center (QCCC) was the first in Canada to be LEED certified. All events held there are eco-friendly, and the center is committed to reclaiming 80 percent of the waste created at them. The center works closely with event organizers to not only execute environmentally conscious events, but also make sure participants and stakeholders are aware of the green effort.
A big part of greening up the hospitality industry involves getting the message across. Recycling is an obsession at QCCC—everything from containers to name tags gets reused. Surplus food is donated to local charities, and kitchen waste and scraps are composted. Meals are served on washable porcelain, water pitchers replace plastic bottles and bulk dispensers negate individual packaging for optimum waste reduction. QCCC even offsets transportation emissions by working with recognized partners. In keeping with the theme, convention attendees can stay at the first carbon-neutral Quebecois hotel, the venerable Hotel du Vieux Quebec.
Oregon Convention Center Skyview Terrace, Portland
Oregon Convention Center (OCC), LEED Platinum since 2014, is installing one of the largest solar paneling arrays in the conventions industry. The new array will cover half the rooftop and generate enough power to offset 25 percent of the total energy usage. The remainder will be purchased through Pacific Power's Blue Sky energy program, ensuring that all power derives from renewable sources. OCC is also incentivizing the reuse of convention materials. The deposit policy is set go live in January 2016.
Another meeting facility going green is Fort Lauderdale Convention Center. Besides using indigenous plants for landscaping, the recycling of nearly 60 percent of total waste and offsite renewable wind energy, it has also installed an EcoSafe Digester. This ravenous machine turns organic kitchen waste into graywater.
Healthy Competition
Lied Lodge & Conference Center, Nebraska City
Overall, hotels lead the charge in embracing green meetings. In Nebraska City, Nebraska, Lied Lodge & Conference Center, operated by the Arbor Day Foundation, recently finalized a $9 million green reboot. By recycling the carpet, repurposing wood and donating the old furniture to local charities, they upgraded the property and minimized the carbon footprint of the renovation.
The Arbor Day Foundation influences much of the lodge's activities, with environmental programs that focus on conservation, service and trees. Lied Lodge even offers team building with the Employee Forest program—teams plant seedlings in public spaces in coordination with local community groups.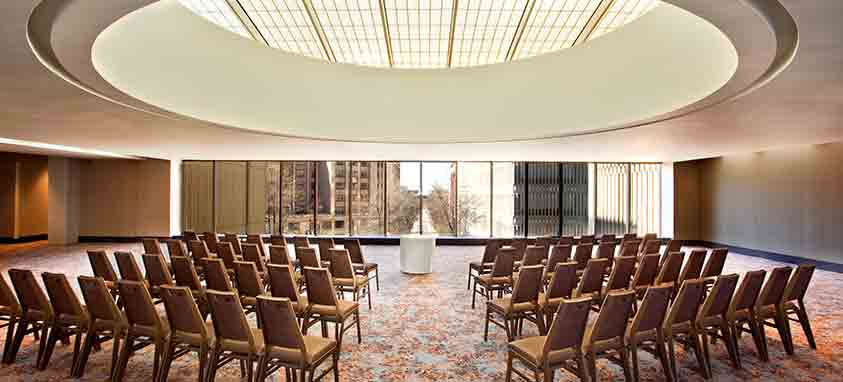 The Overlook at The Westin Peachtree Plaza
At Atlanta's The Westin Peachtree Plaza, green innovation is part of the visitor experience with Green Tour, a guided look at the hotel's $13 million environmental upgrade. Some eco-improvements include serveware made of leaves, the requirement for vendors to deliver food in biodegradable or recyclable packaging, and converting 10 tons of kitchen oil into biofuel annually. The tour also visits one of the hotel's 53 meeting spaces so conventioneers learn how the green setup minimizes their environmental footprint.
Ever wonder what happens to all the leftover hotel soap and shampoo? Sandpearl Resort in Clearwater Beach, Florida, did, so it partnered with Clean the World to donate unused soap and shampoo to families who need these basic necessities. Sandpearl, the first LEED certified resort in Florida, uses water-conscious faucets, toilets and shower heads, plus laundry equipment that saves more than 2.2 million gallons of water each year.
Going to Extremes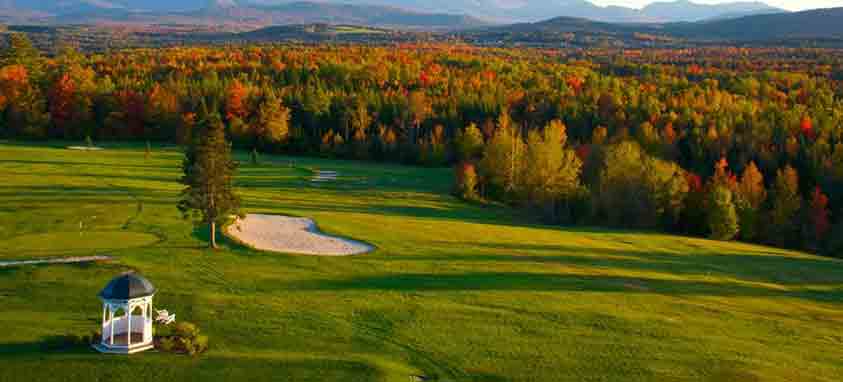 Mountain View Grand vegetable gardens
Planners seeking innovative green properties need look no further than Hotel Sante Fe Hacienda and Spa in New Mexico. It's the first U.S. property to provide 100 percent solar energy to every room by using proprietary grid technology from Stay Solar. The service distributes existing energy from solar fields across the country. The cost of the service is underwritten by the hotel.
"The tourism and hospitality industry previously utilized green measures to take the advantage over competitors. "However, in today's climate it's a requirement so they aren't at a disadvantage," says John Hoffman, director of sales and marketing at SunGreen Systems, a leading solar energy equipment supplier.
In a city known for extravagance, Wynn Las Vegas and sister property Encore gained Wynn Resorts, Ltd. recognition from Newsweek as one of the top green companies in the United States in 2015. Both are LEED Gold certified and, according to Maurice Wooden, president of the properties, "We continue to challenge ourselves to improve our efficiency by regularly testing our programs, identifying areas for improvement and implementing innovative methods to maintain the integrity of our environment and our resort." Wynn Everett in Massachusetts is implementing measures in hopes of achieving platinum certification.
Whitefield, New Hampshire's Mountain View Grand Resort & Spa is ahead of the energy curve, but instead of the sun, this resort has turned to the wind. All of its energy is acquired through renewable wind power thanks to its 121-foot wind turbine and renewable energy offsets. Integrated recycling, a new compost system in the herb and vegetable garden and energy-saving lighting and insulation keep the hotel warm. Its status as the greenest hotel in the state is even more impressive considering it opened in 1865.
Euro Green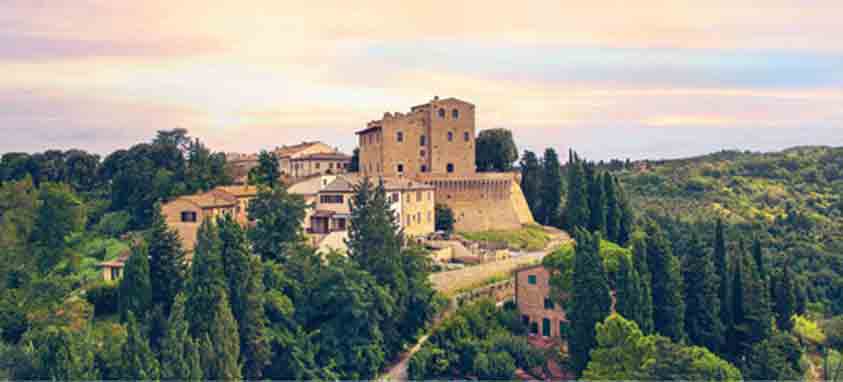 Toscana Resort Castelfalfi, Italy
Even at 150 years old, Mountain View Grand Resort & Spa is a newbie compared to meeting sites abroad. Some European properties take sustainable restoration to new heights. Toscana Resort Castelfalfi in Italy is an 800-year-old medieval village that nevertheless generates 70 percent of its electricity from the estate's biomass fuel. Graywater is recycled to flush toilets and water the golf course. The marble, lumber and terracotta that grace the resort's facade are all locally sourced. Corporate retreats and group events can enjoy not only the hotel, but also the restored castle.
The Conservatorium Hotel, Amsterdam
Conservatorium Hotel in Amsterdam is the first-ever Dutch hotel to receive Green Globe certification. All meeting rooms use natural light, energy management systems and thermal energy storage. Contracts are awarded to brands that provide fair trade and organic products, and only sustainable foods are served. They also reuse swimming pool water in the sprinkler systems and employ sensors to signal when trash and recycling bins are full, cutting transportation costs. Part of the Green Globe program also involves preserving and promoting local practices and culture. At the Conservatorium, a "human library" makes local experts available to guests, providing a more rewarding and enriching visit—and using less paper than printed guides.
Green Dreams
PGA National Resort & Spa, Palm Beach Gardens, Florida
PGA National Resort & Spa in Palm Beach Gardens, Florida, is committing to more green than just its golf course. It created a "Fore the Planet" environmental program that incorporates everyday practices such as minimizing waste, maximizing recycling, eliminating pollution in the surrounding natural resources and conserving energy and water. A sustainable purchasing policy is in place to guide sourcing products and energy efficient equipment.
Vdara Hotel & Spa is a LEED Gold certified hotel in Las Vegas and part of CityCenter, which is aspiring to be the "world's largest environmentally sustainable urban community," according to LEED consultant Ryan Gaylord. It captures desert heat to warm water for hotel use, resulting in a 30 percent reduction in energy use. Conscious construction kept more than 90 percent of building debris from going to landfills. In true Vegas style, its town cars use alternative fuel—26 limousines and six Escalades form the world's first fleet of luxury guest transportation vehicles operating exclusively on compressed natural gas.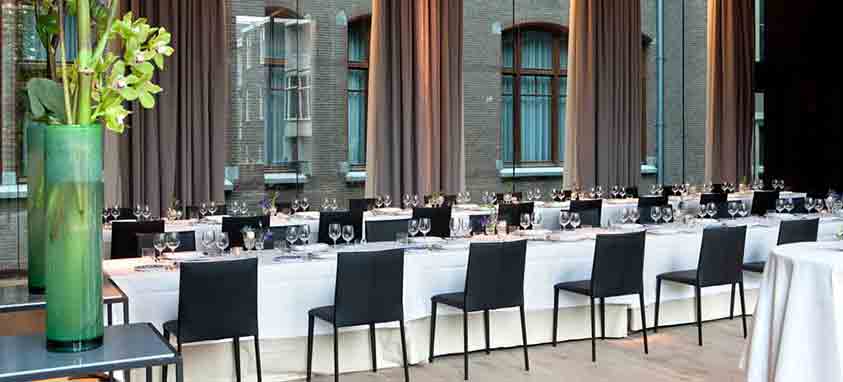 The Nines, a Luxury Collection Hotel, Portland, Oregon
The Nines, a Luxury Collection Hotel in Portland, Oregon, offers meetings tailored to "your own ideal shade of green." This includes MAX light rail passes and Zipcars for out-of-town guests, and the ability to purchase carbon offsets to create a carbon-neutral event. The hotel also delivers a detailed explanation in each room of the hotel's green qualities, providing much-needed intellectual collateral. The onsite restaurant, Urban Farmer, offers fresh, locally produced fare.
Save the Future
What's next for green meetings? Hoffman foresees big things. "Solar power and recycled graywater are what's happening right now. Software-managed energy storage is the future," he says. High-capacity lithium ion batteries store wind and solar energy for optimal local usage. An internet of sustainable energy, with efficient markets working off the grid, is becoming a possibility. Once energy achieves maximum efficiency, will other sustainable efforts—water, waste, emissions—be far behind?
Airplanes and Climate Change Invariable Linked by Cause and Effect
The biggest culprit in the meeting industry's carbon footprint will take its toll before your event even begins. That's because air travel is a massive contributor to climate change, and according to a new study, the two are inextricably connected. The recent findings published in the journal Nature Climate Change suggest a cause-and-effect link between airplane emissions and greenhouse gases. Research suggests that a warming climate changes wind patterns, which in turn extends long-haul flight times. As a result, airplanes consume more jet fuel, emitting additional greenhouse gases.
Departure and arrival times of every flight between Honolulu and Los Angeles, San Francisco and Seattle were taken into account over the course of 20 years. Researchers charted differences in eastbound and westbound flights, and determined that long-term climate change was impacting flight times. Woods Hole Oceanographic Institution also found a correlation in flight times and average wind speed. Their researchers analyzed almost three dozen global climate models affecting routes over the Pacific Ocean. They determined that approximately 5.5 hours were cumulatively added to daily round-trips for each carrier's route included in the study.