Yoga in the Sky at Linq Hotel & Casino, Las Vegas
To earn your loyalty, hotels are vying to keep you healthy
Would it surprise you to know nearly four out of five guests at hotels intend to use the fitness center, but only two of them actually do? I didn't think so, but what simple human nature and the hustle bustle of being a road warrior would lead us to assume has been revealed as the inconvenient truth in a recent study by Cornell University Center for Hospitality Research.
Hopefully, you are indeed hitting the hotel gym, jogging the neighborhood or being a loyal Fitbitter when on the road. There are studies and research ad nauseam about the short- and long-term benefits of regular exercise.
But pity the poor hotels. Brands constantly vie for guest loyalty, but if they offer amenities everybody else has and few use, will anyone miss them? Or, more to the point, will guests care whose name is on the door? So, in one of the latest efforts by the hospitality industry to provide guests with transformative (read: habit-forming) experiences, more and more properties are promoting wellness.
Or, as Dina Belon, western regional director for Paladino and Company, a green building consultant, told U.S. News & World Report recently, "It wasn't long ago that wellness amenities were only expected at high-end exclusive hotels, but now we are finding a variety of hotel brands providing health and wellness elements."
Health and wellness can take many forms. So, let's count some of the ways.
In-Room Fitness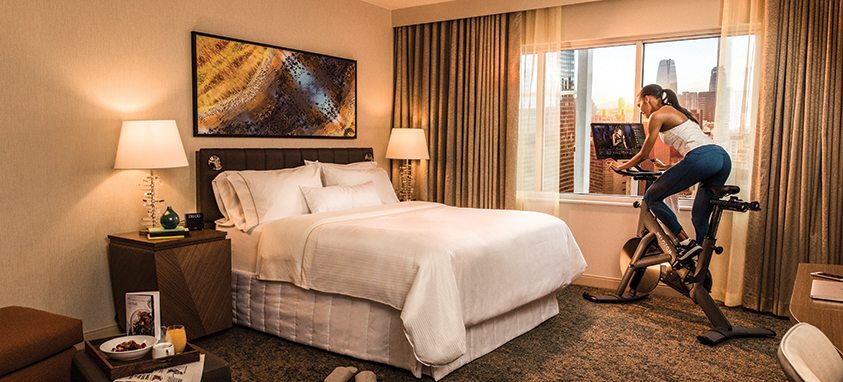 OK, this is pretty close to the old paradigm. But with a twist—you don't have to trudge several floors in your gear and sweat with a bunch of strangers. You don't even have to pack your gear. Fairmont, Omni and Westin, among other hotels, now loan guests sanitized sneakers and workout clothes. Westin has WestinWorkout Peloton guest rooms (pictured above) at several locations, in which the popular stationary bike streams its own interactive classes.
Kimpton offers Pilates channels on TV, while others deliver free exercise classes to your bedside. Xtend Barre is a combination barre and Pilates workout available via guest room TV at The London NYC. Even Hotels, a new brand from InterContinental Hotel Group, outfits all rooms with a fitness area that includes stability ball, yoga mat and block, strength bands, standing desks and fitness videos on demand.
Mental Health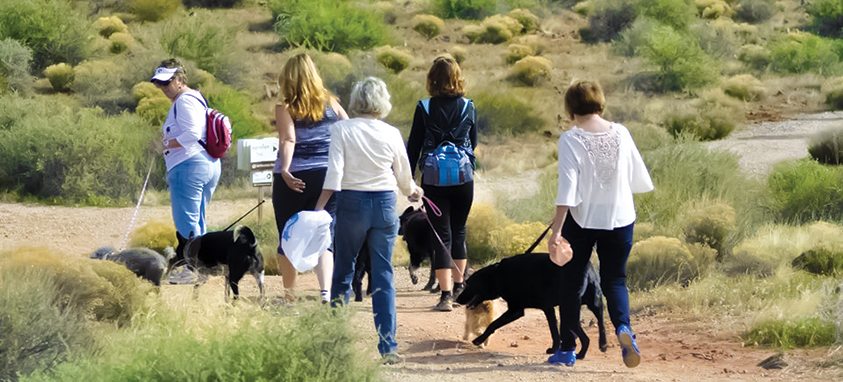 "Mental wellness will be the biggest future trend, period, from wellness destinations and spas bringing in neuroscientists and psychotherapists to meditation becoming seriously mainstream," proclaimed the Global Wellness Summit 2017 trend report. Thus, we see Lululemon partnering with Shangri-La Hotel, Toronto to create a yoga video for its guest rooms. And yoga mats becoming as common as irons in the closets of lifestyle-hotel guest rooms, or free on loan. Linq Hotel & Casino in Las Vegas hosts one-hour Yoga in the Sky sessions atop the High Roller (pictured top), the world's highest observation wheel. Ojai Valley Inn & Spa in California has a personal meditation pod called the Somadome. W New York-Union Square and Standard hotel, both in Manhattan, have offered guided meditation sessions with local mindfulness experts. But mental wellbeing sometimes comes furry and with a slobbery lick. Red Mountain Resort in Ivins, Utah, takes the pet-friendly-lodging concept a paw print further. With its Pound Puppy Hike (pictured above), you "adopt" an eager shelter dog as your pal for a 1.5-mile gambol.
Well-Being
Want to go beyond merely keeping up on workouts and yoga? Wellness-themed guest rooms can up your game, and maybe plant seeds you keep growing at home. The company Delos has imagineered the Stay Well guest room, in partnership with Cleveland Clinic and Dr. Deepak Chopra. Find them at Atlanta Marriott Marquis and MGM Grand Hotel & Casino in Las Vegas. MGM Grand has some 170 of these rooms, which cost about an extra $30 a night. They offer in-room dining with super-healthy choices, Vitamin C-infused shower water, extra air purification, natural mattresses with aromatherapy infusions, night lighting that helps you wind down and then minimizes sleep disruption, and a dawn-mimicking alarm clock to wake you with gradually increasing levels of light and sound.