House of Blues threw a party for itself and no one wanted to leave
Editor's Note: After 13 years on the Disneyland Park campus, House of Blues (HoB) Anaheim moved to a bigger location across the street at Anaheim GardenWalk. The shift offered more room, more freedom and a big problem. How do you let people know you are still in the business of offering elevated experiences? Smart Meetings interviewed Nondie Jemison, special event sales manager for the venue, about how a brand known for animating even the wildest planner dreams breaks new ground.
Goal: As the venue entered its third year in a larger space, the HoB team needed to make an impression with hotel partners, industry leaders and prospective clients about the value of the labyrinth of four spaces, including the main dining room, Parish Room (which looks like the inside of a church), Foundation VIP Members-Only space (decked out in East Indian finery) and Music Hall. The entire building can hold 3,300, but the team needed to activate each area as part of a journey for 600 influential guests.
Solution: The team turned to an annual event that had been staged each July for almost a decade: Halfway to Christmas. It adopted a '90s theme and brought in different interactive attractions for each area. Cover band Saved by the 90s and a troop of sexy Santas welcomed attendees. Two DJs—Groove on the Go and DJ Missy B—kept the music flowing. Neon "glamazons" on stilts walked the floor. HoB has connections that can bring in acts as diverse as sword-swallowers and contortionists to Game of Thrones and Disney characters.
Everyone got in on the fun. Diamond Beauty Hair and Makeup offered crimping stations and retro makeovers. Mix One Sound brought in gobos that added a snow vibe. Ice Bulb carved a cassette tape sculpture. A retro candy station sweetened the deal.
A big hit was a photographer who was set up to allow guests to immediately share photos on social media. Corporate customers want to throw the hottest party of a show taking place at nearby Anaheim Convention Center and getting those pictures out immediately is important to them.
"People want experiences. They want to take something away in addition to eating and drinking. Coming from the convention center, our clients have a lot to worry about, and we can take care of this piece of the puzzle so they can concentrate on the show booth, panel discussion and so many other things," Jemison said.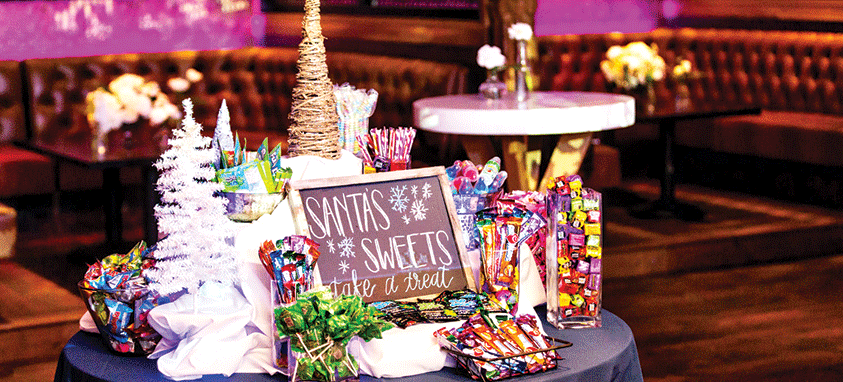 Success Measurement: The event raised money for Music Forward Foundation, a charity for underserved youth. The other measurement was the reaction of the guests. "When hotel partners don't leave until we are clearing the room, we know we were successful," she said.
Lesson Learned: The team learned that it needs to keep better track of business that is actually booked/referred as a result of the event by offering a limited-time booking incentive. Another discovery? Guests love items that are customizable—makeup stations, photo booths, live music—although that wasn't a big surprise.