Marriott Syracuse Downtown
You know when you've stepped into a brand new or recently renovated property. The decor is contemporary, the lobby floors are gleaming, fixtures are polished and linens are crisp.
These days, there are plenty of reasons for a property to renovate or refurbish part, if not all, of its spaces. Of course, there's the typical wear and tear for which every hotel is at risk, but that's the least of a venue's problems.
Technology updates, efficiency upgrades, outdated decor in need of modernization, evolving needs and wants of guests, and the necessity to keep pace with the surrounding competition are just some of the reasons hotels, resorts and other venues invest huge sums of money in renovations. A new hotel in town with updated accommodations poses a huge threat to a staple venue, especially considering groups are often looking for something new.
Old World decor and traditional fixtures will always have their place in the hotel market—not everyone is looking for a contemporary boutique—but even these spaces are expected to stay fresh and tech savvy. Crown molding and overstuffed arm chairs are great, but hotels still need to offer fast, reliable Wi-Fi in every room and flexible meeting space.
Lifestyle & Boutique Hotels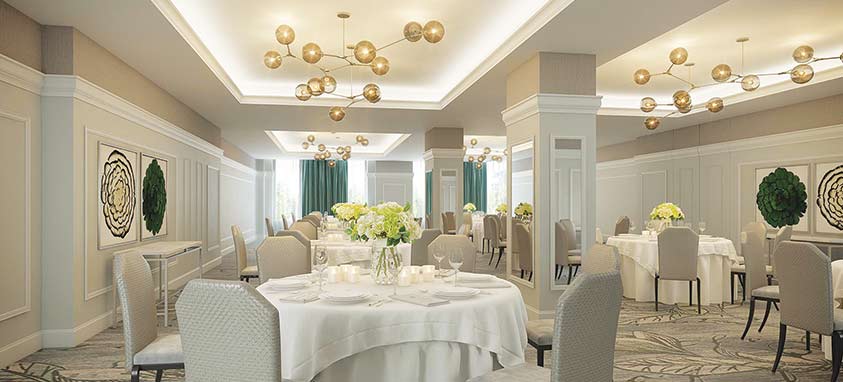 Kimpton Cardinal Hotel, Winston-Salem, North Carolina
Lifestyle and boutique hotels have a reputation to uphold; they're the standard for what's new in hospitality, and it seems there's a new one popping up every time you turn around, offering the next big thing. But contemporary doesn't mean brand new. In fact, the many new boutique hotels opening in old industrial buildings with rich history incorporate it in unique ways.
New
A perfect example of the historic-turned-boutique trend is Kimpton Cardinal Hotel, in Winston-Salem, North Carolina. Located in the majestic R.J. Reynolds building—a beloved landmark and famed Art Deco prototype of the Empire State building—the upscale boutique hotel opened in April. It offers 174 guest rooms (including 15 suites), an expansive fitness center and an adult recreation room—complete with a two-lane bowling alley, basketball court, poker tables, pingpong and adult-size twisty slide—and more than 6,300 sq. ft. of meeting space.
Two boutique hotels arrived in New Orleans this spring, providing trendy options to stay, dine and meet. Ace Hotel New Orleans debuted March 14 in a historic 1928 Art Deco building with 234 guest rooms. The hotel's signature restaurant is Josephine Estelle, the brainchild of Memphis James Beard Award finalists Andy Ticer and Michael Hudman. The hotel features a variety of event and meeting spaces, including 4,000-square-foot Barnett Hall and a 675-square-foot dining room. Marriott's Moxy New Orleans Downtown/French Quarter Area followed shortly after, debuting in May as one of the first U.S. locations of the hip European hotel brand. It features 108 keyless-entry rooms in New Orleans' central business district.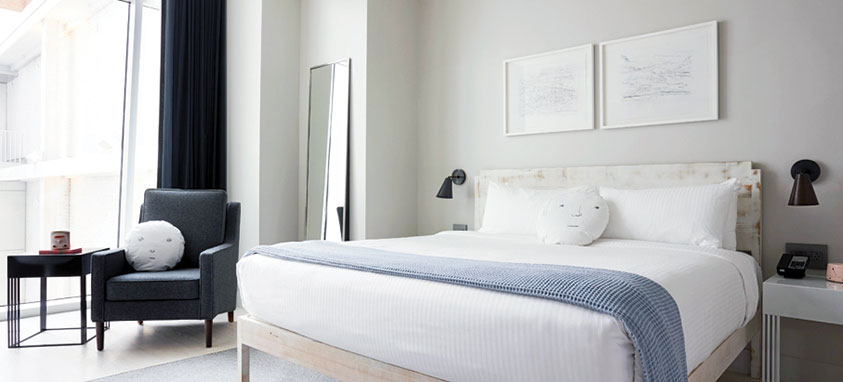 Quirk Hotel, a Destination Hotel, is a boutique, art-centric venue that opened in Richmond, Virginia, in September in an Italian Renaissance building built in 1916. The hotel offers a carefully curated, artistic experience that showcases distinctive original art throughout its 71 guest rooms, four suites, artisan restaurant, bar, rooftop terrace and conference rooms.
A stylish new hotel set in a renovated motel, V Palm Springs in California, managed by Filament Hospitality, opened after a bold $15 million renovation. Blending savvy and sophisticated style with a free-spirited attitude (each room comes with outdoor space and a hanging swing), the 140-room hotel delivers the ultimate modern resort experience. Amenities include swimming pools, hot tubs, a poolside bar, a cosmopolitan 70-seat restaurant and a fitness facility set against the backdrop of the San Jacinto Mountains.
Thompson Seattle, which celebrated its grand opening in June, is a 158-room downtown boutique property with 5,000 sq. ft. spanning six indoor and outdoor event venues and meeting spaces with catering available.
Aiming to bring contemporary flair over the New York border to New Jersey, The Asbury is a new ultra-hipster 110-room hotel located in Asbury Park. The lobby's check-in desk doubles as a grab-and-go kitchen and the bottom floor lounge offers a rec room with pingpong, pinball machines, board games and communal tables.
Opened May 26, the hotel offers 4,800 sq. ft. of indoor and outdoor meeting space, and classic music posters in guest rooms reflect Asbury Park's rock-laden past. The Baronet is a 4,300-square-foot rooftop space on the sixth floor that transforms from an outdoor lounge by day to a cinema at night, showing classic and cult movies.
Coming Soon
The Hi-Lo Hotel, part of the Marriott Autograph Collection, debuts this summer in Portland, Oregon. The 120-room boutique hotel occupies the historic Oregon Pioneer Building and will retain Huber's Cafe, the city's oldest restaurant, with a dining room on the National Register of Historic Places. Modern organic furnishings will be featured throughout.
Luxury & Modern Hotels
As the boutique hotel trend expands, traditional hotel brands are tasked with keeping up by redefining their communal spaces, such as lobbies and lounges, and refreshing guest rooms and meeting spaces to appeal to a wide range of guests. Challenge accepted.
New
Hilton West Palm Beach opened in January and is connected to the Palm Beach County Convention Center via covered walkway. The immaculate hotel offers 24,000 sq. ft. of meeting space among its two ballrooms and six meeting rooms, plus two additional 2,400-square-foot lawn spaces for outdoor events. Two vibrant restaurants offer outdoor seating overlooking a resort-style infinity pool, complete with cabanas.
In March, Springhill Suites Mission Valley in San Diego opened minutes from San Diego Convention Center. It features 135 guest suites and a 700-square-foot state-of-the-art meeting room.
Renovated
Several properties in Henderson, Nevada, have been renovated to update or expand their properties. Holiday Inn Express & Suites Henderson underwent a $1.2 million renovation to the entire hotel to include the lobby and lounge, breakfast area, front desk, business center, 24-hour fitness center, guest rooms, bathrooms and pool. Nearby, Hilton Garden Inn, Henderson added a new American restaurant, Rachel's Kitchen, and resurfaced the outdoor pool and deck. Railroad Pass Hotel & Casino updated its 120 guest rooms and bathrooms.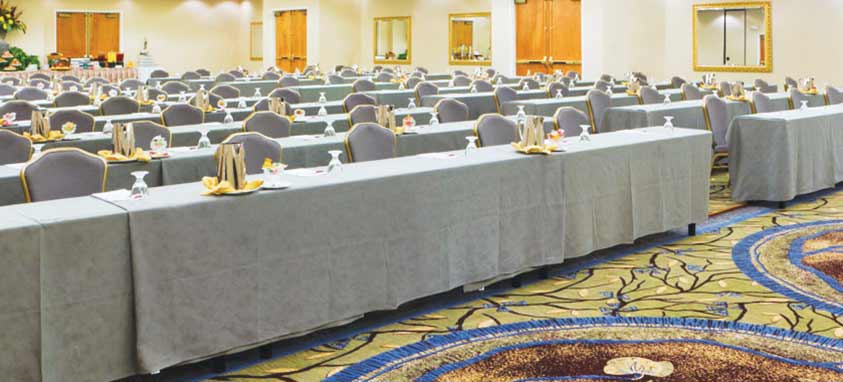 Virginia is also seeing an influx of renovated hotels. Crowne Plaza Dulles Hotel in Herndon has undergone a major $7 million redesign and renovation this year to its lobby, club lounge, prefunction area, guest corridors and 327 guest rooms and suites. The fitness center was expanded and now features Crowne Plaza's new modern design, which the brand describes as "timeless, relaxed silhouettes smartened up with sporty textures and tailored patterns."
The Westin Tysons Corner in Falls Church, Virginia, recently unveiled a $10 million renovation that refreshed the hotel's 405 guest rooms and 12 suites, transformed the lobby by adding more open space and communal tables, and updated the meeting spaces.
Formerly Hotel Syracuse, Marriott Syracuse Downtown in New York completed a $70 million restoration in June. The historic 1924 building features original restored fixtures such as chandeliers, and offers 261 guest rooms and 18 suites. The hotel also provides 43,000 sq. ft. of meeting space, comprised of three ballrooms and a conference center with eight meeting rooms.
The pressure to continuously update and improve is likely felt in Las Vegas more than anywhere else. With so many returning guests, enormous events and tough competition from surrounding venues, The Strip is no stranger to hard hats and yellow tape.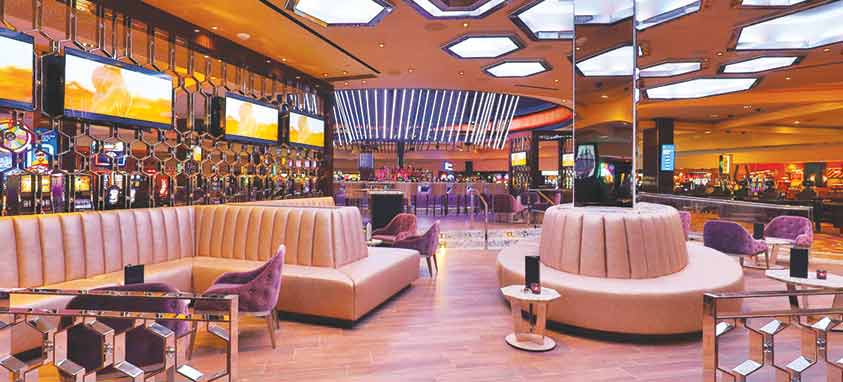 Hard Rock Hotel & Casino Las Vegas announced in May it plans to expand its meeting and convention space by 18,000 sq. ft. to bring the event space total to 110,000 sq. ft. by winter. The expansion includes adding 5,000 sq. ft. of storage and office space, relocating the business center and grouping contiguous meeting space and event venues. Among the amenities planned for the expansion is the installation of Category 5 Ethernet cabling, Wi-Fi and a program to create customizable sound, light and mood, and banquet packages.
Caesars Entertainment will upgrade more than 4,800 hotel rooms this year at four of its Las Vegas resorts, a figure that represents approximately 20 percent of rooms in Las Vegas. At the end of 2016, Caesars Entertainment will have updated more than 10,000 hotel rooms in the last three years.
These resort upgrades include the transformation of the original tower at Caesars Palace to create Julius Tower, as well as the refurbishment of the resort's Augustus Tower. Additional room upgrades will include Planet Hollywood Resort & Casino, Paris Las Vegas and Harrah's Las Vegas. Bally's Las Vegas completed a $4.6 million renovation to the 15,456-square-foot Jubilee Ballroom, transforming it from top to bottom.
Sheraton Atlanta Hotel has completed a $20 million improvement project that expanded its inventory to include 63 suites in addition to 763 refreshed guest rooms. An all-new Sheraton Club Lounge offers sweeping views of Atlanta's cityscape and a wide range of business services. The hotel offers 95,000 sq. ft. of flexible event space.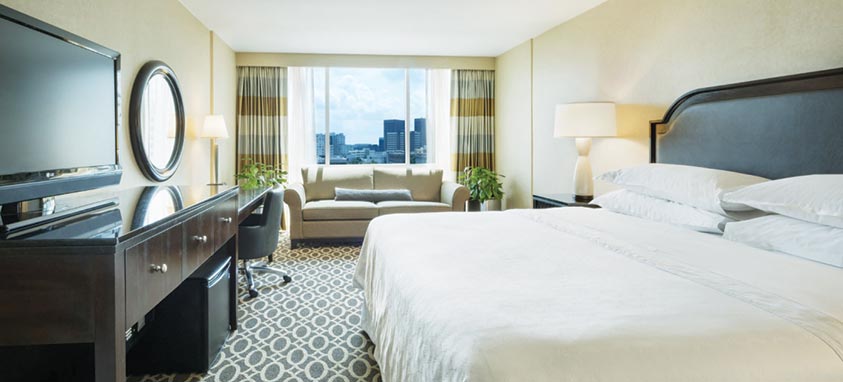 The Westin Dallas Park Central proves that even renovations are bigger in Texas. The 20-story hotel has undergone a $35 million renovation to modernize every last detail.
"Five hundred and thirty-six guest rooms and suites are equipped with new bathrooms, a state-of-the-art energy technology system, the greatest broadband internet capacities, and the latest in safety lock systems and safes," says Lou Ann Jordan, director of sales and marketing at the property. "The lobby and public space now give each guest a feeling of wide-open elegance when they walk in the door.
"Forty-two thousand sq. ft. of meeting space completes the transformation, with each of the 30 meeting rooms designed for the perfect meeting or social occasion. The 15,000-square-foot ballroom and the 5,000-square-foot rooftop Elevate Room boast the utmost elegant design and detail."
The Westin Chicago Northwest in Itasca, Illinois, is undergoing extensive renovations to its 408 guest rooms, dining areas and lobby. The property will feature a modern interior, with unique and stylish decor inspired by the nature surrounding the hotel.
"The new design concept will transform the hotel into a modern oasis where guests can connect back to nature," says Diane Howard, director of sales and marketing for the hotel. "We welcome all to experience the new atrium, which will include multiple fire elements, seating areas and a vertical garden."
Coming Soon
This month, the 450-room Fairmont Olympic Hotel in Seattle expects to complete its $25 million renovation to all guest rooms and corridors. The goal of the historic property's renovation is to design a classic interior that's true to its 91-year history, while providing a modern twist.
Although Hyatt Regency Fairfax in Virginia recently renovated its meeting space, including the 4,000-square-foot ballroom, that's just the beginning. It will be starting another $14 million renovation in August that will include upgrades to the pool, fitness center and 316 suite-sized guest rooms and corridors. The renovation is expected to be completed by the end of the year.
The upscale, 48-story The Ritz-Carlton, Philadelphia unveiled 26,000 sq. ft. of meeting and conference spaces as part of the property's current $24 million refresh. The skyscraper hotel boasts 13 meeting rooms and two dazzling ballrooms. Renovations will also add guest rooms and suites, a new restaurant and a club lounge. The concept for the transformation is inspired by its historic past (the building originally opened in 1908 as a bank, and the original vault serves as a function room) and is influenced by modern-day design trends.
Four Seasons Hotel Houston is onto phase two of its multimillion-dollar renovation, having completed upgrades to the hotel's spa and fitness center. The second phase will focus on the lobby and lobby bar, and is scheduled for completion in time for Super Bowl LI, which the city is hosting Feb. 5, 2017.
The 202-room Holiday Inn Foxboro-Mansfield, near Gillette Stadium in Massachusetts, is undergoing a $4 million renovation that will modernize the guest rooms, public spaces and meeting rooms. All guest rooms will receive new furniture and bathrooms, and faster Wi-Fi. A new atrium will feature a modern business center with breakout areas for intimate meetings.
Airport Hotels
Embassy Suites by Hilton Los Angeles International Airport North
Airport hotels are expected to be convenient, with ample meeting space and business amenities, but many are exceeding those expectations now that the lines dividing business and pleasure travel have blurred.
Renovated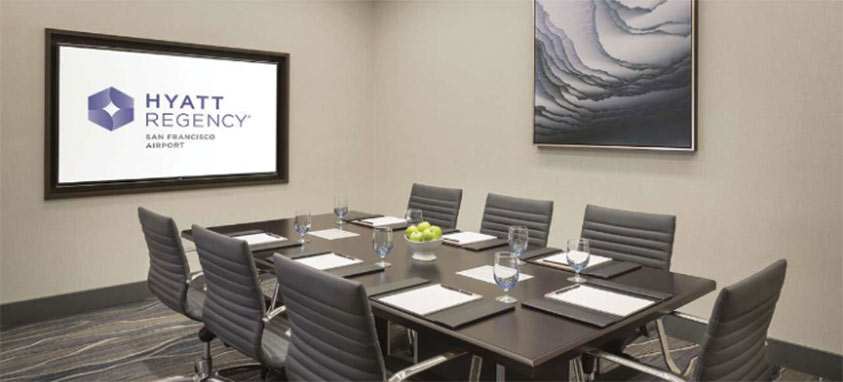 Hyatt Regency San Francisco Airport debuted a multimillion-dollar renovation in June that included its 789 guest rooms, public spaces and event venues, plus a new restaurant, 3Sixty. The redesign pays homage to its unique location on the bay and focuses on sustainable building practices.
The renovation added two ballrooms to the hotel, both of which feature scenic views of the San Francisco Bay and ample natural sunlight.
Embassy Suites by Hilton Los Angeles International Airport North underwent a transformation of its 222 spacious two-room suites, public spaces and lobby. Seven meeting rooms and the atrium were renovated over the winter.
"The LAX market remains one of the strongest for hotels in Los Angeles, with even more growth expected," says Michael D'Amodio, area general manager for the hotel. "We wanted our meeting rooms to have a new, modern look that encourages productive and innovative meetings while setting the trend for this burgeoning market."
Coming Soon
The 802-room Sheraton Gateway Los Angeles Hotel is undergoing renovations that include revamping the main lobby to create a clean, modern look.
Convention & Conference Centers
Meeting venues don't get a free pass when it comes to renovations. In fact, conference and convention centers are held to an even higher standard on technological upgrades and amenities. Since the centers host throngs of security and tech companies, among other demanding industries, cutting-edge features are a must.
New
UCLA Luskin Conference Center will open its doors in August, and will feature 254 guest rooms, many overlooking the vibrant UCLA campus. More than 25,000 sq. ft. of versatile function space will provide some of the most technologically advanced facilities in the United States. Amenities will include a restaurant and lounge, fitness center, catering and a business center.
Renovated
Superior Shores Resort & Conference Center in Two Harbors, Minnesota, recently underwent upgrades that showcase its natural assets, including a facelift to the 3,600-square-foot conference center and ballroom. Mauve walls were replaced with updated wall coverings, local art and stone fireplaces.
"The recent renovation projects provide a fresh look and a renewed feel to our lodge, conference center and fitness center," says Jenna Pederson, director of sales and marketing for the resort. "The aim…was to create an environment that is elegant, stylish and comfortable, and features an amazing view of Lake Superior."
Coming Soon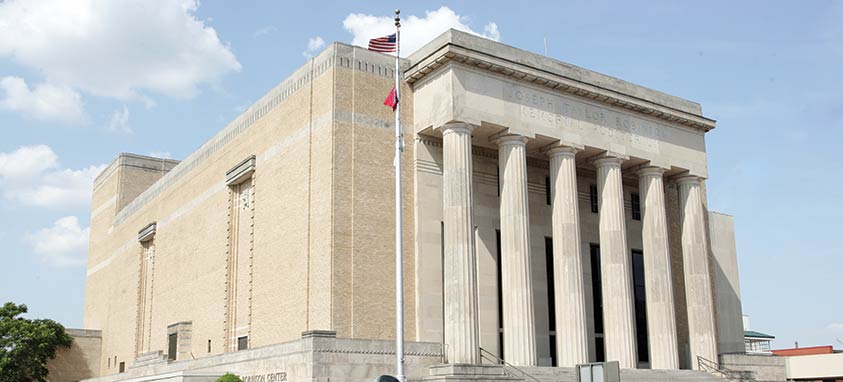 Robinson Center in Little Rock, Arkansas, plans to reopen as a LEED certified structure after a $70 million renovation titled Robinson Center Second Act. The renovations will add modern design and functionality; create a grand ballroom with Arkansas River views; and deliver flexible meeting spaces and dedicated conference center lobbies and breakout rooms. The 45,000-square-foot conference center will reopen in November.
Silver LEED certified Monterey Conference Center's grand reopening is scheduled for early 2017 and will infuse $45 million in physical and technological improvements with an all-glass limestone accented exterior and 41,000 sq. ft. of flexible meeting space.
Greater Columbus Convention Center (GCCC) is in the midst of a $125 million expansion and full renovation that will be completed in July 2017. The project will add nearly 37,000 sq. ft. of exhibit space and 10,000 sq. ft. of meeting space, along with second-level VIP show offices overlooking exhibit hall floors, a new cafe featuring local cuisine and public artwork at 150 locations throughout the property. GCCC will be connected to the new $18 million Goodale Garage by enclosed walkway once the expansion is complete.
A $187 million capital improvement plan for the LEED Gold Orange County Convention Center is expected to be complete by 2017. Improvements include renovations to 62,182-square-foot Valencia Ballroom, a new 48,961-square-foot ballroom, an outdoor terrace and garden, and a pedestrian bridge. The center has more than 2 million sq. ft. of exhibition space.
Spa & Golf Resorts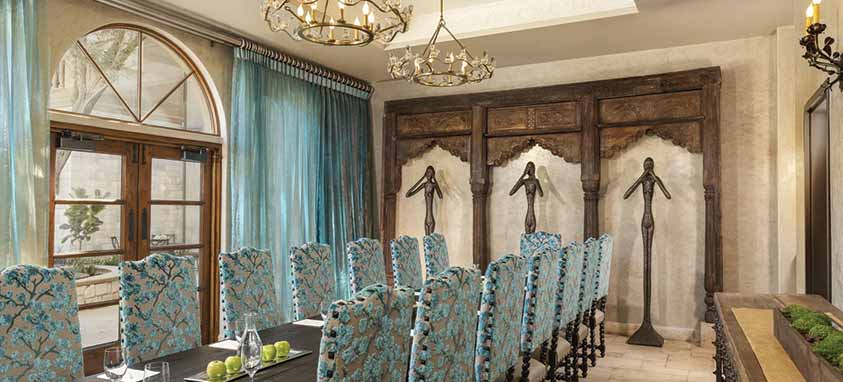 Allegretto Vineyard Resort, Paso Robles, California
Spa and golf resorts are never short on upscale decor, which—as anyone in fashion will tell you—is always evolving. Resorts that want to be considered current renew their furnishings and keep up with the trends, such as providing lax networking space.
New
Allegretto Vineyard Resort opened in September in Paso Robles, California. The 171-room Mediterranean-inspired refuge is surrounded by acres of sprawling vineyards and orchards, and features a 3,933-square-foot ballroom, 40,000 sq. ft. of stunning outdoor space, Cello Ristorante & Bar and Spa at Allegretto.
Renovated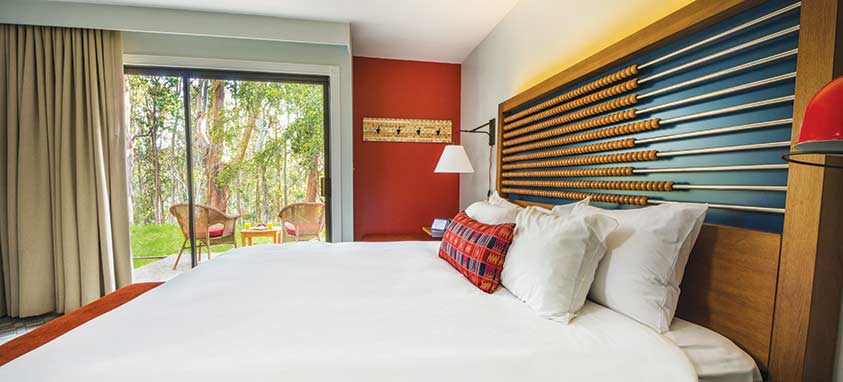 The historic, mission-style AAA Four Diamond Chaminade Resort & Spa in Santa Cruz, California, completed a $7.9 million remodel in March that transformed all 156 guest rooms, bathrooms and corridors to feature an eclectic, bohemian style reflective of Santa Cruz's artisan community. Given the city's close proximity to Silicon Valley, the design concept also draws on the evolution of technology, originality and the entrepreneurial spirit of the region.
The ballroom, conservatory, meeting spaces and restaurant were recently renovated at The Brazilian Court Hotel in Palm Beach, Florida. Cafe Boulud boasts an expanded bar, new floors and ceilings, a renovated terrace and private dining rooms, and a fresh new menu. The ballroom and conservatory were renovated in 2015 to allow lots of natural light into the 3,000 sq. ft. of meeting space.
In August, The Garland in North Hollywood, California, completed a $20 million renovation. The hotel, owned by actress Beverly Garland's family-operated Rio Vista Development, Inc. and managed by Marcus Hotels & Resorts, added a new dining experience with the opening of The Front Yard; revamped guest rooms; an updated lobby and lobby bar; and an elegant outdoor garden events venue.
In December, the upscale Mediterranean-style Miramonte Resort & Spa, a Destination Hotel, in Indian Wells, California, unveiled a $4 million renovation to its 215 rooms and suites that showcase new artwork throughout the rooms, sleek furniture and upgraded light fixtures. A new bocce court, fire pits and seating areas were added to the 11-acre property.
Coming Soon
Napa Valley Marriott Hotel & Spa is unveiling a new resort-style pool and courtyard that will host al fresco events this summer. New guest rooms will evoke the relaxed vibe of a private wine-tasting room. The hotel boasts 11,466 sq. ft. of meeting space, including 13 event rooms.
Golf icon Jack Nicklaus has returned to the AAA Four Diamond The Naples Beach Hotel & Golf Club in Florida to help renovate its championship golf course. The $9 million project follows $50 million in renovations at the resort over the last few years. The course is slated for completion in December and will include a new par-71 routing plan, plus new golf carts with GPS capabilities and a practice course.
Montage Palmetto Bluff in historic Bluffton, South Carolina, is undergoing an expansion and is scheduled to open in September. The 150-room luxury resort will add a 13,000-square-foot spa; lap pool and fitness center; resort-style pool with a bar and restaurant; lobby lounge with a restaurant and bar overlooking a lagoon; and an additional 7,200 sq. ft. of meeting space.
A $4 million renovation program will bring technological advances, 200 refurbished guest rooms, upgraded conference rooms and enhanced guest services to Doral Arrowwood, a resort hotel in Rye Brook, New York. Tech upgrades will include expanded Wi-Fi, enhanced operational software and new audiovisual equipment. The property offers a Robert van Hagge-designed golf course and 68,000 sq. ft. of meeting space, including a 30,000-square-foot executive center.
Doubletree by Hilton Orlando at SeaWorld broke ground May 17 on an expansion that will add 40,000 sq. ft. of indoor and outdoor meeting space to the 1,004-room property, which already features 60,000 sq. ft. of conference center space, 36 breakout rooms and seven outdoor venues.
Beach & Waterfront Properties
DoubleTree Resort by Hilton, Myrtle Beach Oceanfront, South Carolina
Beach and coastal properties used to be off the hook when it came to contemporary and tech standards. The beach and Old World charm go hand in hand, after all. But attendees today want the best of both worlds, and that means coastal themes that toe the line between classic and modern.

New
In August, AAA Four Diamond San Luis Resort Spa & Conference Center in Galveston, Texas, unveiled The Villas, five elegant 800-square-foot suites adjacent to the 250-room resort. Guests at the Villas can enjoy an ultra-private experience plus all of the resorts amenities, including H2O Pool & Bar.
Renovated
In June, Marriott Marquis San Diego Marina completed a $107 million expansion that added 280,000 sq. ft. to its waterfront meeting space. Upgrades to the 1,360-room hotel included new technology—such as a 16-screen video wall with state-of-the-art sound, videography and production capabilities—and a two-level ballroom with an outdoor terrace. Each level of the ballroom can accommodate 3,700 and the terrace can host 4,000.
On the opposite coast, The Boston Harbor Hotel unveiled 230 newly designed guest rooms in May, carrying the waterfront theme throughout the rooms to give them a renewed, coastal feel. These upgrades follow the recent renovation of the hotel's Meritage Restaurant & Wine Bar.
Coming Soon
This fall, Nobu Hotels and Eden Roc Resort Miami Beach will unveil the multimillion-dollar Nobu Hotel at Eden Roc Miami Beach, the second Nobu hotel to open in the United States. The new property will feature a hotel-within-a-hotel concept, including 210 guest rooms, the Signature Nobu Restaurant and bar, an additional beachfront restaurant, 70,000 sq. ft. of stylish meeting and event space, and two pools.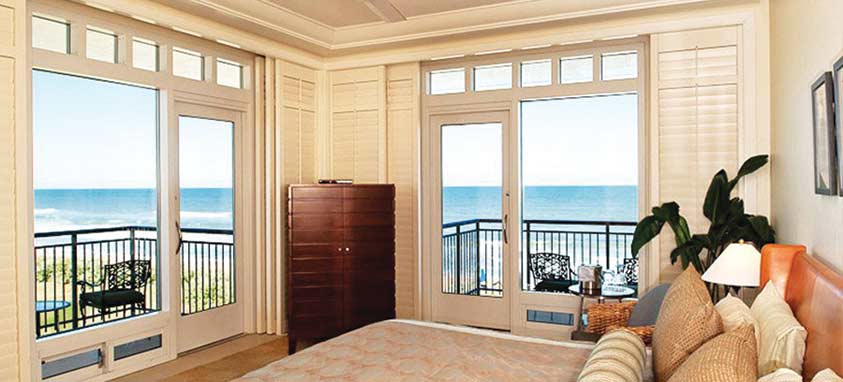 Two members of Salamander Hotels & Resorts are preparing for big reveals in Florida. The luxury oceanfront Hammock Beach Resort, a Salamander Golf & Spa Resort, located in Palm Coast, Florida, recently announced that it will receive several upgrades, including a refurbished lobby, the makeover of 75 spacious suites and completely refreshed meeting space. The Hammock House, the popular halfway stop on the resort's famed Jack Nicklaus Signature Design Ocean Golf Course, is also being expanded to feature additional outdoor patio seating overlooking the ocean, as well as more indoor seating and a small bar.
This summer, Salamander Hotels & Resorts also plans to unveil Henderson Beach Resort, a 171-room property set on 1.5 miles of white sand beaches in Destin, Florida, that will boast sweeping views of the Gulf of Mexico.
By the end of summer, the 30-acre oceanfront Springmaid Beach Resort in Myrtle Beach, South Carolina, will have completed the second round of a major renovation project. All 452 waterfront guest rooms and Springmaid Pier restaurant, rechristened as the Southern Tide Bar & Grille, have already been fully renovated and redesigned as part of a comprehensive transformation project that will rebrand the property as DoubleTree Resort by Hilton, Myrtle Beach Oceanfront. The resort's 35,000 sq. ft. of flexible event space is receiving an upgrade and will include new interiors.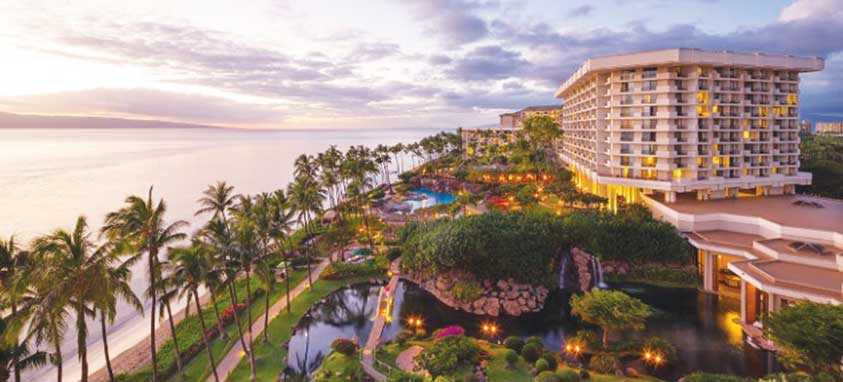 Hyatt Regency Maui Resort & Spa in Lahaina, Hawaii, plans to unveil renovations of the resort's Monarchy Ballroom, Halona Kai Event Lawn and Regency Club. Projected for completion in October, all three spaces will feature contemporary furniture, flooring, lighting fixtures, consoles and decor that capture the essence of native Hawaiian culture and the environment.
Monarchy Ballroom will transform into a modernized, upscale event space with access to an outdoor, oceanfront terrace. The Statue Garden will join with the Halona Kai Event Lawn to accommodate up to 500 guests. The Regency Club will offer indoor and outdoor space.
---
New Meetings in Surf City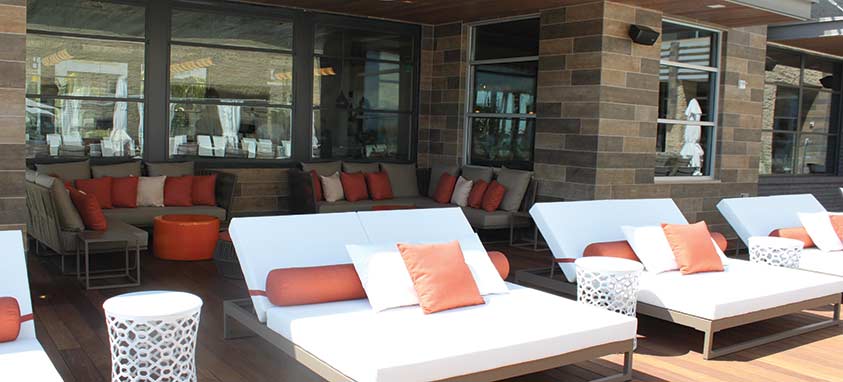 Pasea Hotel & Spa, Huntington Beach, California
Huntington Beach in Southern California has long been known for its world-class surfing, earning it the moniker Surf City. It's also emerging as more of a meetings destination, and took a big step forward last month with the opening of Pasea Hotel & Spa, a Meritage Collection property.
"With the opening of Pasea Hotel & Spa, we can offer planners an exciting complement to our existing collection of laid-back luxury resorts," says Elsie Jean Rodriguez, director of national sales for Visit Huntington Beach. "The space is very contemporary and light-filled. It will particularly appeal to NextGen planners and meeting attendees."
Pasea, located just steps from Huntington Beach Pier, held its grand opening June 10. The property features 250 guest rooms and suites, almost all with ocean views, as well as Aarna, a Balinese-inspired spa that includes indoor and outdoor treatment areas.
Tanner's restaurant features fresh California cuisine, and guests are able to watch the culinary team in action at its wood-fired inferno grill in an exhibition kitchen encased in glass. Groups can also head upstairs to the restaurant's Treehouse Lounge, where specialty cocktails—handcrafted by an award-winning mixologist—are offered on a rooftop patio.
The property offers 34,600 sq. ft. of meeting space, including a 14,600-square-foot ocean lawn and terrace and 8,400-square-foot Sapphire Ballroom. The meeting facilities boast advanced audiovisual offerings, music and technology that can be customized for events.
Pasea is adjacent to another major property, the 290-room Waterfront Beach Resort, a Hilton Hotel—a AAA Four Diamond recipient that overlooks the Pacific Ocean. The Waterfront, which features a dramatic indoor waterfall, offers 21,500 sq. ft. of meeting space, including a 5,850-square-foot grand ballroom. The resort is in the process of building a new nine-story, 152-room tower and meeting facility that will open in late spring 2017.
"The Waterfront Beach Resort's new all-suite tower, with its warm and charming coastal chic decor—plus expanded meeting space, rooftop bar and a spa addition in the existing resort—takes one of Huntington Beach's most beloved properties to a fresh new-level appeal," says John Ehlenfeldt, executive vice president of sales and administration for Visit Huntington Beach.
Ehlenfeldt says that these properties—along with Shorebreak, a Joie de Vivre Hotel and Hyatt Regency Huntington Beach Resort & Spa—are enticing meeting groups.
"We've expanded the Huntington Beach collection to four oceanfront conference resorts, all within a short, walkable footprint of each other, to our exciting new Pacific City artisanal marketplace and to our open-air shops and restaurants downtown," he says. "Meeting planners, particularly in the corporate and incentive sector, are loving our new offerings and easy accessibility to all the destination offers."
–Dan Johnson
---
International Updates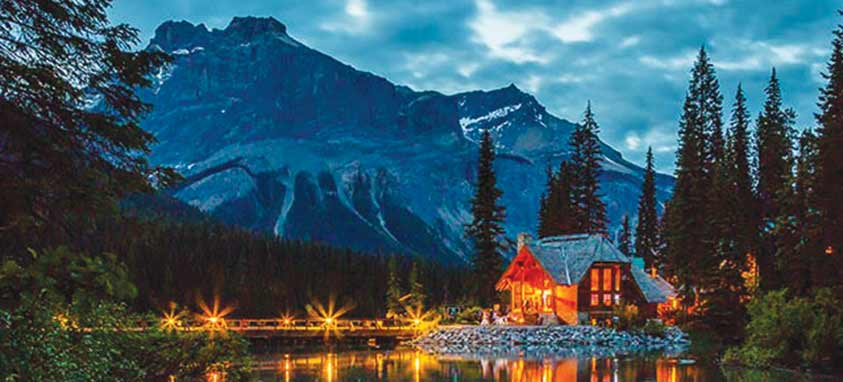 Canadian Rocky Mountain Resorts, Banff, Alberta, Canada
Hilton Los Cabos Beach & Golf Resort in Mexico has been transformed by a multimillion-dollar renovation that includes the creation of the exclusive La Vista Club. The hotel-within-a hotel concept features 65 guest rooms and suites, and private facilities serving culinary specialties.
Other upgrades include a new 7,000-square-foot spa and salon, several redesigned restaurants and a swim-up bar. The property has 375 guest rooms and 11,349 sq. ft. of event space. El Dorado Ballroom can host up to 800. Golfing is phenomenal there, with four nearby courses designed by Jack Nicklaus and Robert Trent Jones II.
Renovations completed in May at Grand Fiesta Americana Los Cabos All Inclusive Golf & Spa included its 249 guest rooms and suites, and Blu Restaurant. The overhaul continues this summer with the addition a new bar and lobby refresh. The beachfront resort boasts the famed Nicklaus Ocean Course, regarded by many as the top golf course in Latin America. The resort also features 11,000 sq. ft. of meeting space, seven restaurants and five bars.
The Westin Resort & Spa, Cancun is undergoing a $1 million renovation that will preserve the original design of renowned Mexican architect Ricardo Legorreta. Royal Beach Club has been transformed to provide guests with a personalized wellness experience. Healthy snacks and complimentary coffee are served all day at Royal Beach Club Lounge. The Westin features 379 guest rooms and 9,688 sq. ft. of event space.
In Mexico's Riviera Nayarit, newly opened W Punta de Mita features 119 guest villas. The hotel is part of Los Veneros, an exclusive enclave located on the Pacific Ocean. The 4,000-square-foot spa and location, only 10 miles from Puerto Vallarta International Airport (PVR), help make this property ideal for incentives and executive retreats. There's reception space for up to 175.
W Mexico City recently completed a multimillion-dollar renovation. The hotel's 237 guest rooms have been redesigned with floor-to-ceiling imagery that showcases the strength and diversity of Mexico City, and iconic figures. Mexican artist Ivan Aguirre was commissioned to create artwork that reflects modern interpretations of the Azteca (Aztec), luchador (wrestler), conquistador (conqueror), diva of the Mexican cinema and Adelita (woman of the Mexican Revolution). There's a new restaurant by chef Jose Andres. Plans call for the spa to be updated later this year.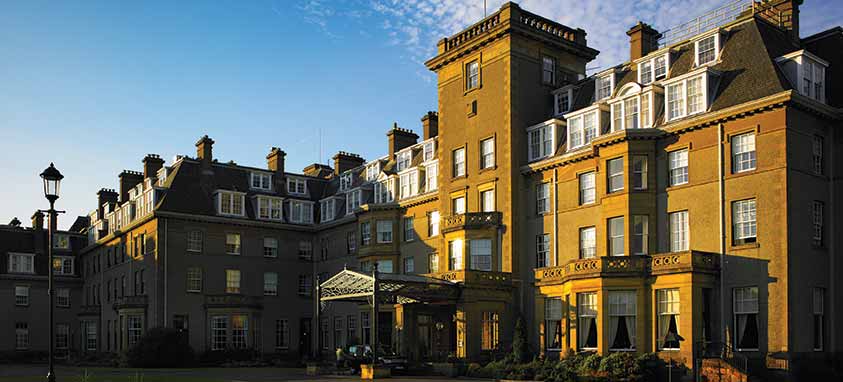 Iconic Gleneagles Hotel in Perthshire, Scotland, is undergoing a multimillion-dollar renovation that pays homage to the property's history and Scottish identity. The first phase was completed in May and features a new bar in the Dormy Clubhouse offering popular local craft brews and a relaxed, social environment. The project also calls for the redesign of approximately 30 guest rooms, the main bar and public areas. The hotel was built in 1924 and is a member of The Leading Hotels of the World. The 850-acre property offers 232 luxury guest rooms and suites, event space for up to 450 and three championship golf courses. The King's Course turns 100 in 2019.
"We hope this new development will help us build on the success of Ryder Cup to bring even more diverse and exciting events to Gleneagles."
–Bernard Murphy, managing director of Gleneagles Hotel, Perthshire, Scotland
North of the U.S. border, Canadian Rocky Mountain Resorts has renovated the 108-room Buffalo Mountain Lodge in Banff, Alberta, to ensure the lodge and restaurant reflect the beauty, tradition and excitement of life in the Rockies. A new dry sauna has been added to complement the existing outdoor hot tub. Premier rooms are under renovation, with completion expected by the end of the year. New furniture will complement wood-burning fireplaces. The lodge offers 5,000 sq. ft. of event space.
Trump International Hotel & Tower Vancouver in British Columbia, Canada, is poised to be a prime meetings and events destination when it opens this summer with 15,000 sq. ft. of space. Located downtown, the hotel will feature 147 guest rooms, the city's first poolside lounge, a trendy nightclub experience and a full-service spa.
–Holly Woolard
---
New York City Renaissance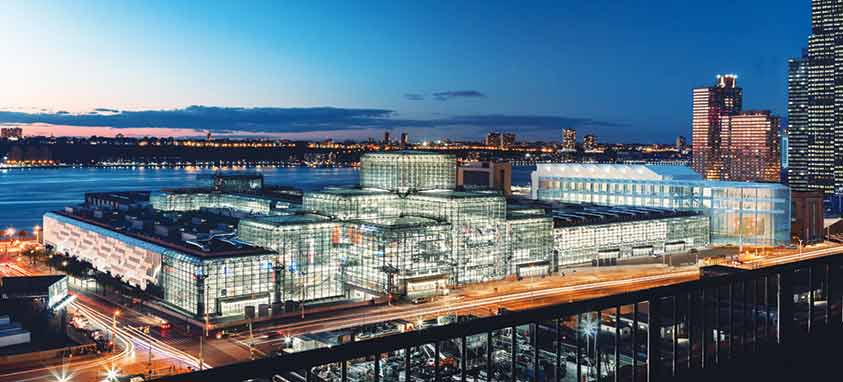 Rendering of Jacob K. Javits Convention Center, New York City
With cranes dotting the skyline like exclamation points, New York City's new and renovated properties are adding punch to an already vibrant meetings scene. From the Hudson Yards project across the street to always-improving Jacob K. Javits Convention Center and trendy Brooklyn, where keeping pace with demand is a priority, the Big Apple has lots to accent on the new and renovated front.
What's unfolding along the Hudson River on Manhattan's Far West Side is indeed noteworthy. In January, New York Gov. Andrew M. Cuomo announced a $1 billion project that would increase the convention center's size by more than 50 percent, from 2.1 million sq. ft. to 3.3 million sq. ft. The expansion will break ground later this year.
"The Javits Center is in the middle of a renaissance," says Tony Sclafani, senior vice president and chief communications officer for Javits.
The expansion will add a 58,000-square-foot ballroom that will rank as the largest in the Northeast and a rooftop event space for up to 1,500 guests. There will be five times more meeting space and 27 new loading docks.
Javits has already benefitted from a 6.75-acre green roof, which opened in 2014. The second-largest green roof in the United States, it is home to 17 bird species and helps the convention center reduce energy consumption by 26 percent while including other energy-efficient measures. The previous renovation also included updating the facade and skylights with 6,000 translucent, fritted glass panels designed to prevent bird collisions.
"For us, it's a great comeback story," Sclafani says. "The way we view ourselves these days is improving the life of the community. That goes to the heart of where the building is going."
Manhattan's Far West Side is home to the city's first new subway station in 25 years. The new station at 34th Street, near 11th Avenue and across from Javits Center, opened in September.
Renaissance New York Midtown Hotel, about six blocks from Javits Center, began welcoming guests in March. The $120 million new build is infused with grit and glamour reflective of its location in the Garment District. It offers 3,500 sq. ft. of trendy event space on the seventh floor, with quotes by designers such as Oscar de la Renta and Gianni Versace etched on the wall.
The hotel's spacious fifth-floor patio has a retractable roof, and when combined with the restaurant and bar, can accommodate up to 700. The 348-room Renaissance features spacious suites on its 36th and 37th floors, providing VIP hospitality for those performing or attending events at nearby Madison Square Garden.
InterContinental New York Barclay closed for 20 months during a $180 million renovation that was completed in April. The lavish lobby features a new, elegant staircase and European-inspired Gin Parlour, with premium liquors from around the world. Dating to 1926, the InterContinental has maintained its historic aura, but added modern elements such as touch screens built into its hallways. There are 704 completely redesigned guest rooms and suites, accented by murals that exude the property's historic origins. Seven meeting spaces, including a 5,000-square-foot ballroom, account for more than 15,000 sq. ft.
New York Marriott at the Brooklyn Bridge is undergoing a $45 million transformation that is expected to be complete this month. The Marriott's more than 40,000 sq. ft. of event space has been redesigned and all 667 guest rooms and suites are being modernized. The 18,105-square-foot ballroom is the fourth-largest in the state.
In a trend that encourages guests to explore neighborhood eateries, there is no room service. The Marriott is the official hotel of the Barclays Center, home of the NBA Brooklyn Nets and host to major performing artists.
The William Vale Hotel is expected to open this month in Brooklyn's Williamsburg neighborhood. It will offer 183 guest rooms and a stunning 4,100-square-foot ballroom, with event space for up to 300.
Four Seasons Hotel New York Downtown is opening this summer in the TriBeCa neighborhood. A block from the World Trade Center, it will feature 185 guest rooms and suites and more than 6,815 sq. ft.
The Beekman, A Thompson Hotel opens this month, transforming an iconic 1881 Lower Manhattan office building into a luxury property. The big draw there will be a stunning nine-story Victorian atrium and pyramidal skylight, and exquisite cuisine experiences created by famed chefs Tom Colicchio and Keith McNally. There's 4,700 sq. ft. of event space and 287 guest rooms and suites.
"With newly redesigned ballrooms, historic spaces and world-class venues opening this year, New York City continues to provide unmatched experiences to delegates looking for their next productive meeting, exhibition or event," says Fred Dixon, president and CEO of NYC & Company. "The city offers one-of-a-kind options for any meeting, from iconic skyline views to outdoor green spaces and many more flexible options appealing to planners."
–Holly Woolard