Could it be any simpler? Your plane lands, and you're there. No hassles getting to a downtown hotel or convention center. No need to figure out how to navigate from Point A to points B, C and beyond.
Meeting at an airport hotel is logistical heaven, and the big players in the hotel game have finally realized that by appealing to more than stranded travelers and those with predawn departures—and by making their airport properties alluring to planners and competitive with the city center—they can boost occupancy rates year-round.
At the best in this breed, amenities and meeting space rival those of a resort. And there can be a no more authentic destination than having giant aircraft taxiing past your soundproofed windows.
More than two dozen airports in North America have meeting-worthy hotels attached to them (or within airport grounds). Here is a flyover of the best.
1. The Westin Denver International Airport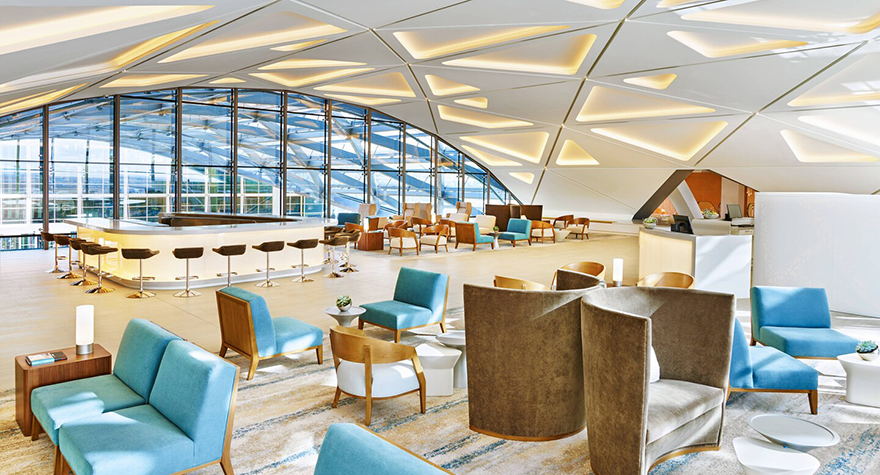 This hotel's emblematic wings-in-flight design seems perfectly suited to its Denver International Airport (DEN) setting. The upscale property is connected to the airport's Jeppesen Terminal by a covered walkway and sits atop a light-rail transit station, which makes the country's most remote major airport (25 miles from downtown) a seamless commute to Denver's Union Station and city attractions.
Runway gazing has never been better than at Sky Lounge Bar, and Grill & Vine restaurant puts the taste of Colorado farms and ranches on the table. A heated indoor pool and fitness center add to the amenity appeal.
The 519 guest rooms—with full-length glass windows offering majestic views of the Rocky Mountains—deserve their AAA Four Diamond status, as does the hotel's 37,500 sq. ft. of newly redesigned meeting space, which features two ballrooms, 15 meeting rooms and an open-air plaza for events. The 10,000 sq. ft. of prefunction space boasts a mesmerizing, three-story glass wall.
2. InterContinental Minneapolis-St. Paul Airport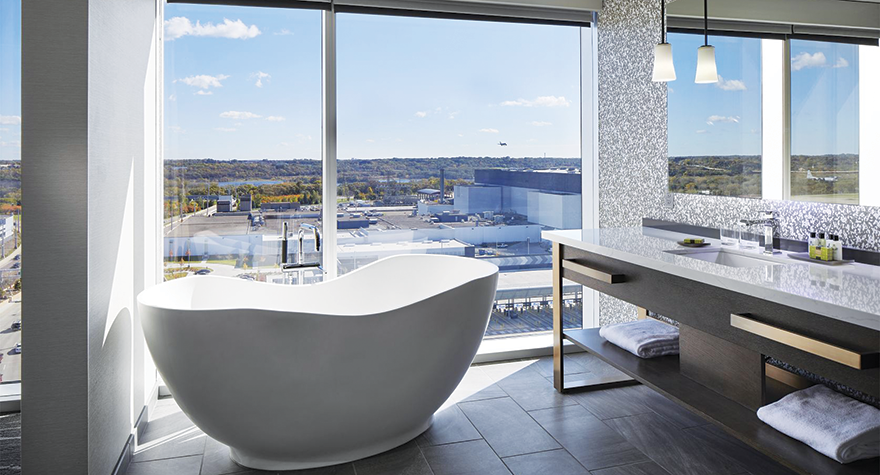 The first on-site hotel to be directly connected to Minneapolis-St. Paul International Airport (MSP) opened only last year, with TSA access to Terminal 1. Its 291 quietly elegant guest rooms are oases of calm. Three restaurants, a luxury spa, a thermal pool and an outdoor courtyard are also on offer, as is 30,000 sq. ft. of meeting space.
A 12th-floor observation event space, Observation Bar, is an eye-opener. Its floor-to-ceiling windows frame views over the airport, rivers and downtowns of Minneapolis and St. Paul.
Although the Twin Cities are only 20 minutes away, attendees never venturing from the hotel will still feel a Minnesotan welcome. Warm woods and other local materials lend a distinctive sense of place. Menus showcase regional cuisine; and, for groups, hotel staff are eager to source local keynoters—including area cultural experts and sports heroes—and CSR activities that benefit area residents.
Even in winter, a complimentary shuttle whisks attendees to Mall of America, five minutes away.
3. TWA Hotel, John F. Kennedy International Airport (New York City)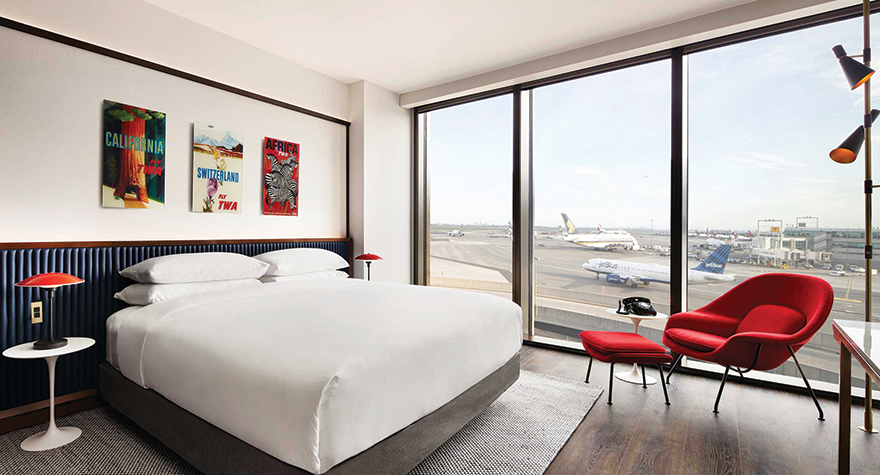 The most-anticipated opening of any new airport hotel happened in October 2018, when it became 1962 again in New York City—an era when air travel was fun and sexy. Connected via John F. Kennedy International Airport's (JFK) AirTrain to JetBlue's Terminal 5, the former TWA Flight Center, a structural masterwork by Eero Saarinen, is now the hotel atrium, linked via Saarinen's red-carpeted tubular jetways to two new seven-story towers.
"All free-flowing, liquid curves, improbably poised on four slender buttresses like a winged bird on skinny legs," gushed The New York Times' architecture critic over the exquisitely restored Flight Center. "I watched people walk around as if in a trance, snapping selfies, pointing and gazing at the thin, vaulted, soaring, twin-tortoise-shell concrete roof, breathing deeply, to inhale the building's aura, lingering because, well, just being in that space seems to inspire happiness."
The retro-hip mood is enhanced by hotel greeters in 1962 TWA uniforms by Balmain and Valentino. Frank Sinatra and Connie Francis take turns on the 24-hour soundtrack. Copies of vintage Life magazines and Saarinen tulip tables and womb chairs await in the 512 guest rooms.
On the roof of one of the towers is an infinity pool with stunning runway views, but the even bigger oh-wow is known as Connie. She's a 1958 TWA Lockheed Constellation Starliner parked on the tarmac outside the hotel. Ascend the boarding stairs, and you're in a '60s-era cocktail lounge.
Ready to book your finger-popping, martini-fueled gathering? On offer are 50,000 sq. ft. of mid-century modern-inspired event space, including 45 meeting rooms and five hospitality suites for up to 1,600 attendees, plus outdoor terraces, a rooftop pool deck and an observation deck.
4. Hyatt Regency Orlando International Airport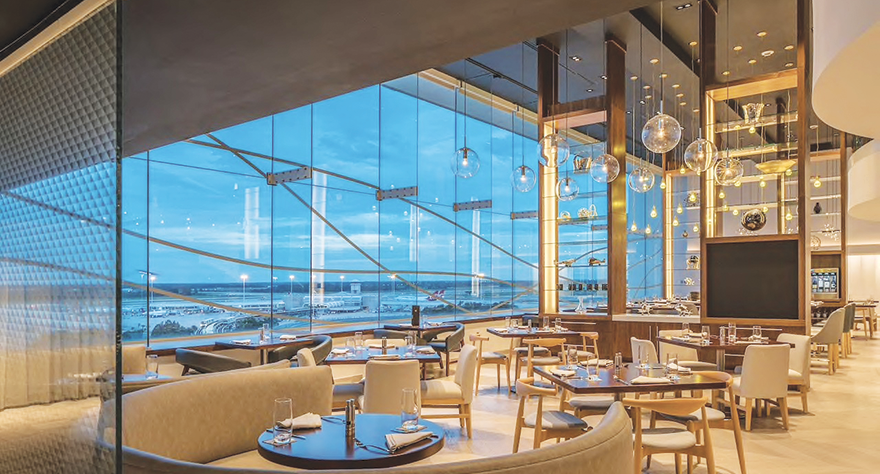 Orlando knows how to delight a crowd, and this charmer of a 445-room hotel is situated at the heart of Orlando International Airport's (MCO) main terminal, just an escalator ride down to security checkpoints. Interior rooms have balconies overlooking the palm-tree-studded atrium that leads to the arrivals and departures areas. Outside rooms give tarmac views.
Featuring 42,000 sq. ft. of versatile venues, meeting spaces include three ballrooms and 31 flexible conference rooms (largest space is 10,612 sq. ft.).
Why not stage a "landing" reception on the rooftop pool deck (which features a heated pool and seasonal poolside service)? The rooftop also has a jogging track for those who like watching jumbo jets lift off as they sweat.
5. Tampa Airport Marriott, Florida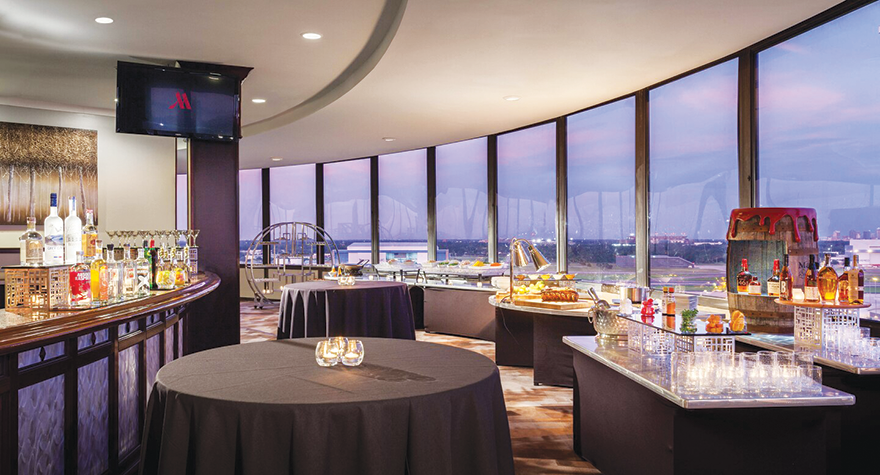 Tampa International Airport (TPA) is meetings-ready at this contemporary property that features 25,416 sq. ft. of indoor and outdoor venues, including a prefunction foyer filled with natural light, 17 event rooms and a 7,446-square-foot ballroom that seats 700. A tranquil garden and rooftop patio are ideal for breakouts and receptions.
A control-tower-like rooftop event space, The View, offers 4,000 sq. ft. for socializing, and there's a private dining room at The Cafe restaurant.
The 298 bright and spacious guest rooms come with soundproof windows, smart TVs and mini-fridges.
A heated rooftop pool surrounded by swaying palms is ready for between-session laps or relaxing while jetliners come and go overhead.
6. Fairmont Vancouver Airport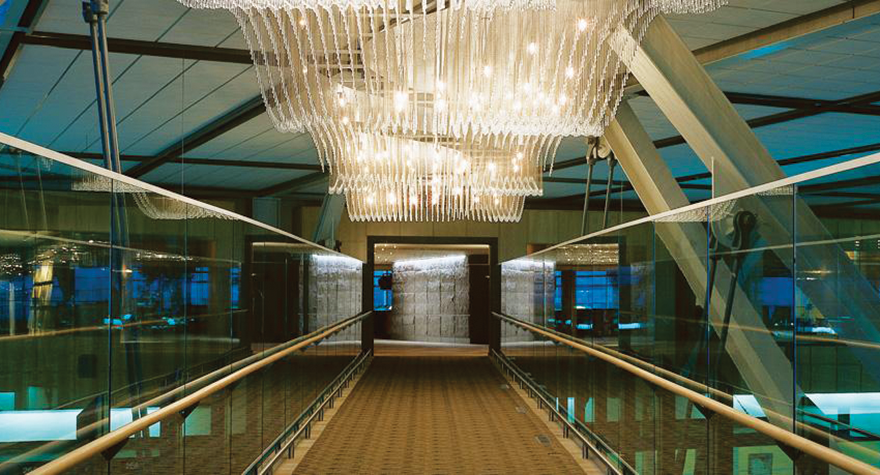 It doesn't get much better than this, which is why this luxury hotel and spa at Vancouver International Airport (YVR) in British Columbia, Canada, was voted the No. 1 Airport Hotel in North America for the sixth year in a row at this year's Skytrax World Airport Awards. You wouldn't expect to find a Fairmont at an airport, but there it is, directly above the U.S. departures and ticketing area, and a short walk from both domestic and international arrival gates.
Floor-to-ceiling, soundproofed views come with the 386 guest rooms. AvGeeks love the north-facing rooms and Jetside Bar for plane-spotting. Intimate-to-medium-sized meetings hit the sweet spot, as groups of up to 150 can easily be accommodated in 16 well-appointed meeting and event spaces that boast natural light, great tech and distinctive culinary options—Organic Everything and Oceans Deep are among the fetching Chefs Menus.
No attendee will regret a reward visit to Absolute Spa at the Fairmont, which offers more than 130 therapies, including signature jet-lag recovery treatments. Afternoon tea, a Fairmont staple, includes exclusively blended teas, petit sandwiches, tasty pastries, house-made scones and fresh seasonal jams with clotted cream. It comes with expansive views of air-side operations, landing runways and North Shore mountains.
If pre- or post-activities include a visit to a British Columbia fishing lodge, the hotel's fish valet service will safeguard prize catches in an on-site fish freezer.
7. The Westin Detroit Metropolitan Airport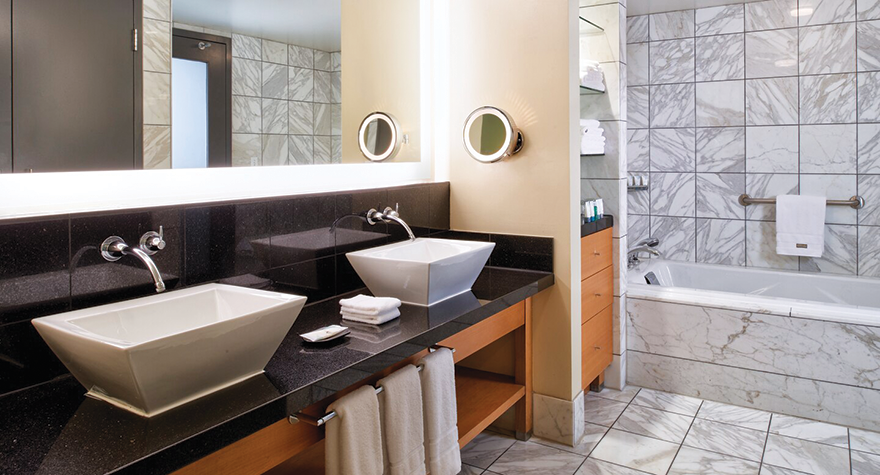 Newly renovated in Delta Airlines-dominant McNamara Terminal at Detroit Metro Airport (DTW), this stylish hotel boasts the ultimate airport perk: its own TSA security line. The 404 guest rooms feature views of aircraft comings and goings, or an airy atrium edged in greenery.
Popular brand amenities include Westin Heavenly Beds, a 24-hour WestinWorkout fitness studio with Pelaton bikes, TRX equipment and an indoor heated pool—and the Workout Gear Lending program, in partnership with New Balance.
For meetings, 28,844 sq. ft. of versatile space with 35 meeting rooms and a glass-enclosed sky deck and lounge await.
8. NH Collection Mexico City Airport T2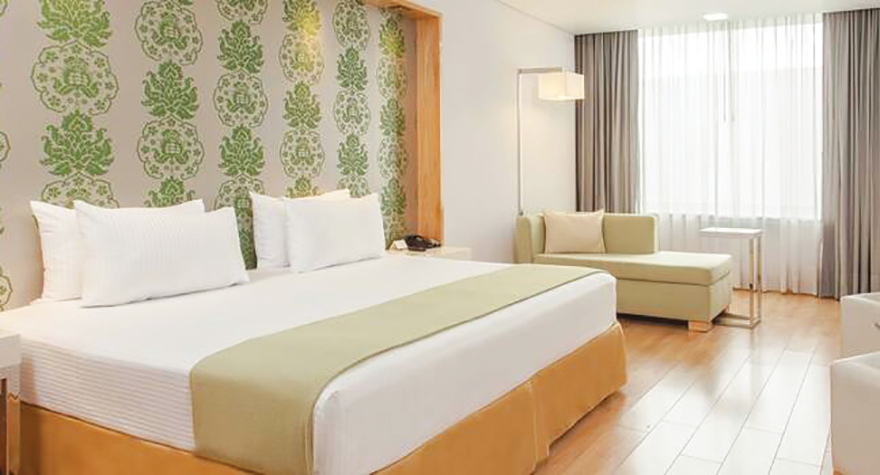 Sleek, modernist Mexican style exudes bienvenido (welcome) on the sixth floor of Terminal 2 in Mexico City Benito Juarez Airport (MEX), an elevator ride from the international arrivals area. It's a brilliantly white, circular building arranged around a courtyard.
The 287 soundproofed guest rooms have wooden floors and high-style touches throughout. Some third-floor rooms look out across the runways. The restaurant features Mexican-meets-international fare and a lobby bar has an outdoor terrace.
Twenty function rooms can handle groups of up to 400. There's a space for outdoor entertaining and the fascinating, cosmopolitan capital city is just a 30-minute taxi ride away.
9. Hilton Boston Logan Airport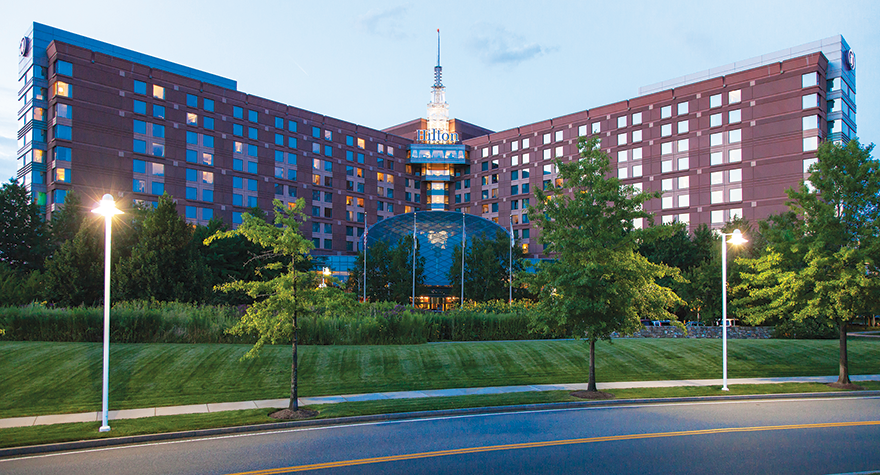 Terminals A and E at Boston Logan International Airport (BOS) offer more than gateways to the world's destinations—climate-controlled skybridges lead to this 604-room, AAA Four Diamond hotel in a parklike setting so serene there's an outdoor walking track for logging Fitbit steps between meetings. The ninth-floor Executive Lounge boasts not only airport views, but also panoramic vistas of Boston Harbor and the city skyline.
Two pillarless ballrooms and 18 multipurpose breakouts highlight 30,000 sq. ft. of meeting space on a single level. There's even a seasonal lawn event space for the unique experience of an outdoor gathering at an airport.
A 24-hour, complimentary courtesy bus not only shuttles guests to all airport terminals, but also to the subway and water taxi, which puts downtown but 10 minutes away.
10. Grand Hyatt San Francisco International Airport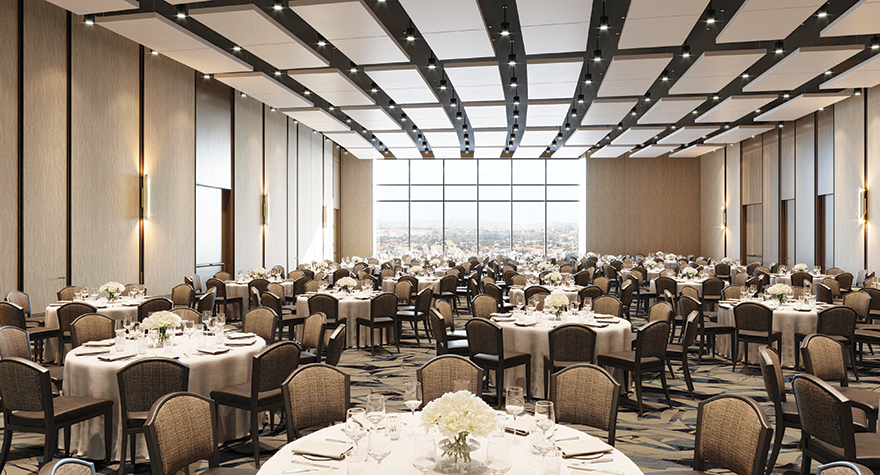 Beginning this month, a new era of hospitality begins at San Francisco International Airport (SFO) with the opening of this distinctive $237 million Grand Hyatt, adding lodging luster to the $2.4 billion rebuild of nearby Harvey Milk Terminal 1. The luxury property sits on a lushly landscaped, 4.7-acre site (where a low-slung Hilton Inn once presided), with direct access to the AirTrain light rail system that connects all terminals and downtown's famed attractions.
The noses of Boeing 747s from British Airways, KLM, Qantas and other airlines peek over nearby blast fencing.
This 351-room hotel offers 14,435 sq. ft. of meeting space, the largest being a 5,760-square-foot grand ballroom with natural light and a prefunction area. Quail & Crane, a 70-seat, three-meal restaurant serves internationally inspired, locally sourced cuisine, and there are stunning art installations custom-crafted by globally recognized artists throughout the property.
The hotel also offers a variety of wellness options, including a massage suite with a full range of treatments (facials designed to combat jet-lagged skin, for instance), yoga on demand and a 24-hour StayFit gym with Peloton bicycles, making de-stressing after deplaning seamless.
Airport Adjacent
So-called airport hotels not actually at the airport are a dime a dozen, but few are solid gold.
Gaylord Rockies Resort & Convention Center
This behemoth changed the meetings landscape near Denver International Airport when it opened last year. With 1,501 guest rooms and 517,987 sq. ft. of meeting space just 8.5 miles southwest of DEN, it is now Colorado's largest hotel.
A full-service spa, an indoor-outdoor water complex with a seasonal lazy river, and eight restaurants make meeting there (in the 69 event rooms) a Colorado rustic-chic version of Las Vegas.
Sheraton Gateway Los Angeles Hotel
It's meetings-friendly and only a short shuttle ride from Los Angeles International Airport (LAX). A multimillion-dollar renovation has given its 803 guest rooms and 56,834 sq. ft. of meeting space a new sheen. A business center, a 24-hour fitness center and several dining options make it easy to stay, and an electronic flight departures-and-arrivals board makes it easy to leave.
Renaissance Atlanta Airport Gateway
Only a two-minute SkyTrain ride from Hartsfield-Jackson Airport (ATL) and close to Georgia International Convention Center, this two-year-old property doesn't want to be just another cookie-cutter, airport-adjacent hotel. Decor is hip and whimsical, with street art and other eye-catching artworks. Hickory & Hazel, the on-site restaurant, does Southern favs, such as shrimp and grits. It has 204 guest rooms and 5,961 sq. ft. of event space.
Hyatt Regency John Wayne Airport Newport Beach
Following a top-to-bottom renovation, this reinvented property strikes a balance between urban oasis and efficiency-driven destination for the C-suite. Convenient to many of Southern California's major attractions, the hotel's 343 guest rooms sport Italian marble and quartz bathrooms, Juliette balconies, Beaumont and Brown luxury bedding, and tech-forward touches. There is more than 28,000 sq. ft. of indoor-outdoor meeting and event space (largest is 7,260 sq. ft.).